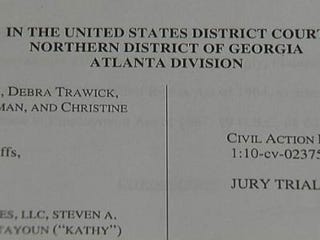 When your health is failing and you require assistance with your basic needs, the last thing you should be worried about is the color of the person providing it. Right? In the eyes of one nursing company, maybe not. Four nurses recently filed a lawsuit alleging that their employer, Accord Services, violated their civil rights by refusing to send black nurses to care for white patients.
Atlanta's WSBTV reports:
In the 63-page lawsuit, the women claim Accord Services violated their civil rights. They said the health care company screened their nurses based on their race before sending them to a patient's home.
"Before placing someone in a position, I was blatantly asked in front of a group of people what color is she or how old is she," Tracee Goodman said, who is a former Accord Services Human Resources employee.
Another former employee, who was terminated by Accord, told Channel 2's Craig Lucie about the language she said was frequently used in their offices.
"You could hear something from 'We can't use a nurse because they were too ghetto' or 'This client doesn't prefer foreigners' and 'Black women are not professional,' " Erika Arnold said, a former H.R. manager.
Throughout the civil rights lawsuit, the plaintiffs claim Accord Services administrators referred to their black employees as "too black, too ethnic, and too old or too ghetto."
Read more at WSBTV.
In other news: 'Crackheads' Aren't Coming to Get You.
Like The Root on Facebook. Follow us on Twitter.