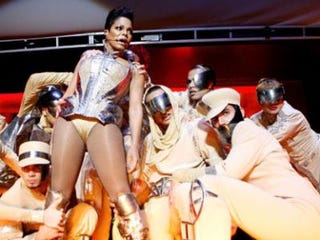 The 2010 Essence Music Festival featuring performances by the likes of Janet Jackson, Alicia Keys and Mary J. Blige was supposed to be aired exclusively by TV One. That's what the African-American television network bargained for, at least. According to the network, it shelled out $1.5 million to produce the show and more for the exclusive rights to the star-studded musical program.
And all went according to that plan until this year, when BET and MTV hijacked the footage and used it on their own networks to promote the 2011 festival, a recently filed lawsuit alleges. TV One is taking its competitors to federal court for airing what it calls an unauthorized "rogue" broadcast of its show.
From the Hollywood Reporter:
In claims made on Friday, TV One details the great expense it allegedly made to secure rights to the Essence Music Festival, an annual event focused on African American music and culture that attracts hundreds of thousands of people each year.
For television rights, TV One says it spent $500,000 in 2010 and $750,000 in 2011. In addition, the network says it spent up to $1.5 million to produce the show.
In late June, just a week before TV One was scheduled to air the 2011 Essence Music Festival, BET televised performances from the previous year. The airing is said to not only have interfered with promoting its coming telecast, but also to have constituted an infringement of its broadcast from the previous year. 
BET is claimed to have taken TV One's 2010 show nearly verbatim except replacing its competitor's logo with its own. Nevertheless, the BET broadcast contained credits listing the TV One mark and several of its employees, indicating its origin.
Read more at the Hollywood Reporter.
In other news: Cain Talks Race and Sexual Harassment.