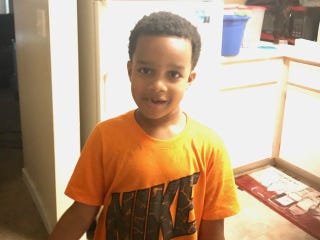 UPDATE: Byron McBride, 19, has been named as the gunman in 6-year-old Kingston Frazier's shooting death.
Earlier:
Dwan Diondro Wakefield, 17, D'Allen Washington, 17, and Bryon McBride Jr., 19, are all in custody and will all be charged with capital murder for the heinous killing of 6-year-old Kingston Frazier, said Madison County District Attorney Michael Guest.
As previously reported by The Root, there were initially two persons of interest. Wakefield, a senior at Ridgeland High School and the school's former starting quarterback, was taken into custody soon after Kingston's body was found.
Washington turned himself in Thursday afternoon and McBride was the last to be taken into custody.
Kingston was last seen about 1:15 a.m CST, Thursday morning in the parking lot of a Kroger grocery store in Jackson, Miss. His mother, Ebony Archie, left him asleep in her Toyota Camry while she briefly went inside of the store.
While Archie was inside, two men in a two-door 2014 Honda Civic Coupe (Wakefield's, Washington's, and McBride's exact roles in Kingston's murder have not been revealed), pulled alongside her Camry and the man in the passenger seat jumped into Archie's car and drove away with Kingston inside.
In a news conference Thursday afternoon, Hinds County Sheriff Victor Mason said that a deputy stationed at the Kroger saw Archie exit the store at approximately 2:30 a.m.
Archie approached the deputy and said her car was missing. According to Mason, she did not initially report that her son was inside.
At 9:47 a.m. CST, approximately nine hours after Kingston was abducted, reports began to trickle in that he had been found. The Mississippi Bureau of Investigation canceled the Amber Alert that had been sent out for him.
As previously reported by The Root, initial reports were that Kingston had been found, but his condition was unknown.
Within minutes, local enforcement agencies confirmed that Kingston had been found dead inside of the stolen vehicle from a single gunshot wound.
Madison County Sheriff's Office spokesperson Heath Hall later confirmed that the 6-year-old boy had been shot in the head.
Kingston was still sitting in the backseat of the car—which had been abandoned at the end of a dead-end street about 15 miles away from the Kroger where he was abducted—when he was shot.
According to the Clarion-Ledger, due to conflicting accounts on Facebook, at least one posted by Kingston's father, family members gathered in the Kroger parking lot, and later at the Madison County District Attorney's Office, were initially optimistic.
As the news spread of Kingston's death, his mother, Ebony Archie, collapsed and screamed, "I told y'all that s—t wasn't right, I told y'all."
Other family members, including aunts, uncles, and Kingston's grandfather, Walter Williams, began to scream and cry out in pain.
David Archie, Kingston's uncle, remembered his nephew as a loving, funny, playful, just "great, great" child who knew just how much he was loved.
"[We] just can't imagine that something like this would happen, that people would have in their heart to do that to a 6-year-old," Archie said. "Even if I was mad at the world, I couldn't do this to a 6-year-old. To me, it's hatred. There is nothing out there worth taking a 6-year-old's life."
"I can tell you this, we won't rest until they're brought to justice," Archie continued. "You can believe that."

Read more at the Clarion-Ledger.