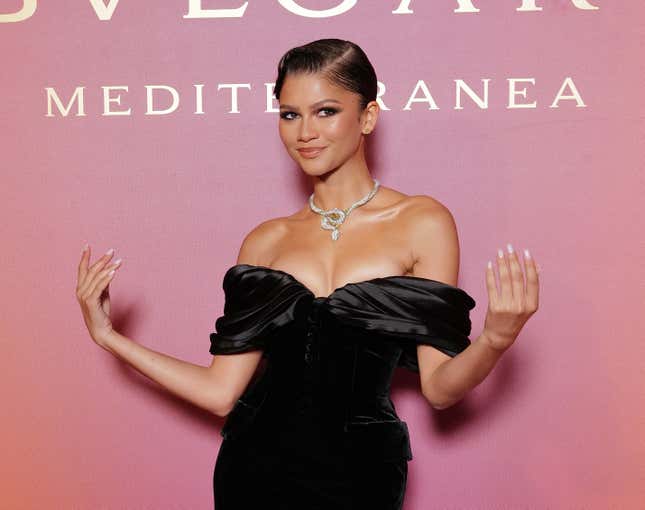 With many of her projects on hold until after the SAG-AFTRA strike is resolved, Zendaya's 2024 will probably revolve around promoting upcoming films and series. However, the singer/actress/dancer/fashion icon is looking to add another title to her resume: supervillain. The Emmy winning actress told Elle that for her next role she's ready to take things in an evil direction.

How Law Roach Transformed Zendaya Into The Fashion It Girl
"I would love to play a villain of sorts," the Euphoria star said. "Tap into the evil, supervillain vibes. Whatever that manifests in, I don't think necessarily in a superhero sense, I just mean in like an emotional sense. I feel like I usually play the good guy, so I'd like to play the bad guy."
If Zendaya wants to be a supervillain, I'd love to see her in a James Bond movie. With an actress of her caliber, there's an opportunity to tell a captivating story, where the bad guy isn't necessarily all bad. She could bring some sympathy and understanding to what is usually a one note character. And yes, give her some jaw-dropping outfits to show off while she's kicking James Bond's ass.
The Marvel actress wants to continue her world domination plans by moving into the director's chair. She obviously wouldn't be the first actor to make this particular leap, but the Dune star has outside the box creativity that makes me very intrigued by what kind of story she would want to tell.
"To direct a film, hopefully more than just one, but just doing it," she said. "The first step to actually doing something yourself is not an easy step to take, so hopefully I can get over the fear."
Zendaya is set to take over 2024 with the films Dune: Part Two, hitting theaters March 15, and Challengers, scheduled for release April 26. And presumably, at some point we'll get Euphoria Season 3.