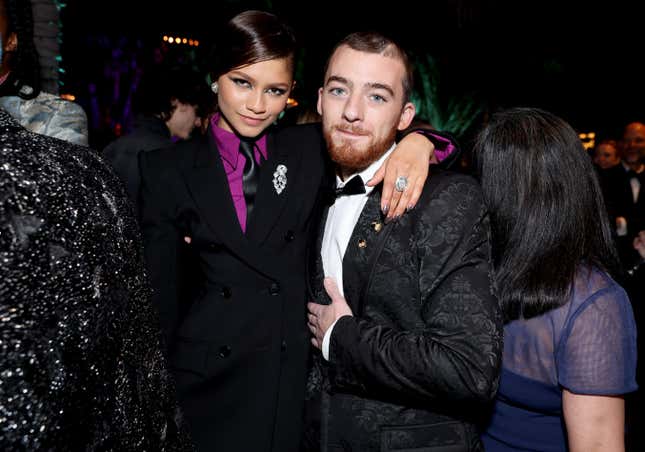 Updated on 8/8/23 at 4:31 pm:
Zendaya Coleman has broken her silence via Instagram about the tragic death of her co-star Angus Cloud, typing, "I'm so grateful I got the chance to know him in this life, to call him a brother, to see his warm kind eyes and bright smile, or hear his infectious cackle of a laugh (I'm smiling now just thinking of it)."
How Law Roach Transformed Zendaya Into The Fashion It Girl
Cloud, who's famously known for his role as Fezco in HBO's Euphoria, has died on Monday at the age of 25. The rising actor was presumed dead at his family's home in Oakland, California. The cause of death has not yet been released.

The actor worked alongside Zendaya, Drake, and Storm Reid in Euphoria, and Halle Bailey for an upcoming film called The Line. When he first became famous many people compared his looks to the late musician Mac Miller, who also tragically passed away at a younger age, 26 to be exact.
Tributes from Black cast mates and other celebrities started rolling in as soon as the news broke on Monday afternoon including Kerry Washington, Jordyn Woods, Big Sean, and more.

"You will be deeply missed. Rest in Power @anguscloud," tweeted Kerry Washington.
Drake, who is an executive producer on Euphoria, posted an Instagram Story calling Cloud a "good soul." Storm Reid who played Zendaya's sister on the show posted on her Instagram Story that her tears "just won't stop." Jordyn Woods also posted a Story of them together at a work event typing, "Such a rare soul...instantly friends from meeting when we did this event together. You will be missed."
Javon Walton, who played Cloud's little brother in Euphoria, posted a picture on Instagram of himself hugging Cloud with a simple caption, "rest easy brother." ​​

Musician Kid Cudi posted his reaction writing, "This hurts man."
Fellow Oakland native Kehlani posted on Instagram, holding back from typing too many of her thoughts, "not too many words when it's this close to home."
Cloud's family released a statement upon the announcement of his passing:

"It is with the heaviest heart that we had to say goodbye to an incredible human today. As an artist, a friend, a brother and a son, Angus was special to all of us in so many ways."
Another painful detail emerged from the statement that Cloud had just buried his father last week and had a difficult time coping with the loss.
"Last week he buried his father and intensely struggled with this loss. The only comfort we have is knowing Angus is now reunited with his dad, who was his best friend."
The family statement acknowledged Cloud's issues with his mental health and wanted readers to know that they should not struggle with their mental health alone:
"Angus was open about his battle with mental health and we hope that his passing can be a reminder to others that they are not alone and should not fight this on their own in silence. We hope the world remembers him for his humor, laughter and love for everyone. We ask for privacy at this time as we are still processing this devastating loss."
Thoughts and prayers to all who loved and were loved by the young actor.