Back in the day, baseball statistician and writer Bill James wrote that it's better to spend money on new publicity instead of on old publicity. Clubs were better spending money for players who have most of their highlight clips in their future rather than in their past.
It has taken baseball personnel bosses a decade or two, but they seem to be figuring out the wisdom in James' common-sense message. The early stages of the NBA free-agent signing period suggest that basketball execs are coming around, too. The free agency signing period began July 1st but contracts didn't become official until July 8, when the salary cap is established and precise amounts for the mid-level exception (a contract that teams over the salary cap can offer to one player) will be set. If there's a good explanation for why these events don't coincide, I haven't heard it.
The big news in the early days of this summer's free agent period has centered on young players. Ben Gordon, 26; Charlie Villanueva, 24; Marcin Gortat, 26; and Trevor Ariza, 24, have all received five-year deals. Shorter deals have gone to veteran players: Rasheed Wallace, Jason Kidd and Ron Artest. Only the Toronto Raptors blundered badly, inking Hedo Turkoglu, 30, to a five-year deal. Let's look at the action off the hardwood so far.
The most intriguing move of the off-season so far has been the "swap" that resulted in forwards Ron Artest and Trevor Ariza changing teams. Ariza was miffed that the Los Angeles Lakers offered him a contract only in the range of $5.8 million a year and went shopping for other offers. The Lakers, figuring they had lost their starting small forward, moved quickly and signed Artest, formerly of the Houston Rockets, to a three-year deal worth $18 million. Meanwhile, Ariza signed with Houston for five years and approximately $36 million.
The deals help both teams. Artest is a stellar defender, an important factor given that the Lakers' title defense likely takes them through several teams with exceptional weak side forwards—most notably, Richard Jefferson of the San Antonio Spurs, Carmelo Anthony of the Denver Nuggets and possibly some guy named LeBron.  
G/O Media may get a commission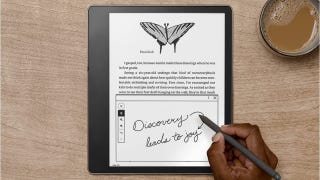 Releases November 30
Borrowing the display from the much-beloved Paperwhite, this screen provides a glare-free experience both indoors and outdoors so you can read by the pool or on the beach on a sunny day. New to this model is the inclusion of a pen. Take notes directly on the pages as you might in a traditional book, but the notes are automatically organized by title in a single place–letting you review and export them with ease.
The risk is twofold. Artest is a notoriously volatile player, and he's not an efficient one, often jacking up shots on whim. Last season with the Houston Rockets, he used 24.7 percent of his team's possessions. He's replacing a player who used only 16.7 percent of his team's possessions. Maybe Artest will adjust; maybe not. I did mention he's volatile, right? It's a big risk, but it's one I'd take.
Ariza makes the Rockets younger and more athletic, and if he continues the improvement he showed in the playoffs, then the Rockets will have another cornerstone toward a team that isn't so dependent on the oft-injured Yao Ming and Tracy McGrady. The Rockets took an interest in Ariza when it appeared that their conference rivals, the Dallas Mavericks, had worked out a deal with former Orlando reserve center Marcin Gortat. Gortat played very well backing up Dwight Howard and was due a long-term contract. He will likely receive five years from the Mavericks.
Gortat, Ariza, Gordon and Villanueva are young players and offering them five-year deals makes sense. Barring injury, each will still be at the peak of their athletic prowess toward the end of the contracts. That the Toronto Raptors and Portland Trail Blazers played tug-of-war to offer former Magic swingman Hedo Turkoglu a five-year deal is just plain silly. Turkoglu turned 30 in March, and players with his skill set typically decline in their early 30s. There is no need to clog precious cap space with players on the verge of their decline years.
It's unusual for players deep into their 30s to reverse their decline, but guard Jason Kidd, 36, did that last season and was rewarded with an extraordinarily lucrative three-year deal by the Dallas Mavericks. (I think Mavericks owner Mark Cuban is still trying to justify the deal that brought Kidd to Dallas for all-star Devin Harris.) Boston must be hoping that Rasheed Wallace has some of Kidd's mojo. Otherwise. their two-year, $11 million deal with him is wasted money.
The fact that the news in the first week of free agency even involves a player like Wallace, who turns 35 just before camp opens, is a sure sign of a weak market. Most teams are sitting tight, and some are conserving money for next year's free-agent market, which will be full of star talent. Two of the best moves so far this summer came from Utah Jazz teammates Mehmet Okur and Carlos Boozer. Each could have opted out of their contracts to become free agents, but sensing greener opportunities next summer, both decided to stay on for one more season in Salt Lake City. In this market, thinking outside the box means avoiding risks, not taking them.
Martin Johnson is a regular contributor to The Root.
Martin Johnson writes about music for the Wall Street Journal, basketball for Slate and beer for Eater, and he blogs at both the Joy of Cheese and Rotations. Follow him on Twitter.