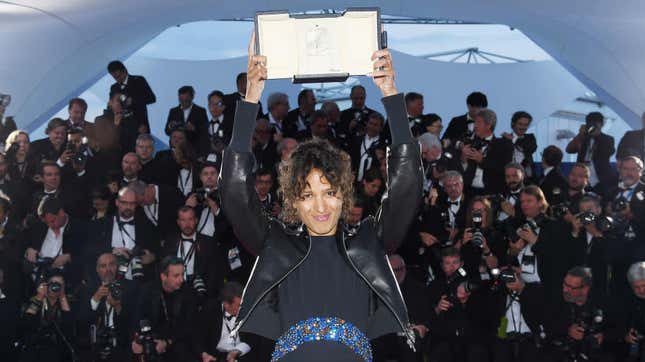 On Saturday, French-Senegalese director Mati Diop became the first black female filmmaker to win a prize at the Cannes Film Festival, the Independent reports. She was also the first black female director to ever have a film compete at Cannes.
Here's How Medicaid Expansion Can Play A Role In Black Maternal Healthcare
Diop, 36, took home the Grand Prix, the festival's second-highest award, for her film Atlantics. Set in Senegal's capital, Dakar, the politically astute drama is both a ghost story and a love story about young Senegalese workers seeking a better life.
"That film touched us in our hearts," said U.S. actress Elle Fanning, a juror, after the awards presentation, according to the Los Angeles Times. "It deals with issues, but it also felt quite personal and vulnerable and very emotional and just quite precious."
Interestingly, the idea of the "precious" nature of Diop's film was a cause of anxiety for the filmmaker. In an interview with the Hollywood Reporter earlier this month, Diop reveals, "I began to ask some questions, like, Was my film really being accepted for what it was? Was it being heard for what it had to say? Or was the fact that I'm a woman filmmaker also a factor that played in this process?"
Diop also spoke to the Hollywood Reporter about learning of the racial implications of her Cannes entry through the media:
Diop is one of four female directors in the festival's 21-film lineup, still a low percentage but a marked improvement from recent years, when the festival came under fire for its lack of female representation. Her inclusion marks another significant milestone: She is the first black female director to be accepted into the competition lineup in the festival's 72-year history — a fact Diop was not aware of until she saw it reported online. "I discovered it myself, reading the article," she says. "It was a rather odd experience for me because I approached it almost as somebody learning this, as an outsider. What I represent exceeds me and does not belong to me."

Diop's father (jazz musician Wasis Diop) is from Senegal and her mother is French. Diop was born and raised in Paris, although she visited Senegal often as a child. "In France, we have a very different relationship in terms of defining blackness. I'm not called black — I'm called a Frenchwoman," she says. "But I have noticed that in America, as soon as you have a little — even 10 or 20 percent of blackness — you become black. Being black is not something I think about every day when I wake up. I don't think of myself as white or as black. I just think about me as me."
Still, according to the Independent, Diop also said she was a "little sad" to make history as the first woman of African descent to screen at Cannes.
"It's pretty late and it's incredible that it is still relevant," she said. "My first feeling to be the first black female director was a little sadness that this only happened today in 2019. ... I knew it, but it's always a reminder that so much work needs to be done still."
Correction: Sept. 16, 2019, 10:17 a.m. ET: This article has been edited to clarify that the Grand Prix is Cannes' second-highest award. It has also been edited to remove unattributed text and add fuller sourcing.