Collin Sexton is a star freshman point guard for the University of Alabama's basketball team. He's so good that although Oklahoma's Trae Young has a bigger name, Sexton will probably be picked ahead of him in the NBA draft. And while Alabama had an up-and-down season this year, that they even made it to the NCAA tournament was largely due to Sexton's play in the SEC Tournament.

Anyway, they lost Saturday to Villanova, a team that's just much better than they are. In a weekend full of upsets, Villanova handling Alabama was one of the few outcomes that most people rightly predicted. During the game, while Alabama was down 26 points, Sexton was called for a technical foul for taunting Villanova's Mikal Bridges. Obviously, this was not a good look, but 19-year-olds do dumb shit sometimes, and this was far from an unforgivable act.
It was also last weekend that I learned that 1) Joseph Goodman exists, 2) Joseph Goodman writes things that can be read on the internet and 3) Joseph Goodman is a living icon. If Earth is around for another 10,000 years or so, and if people are still writing about sports on the internet then, you still won't find another take worse than the one Joseph Goodman wrote on Collin Sexton.
Like, remember that scene from The Matrix when Neo gets shot in the hallway and comes back to life and finally realizes he's the One and sees everything in code and stops the bullets in midair, and Agent Smith rushes him and Neo starts doing some no-look, one-handed kung fu shit while making a face like "These hos won't hold me back!" and then dives into Agent Smith's chest? Well, this piece is Joesph Goodman diving into the internet's chest.
It starts with something fact-ish and smarmy, a narrative device to let everyone know that Goodman is coming from a rational and sober place. JOSEPH GOODMAN IS A MOTHERFUCKING ADULT:
Collin Sexton's final action as a college basketball player was getting hit with a technical foul for taunting a superior opponent while trailing by 26 points.
G/O Media may get a commission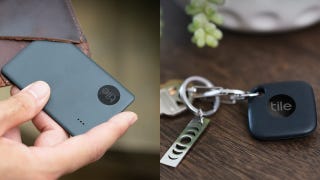 Up to 35% off
Tile Item Trackers
Then he begins his descent into full dog-whistling schoolmarm:
Not exactly the last impression someone wants to make before turning pro, and probably not the type of image the University of Alabama wants to project to the rest of the country after making it back to the NCAA Tournament for the first time since 2012.
I'm sure the state of Alabama has some bigger concerns about the image they wish to project to the rest of the country, but maybe that's just me.
Also, Alabama made it back to the NCAA Tournament for the first time since 2012 BECAUSE OF COLLIN SEXTON, THE STAR FRESHMAN POINT GUARD YOU'RE ABOUT TO PLAY MAGA YAHTZEE WITH IN THIS FUCKING "COLUMN," YOU DICKWAD! Goodman goes on:
Classless.

Clueless.

Unacceptable.
Holy shit! Goodman brought out the big guns. Whenever you compose entire paragraphs with just one word, you mean business. Someone call the manager because some serious white business is about to go down. Joseph Goodman is here to write shitty takes and chew bubble gum, and he's out of bubble gum:
So, Alabama's one-and-done point guard took a seat on the bench and watched the final few minutes of his brief college career from the sidelines. Credit to Alabama coach Avery Johnson for at least getting that right on Saturday in Pittsburgh. From the bench, Sexton got a good look at what it must feel like to watch Alabama pummel, say, Coastal Carolina inside Bryant-Denny Stadium on a Saturday in the fall.

Only worse.

At least Nick Saban is nice enough not to run up the score on the sacrificial lambs of college football. Villanova isn't wiring $1.5 million into Alabama's bank account on Monday morning, either.
You probably have to be a seasoned reader of shitty sports takes to see what's happening here. Although the athletes in power-conference football and basketball are predominantly black, basketball is generally regarded as a blacker sport. One of the reasons for this distinction is that basketball generally allows for more individual freedom and improvisation than football does. And by creating this useless juxtaposition of Collin Sexton and the University of Alabama's football team, Goodman is reminding the readers that football in general and Nick Saban (Alabama's football coach) specifically wouldn't allow such indecency.
Joseph Goodman is a pillowcase filled with blueberries.
Goodman follows with some more bullshit and then (finally) gets to the climax. From this point on, we should probably just start calling "excessive foreplay" "pulling a Joseph Goodman":
One, Alabama should be better this time next year.

Yes, Sexton will be gone, but that doesn't seem like such a bad thing after watching him against a truly special team. Alabama wants to win a national championship in basketball. That doesn't happen with a 6-foot-2 point guard who wants to play isolation basketball when things get tough.

Sexton wouldn't say definitively that he was going pro after Alabama's loss, but his body language screamed it at the end of regulation.
Ah yes. We all know that you can't win national championships with a player talented and driven and confident enough to score 38 points in a game where his team only had three players. Nope. A college basketball team with national-championship aspirations can't use players like that. Maybe if Collin Sexton wants to help the team, he'd be better served selling hot sausages in the tailgate instead of playing on the court.
The rest of the piece is dumb and stupid and shitty and full of dog whistles and just reiterates what Goodman said already. The irony here is that as wrong as Goodman is, he might be right about Alabama. Next year, when Sexton is in the NBA, they might be even better. But they'll be better because the returning players will be better, with another year to grow and gel. Not because their best player is gone.
Anyway, Joseph Goodman is a columnist for Alabama Media Group. He's on Twitter @JoeGoodmanJr. And I know all of this because it's attached to the end of the piece, and it's the only part that makes any sense. Talk about burying the lede!