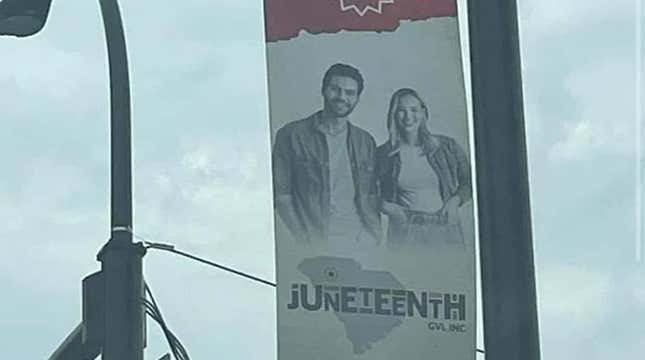 We all know what Juneteenth is, right? It is the celebration of emancipation from slavery in the United States.
On June 19, 1865, Union troops announced in Galveston Bay, Texas, that more than 250,000 enslaved Black people were freed by executive order. Hence the name "Juneteenth" ("June" plus "nineteenth").
So why in the world would a South Carolina town use white people to promote the historical holiday that's meant to celebrate Black people being freed?!
Earlier this week, Juneteenth GVL, a community organization in Greenville, S.C., released some of the banners they planned to use to advertise the events they are organizing for people in the city.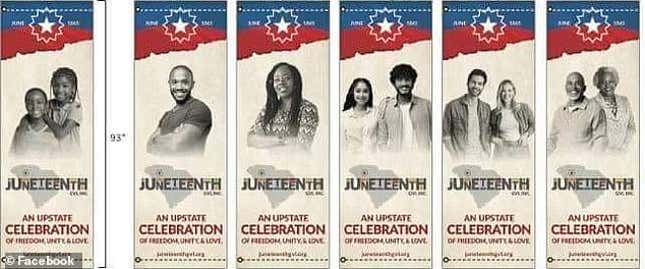 The banners featured many people of color including Black and Hispanic people. But one of them featured a white couple, which got Black people in Greenville and on social media questioning why the organization would do such a thing, with many people wondering why they are "gentrifying" a Black holiday.
The backlash on social media led the executive director of Juneteenth GVL, Reuben Hays, to release an apology that read:
"Juneteenth GL would like to offer an apology to the community for the presence of non-black faces being represented on two flags representing Juneteenth. We acknowledge this mistake having been made and will correct the error quickly. This error was an attempt at uniting all of Greenville and thereby a slight oversight on one individual's part that prevented us from fully embracing the rich potential and celebrating the depth of the black culture through the message and meaning of Juneteenth, and for that, we apologize to you the entire community.

"To foster solidarity and inclusivity, we will continue to work to make all communities better. We take full responsibility for this misstep in this regard, and pledge to rectify the situation promptly and responsibly.

"Again, the flags in question will be removed as soon as possible.

"We deeply value the voice of our community, Juneteenth GVL has accomplished many commendable achievements and we hope to work to continue to do so with your continued support. Over the past eight months, our dedicated team has worked tirelessly to curate remarkable Juneteenth experiences for the upstate community, and we anticipate a beautiful celebration that everyone will be pleased with and proud of…

"Once again, we sincerely apologize for any disappointment or frustration caused by this oversight. Moving forward, we are committed to ensuring that our events fully reflect the diversity, inclusivity, and historical significance of Juneteenth. With humility and a renewed commitment."
Moving forward, I suggest you just don't put any white faces on the Juneteenth banners, or Black people in the city may never let you organize another Juneteenth celebration again.