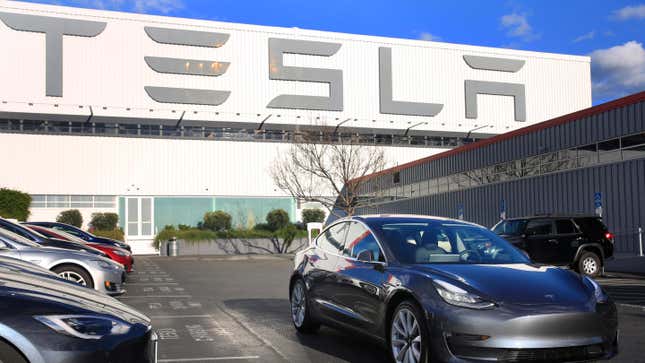 Is Tesla a factory for cars or racism? Marcus Vaughn sure believes the latter.
Vaughn, a Black man, who used to be an assembly line worker at Tesla's Fremont, Calif. factory, filed a lawsuit in 2017 against the company, claiming that it was a "hotbed for racist behavior."
Elon Musk Has Opened the Floodgates For Racists On Twitter
Shortly after, noted asshat and Tesla CEO Elon Musk allegedly sent an email to factory employees that essentially said Vaughn should have tougher skin and accept the "apology" from the company.
That message read, "Part of not being a huge jerk is considering how someone might feel who is part of [a] historically less represented group," Musk wrote in the email. "Sometimes these things happen unintentionally, in which case you should apologize. In fairness, if someone is a jerk to you, but sincerely apologizes, it is important to be thick-skinned and accept that apology."
Basically, we should stop complaining about racism and just accept it for what it is?! Nah, that ain't gone work.
The company also released a long blog post called, "Hotbed of Misinformation," writing that they investigated the alleged racist incidents and fired the employees involved.

But, six years later, Vaughn is standing by his "hotbed for racist behavior" claim and calling in hundreds of his Black employees for backup.
According to Fortune, Vaughn is tired of being ignored by Tesla and adding 240 other Black employees of the car company to his 2017 lawsuit.
On Monday, he argued that a class-action lawsuit is the best course of action to address Tesla's "pattern and practice of race discrimination." He also claimed in court that he has sworn statements from a plethora of Black employees who were bothered by racist graffiti spray painted in the factory and the use of many racist terms including "boy," "monkey," and the N-word.
If they're going to ignore the racism you went through as an individual, why not call in the cavalry and have them relay similar experiences they went through as an employee of the same company?