A new video of a woman yelling racial slurs and throwing merchandise at other customers in a Target has gone viral on social media.
In the video, the woman can be heard screaming, "You fucking sand niggers! Fucking pieces of shit, fuck all of you … all of you are shit."

The video was posted on Twitter on Tuesday and has since been retweeted over 23,000 times.

Shortly after the woman began shouting, she started to pick up pieces of merchandise and throw them at other customers. The security guard at the Target then came over to physically restrain the woman, but he struggled to force her to the ground and handcuff her while she screamed for help.
"I'll leave if you let me go!" she screamed multiple times while the security guard made several attempts to subdue her and calm her down.
G/O Media may get a commission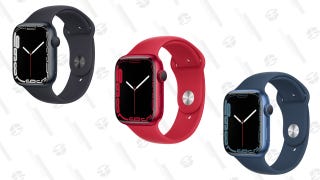 Up To $45 Off
Apple Watch Series 7
The location of the Target has not been identified.