A 19-year-old African-American man was unarmed when he was shot and killed Friday by a white officer in Madison, Wis., the Associated Press reports, renewing the national debate about aggressive policing in the black community. Protests erupted over the shooting and lasted throughout the day Saturday.
The teen, Tony Robinson, was shot after allegedly assaulting Officer Matt Kenny, Madison Police Chief Mike Koval said Saturday during a news conference. The incident began about 6:30 p.m. on Friday when police received a call about a person jumping into traffic. A second call to police said the man was "responsible for a battery" in a nearby apartment, Koval said, according to AP.
The officer went to the apartment and pushed his way inside after hearing a disturbance, the report says. Upon entering, he was allegedly assaulted by Robinson, and that's when the officer fired, the chief says. Koval told the press that he was uncertain how many shots were fired and that the incident is under investigation.
"He was unarmed," Koval said of Robinson, AP writes. "That's going to make this all the more complicated for the investigators, for the public to accept." Police Department spokesman Joel DeSpain said Kenny would not have been wearing a body camera, according to AP.
The shooting thrust Madison into the center of the growing controversy about police brutality in the nation's police departments. At the scene of the shooting, demonstrators chanted, "Black lives matter," the mantra of demonstrators against aggressive policing across the country.
G/O Media may get a commission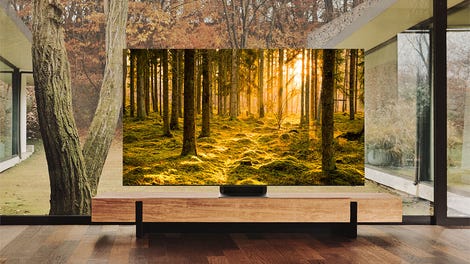 Up to 40% off
Samsung Smart TVs
"I can't even compute what has happened," Robinson's mother, Andrea Irwin, said in a statement. "I haven't even had a chance to see his body."
Read more at the Huffington Post.