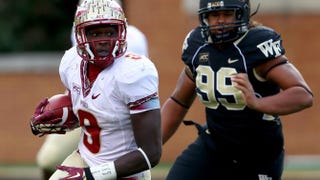 A bathroom brawl Friday among football players from Winston-Salem State and Virginia State during a CIAA championship game luncheon left the WSSU quarterback beaten and charges filed against a player from the other team, the Associated Press reports.
The scuffle led to the cancellation of Saturday's title game in Winston-Salem, N.C. Rudy Johnson, the starting quarterback for WSSU Rams, was "viciously beaten" by members of the Virginia State team, Winston-Salem State Chancellor Donald Reaves said in a statement, the AP reports. Reaves said one Virginia State player admitted his role in the beating.
Winston-Salem spokeswoman Nancy Young identified the suspect as 22-year-old Lamont Daniel Britt. A Forsyth County jail official told the AP that Britt, a running back from Portsmouth, Va., was being held there Friday night on a charge of misdemeanor assault inflicting serious injury.
Both Winston-Salem State Rams and Virginia State Trojans are 9-1.
Read more at the Associated Press.