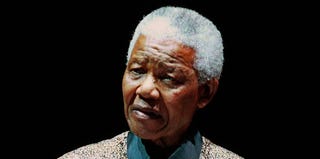 Nelson Mandela is doing better, according to South African President Jacob Zuma, reports BBC News. Mandela, 94, re-entered a hospital for the third time in four months earlier this week for a lung infection.
It said Mr Mandela had developed a pleural effusion - excess fluid in the lungs which had been drained to enable him to breathe more easily.

There are no details yet on how long he will remain in hospital …

On Friday, Mr Mandela's ex-wife, Winnie Madikizela-Mandela, told public broadcaster SABC that he was "doing well".

"He's responding very well to treatment," said Ms Madikizela-Mandela at a church service in Soweto.
Read more at BBC News.
Like The Root on Facebook. Follow us on Twitter.