"I'm rooting for everybody black."

Issa Rae's now-famous quote from the 2017 Emmys is the gift that keeps on giving. Case in point: Now, in the season of giving, it was the exact phrase that came to my mind while watching the 2017 Victoria's Secret Fashion Show, which aired last night on CBS.
This year's runway event, which was taped on Nov. 20, featured its highest number of black (and black-adjacent—yes, that's a thing) models to date—a full 18 out of 56. If that number doesn't impress you, consider that at a whopping 32 percent, the ratio of blackness in this year's show was over twice that of the United States.
Truthfully, I wasn't planning on watching the show. I can't even tell you the last time I'd watched one. After all, what use have I for a full hour of staring at thighs incapable of jiggling—as mine always have and forever will—when a bevy of style sites will give me all the screenshots and sound bites I need while sparing me the masochism?
But curiosity, blackness and my new role at The Glow Up won out (coercion from Editor Veronica Webb and Editor-in-Chief Danielle Belton notwithstanding). And so, last night I spent an hour I neither had to spare nor could ever hope to get back watching a gaggle of models take to the runway in couture lingerie ...
And I unexpectedly got my entire black life. My Black Girl Magical life, to be precise.
G/O Media may get a commission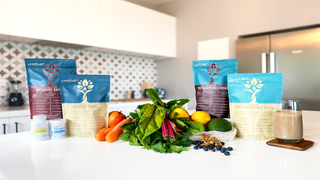 First of all, let's hear it for the ladies, because they SERVED ... face, body, personality, every damned thang. For a comprehensive (and alphabetical) list of our representatives in the lingerie delegation, this year's show featured Leomie Anderson, Alanna Arrington, Samile Bermannelli, Grace Bol, Maria Borges, Cindy Bruna, Aiden Curtiss, Dilone, Amilna Estevao, Lameka Fox, Alecia Morais, Leila Nda, Mayowa Nicholas, Herieth Paul, Jourdana Phillips, Lais Ribeiro, Zuri Tibby and Jasmine Tookes.
Second, let's hear it for Victoria's Secret. While its "Nomadic Adventure" segment admittedly felt a bit forced and problematic, it still deserves credit for (finally) continuing to expand the show's roster to include the entire spectrum of black beauty; from Alanna Arrington to Grace Bol. And building on the inclusion of natural hair initiated by Maria Borges in 2015, this year's production featured bald heads, bouncy curls and big chops—in fact, Dilone's sleek crop seemed to be channeling our own Veronica Webb circa 1990.

It was also a treat to watch Afro-Brazilian model Lais Ribeiro rock the coveted $2 million "Fantasy Bra," having been passed the torch by fellow black Angel Jasmine Tookes in 2016.
And the blackness didn't stop there. After all, this year's VS collection was in collaboration with fashion's golden child (and ours), Olivier Rousteing of Balmain, whose sky—I mean thigh-high beaded boots stole the show. There were also musical performances from crooner Miguel and Hamilton alum Leslie Odom Jr., whose a cappella rendition of Bob Dylan's "Forever Young" legit brought me to tears—I still can't believe I cried over a damned VS show. (Like, "How am I crying right now?") And sidebar shoutout to Drake—and Drake's dad—wooing a still-stellar Nicole Murphy in a Virginia Black ad during the commercial break.
All of that said, while Victoria's Secret is clearly pushing its own envelope on inclusion (casting its first-ever redhead, Alexina Graham; several models well into their 30s, including Alessandra Ambrosio, retiring at 36; and a growing group of Asian models—appropriate, since this year's show was in Shanghai), there's still valid concern about its continued exclusion of bigger body types. And while fuller figures have never been a solid part of VS's brand, as a veteran of the now-fabled VS-inspired million-dollar Lane Bryant lingerie shows, I'm inclined to agree.
Because in what is widely recognized as the world's sexiest runway show, inclusion becomes an issue of who gets to be considered desirable. And while Victoria's Secret has come a long way in recognizing and representing a broader range of sexiness, it still has room to grow.