Pittsburgh Steelers head coach Mike Tomlin got straight A's at Denbigh High School in Newport News, Va., and he competed deep into statewide academic competitions. But he never let his football teammates know about his book smarts because he wanted to be viewed as a tough guy, not some soft brainiac.
Now, even as he's on the verge of a second Super Bowl title in his fourth season as coach, some folks are still a little slow on the uptake regarding his brilliance.
"I think the first couple of years, people had an excuse here and an excuse there for why they didn't want to give him any respect," Steelers nose tackle Chris Hoke recently told reporters. "The guy has proved that he is a winner. Three of his four years, he has taken us to the playoffs, and two of his four, taken us to the Super Bowl. So you've got to give the guy credit."
You would think so. But something besides Tomlin's aptitude has always gotten more attention, whether it's been his inexperience, his age, his race or the team or franchise he was blessed with.
Skeptics were lined up when the Steelers hired him in 2007, choosing a 34-year-old outsider over two veteran, in-house assistant coaches who were heavy favorites to land the job. And it was widely presumed that Tomlin would never have been considered if not for the NFL's "Rooney Rule," which requires teams to interview minority candidates for coaching vacancies. Since the rule is named after Steelers owner Dan Rooney, it appeared that the franchise bent over backward to make an affirmative action hire. But Rooney cleared up that common misperception during the Steelers' last Super Bowl visit in 2009.
G/O Media may get a commission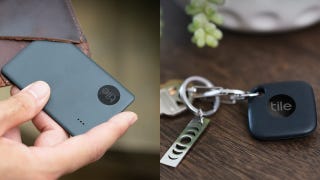 Up to 35% off
Tile Item Trackers
Not that it would detract from his success — just as his achievement in winning the Super Bowl in 2009 shouldn't have been downplayed because he won with key players left over from the Bill Cowher-coached team that won the Super Bowl in 2006. After all, Cowher went 8-8 in his final year; Tomlin went 10-6 as a rookie and then 12-4, and won the Super Bowl in his second season.
But it's understandable that there were doubters initially, and not just among observers.
"Sure, there was skepticism. He had never been a head coach," Steelers defensive end Brett Keisel said recently. "We had candidates inside our locker room that a lot of people felt, at the time, were going to get the job. We thought Ken Whisenhunt might get the job, or Russ Grimm. So when they brought in Coach Tomlin, a young guy, I didn't know what to think."
Slowly but surely, folks are beginning to recognize.
"He's done a phenomenal job this year," Steelers receiver Hines Ward told reporters. "With all the adversity we've been through — not having Ben [Roethlisberger] for the first four games, missing Troy [Polamalu] for three games, having Aaron Smith out, playing musical chairs with the offensive linemen — he just keeps plugging guys in, and we keep winning."
Tomlin wasn't showered with praise the way other coaches were who won Super Bowls at a young age — even though, when he won in 2009 at the age of 36, he was the youngest ever to do it — but he is finally getting his due as one of the league's best. At his current pace, it won't be long before he's included in the discussion of all-time greats, proving what his high school classmates knew anyway, despite his efforts to hide his smarts, when they voted him most likely to succeed.
Deron Snyder, an award-winning journalist who covers sports, politics and pop culture, is a regular contributor to The Root. He can be reached at deron@blackdoorventures.com.