The wife of Chicago Police Officer Jason Van Dyke says that a job offer for her to become a Cook County sheriff's deputy was abruptly pulled because of her husband's controversial case.
According to the Chicago Tribune, Tiffany Van Dyke was set to begin training last week as a deputy after finishing a year of tests and interviews. However, just four days before she was scheduled to start her four months of training at the academy, she says that with no explanation, she was told not to show up.
Van Dyke said that she had already quit her other jobs as a full-time fitness instructor and a part-time bartender and had invested in the costly uniforms and equipment required for the position as a correctional officer at the county jail, which would have raked in about $53,000 annually.
The Cook County sheriff's chief policy officer, Cara Smith, denies that Van Dyke was fired, saying that she merely had her start date delayed over safety concerns about her working in a jail given the notoriety of her husband's case. Smith encouraged Van Dyke to seek a civilian post with the sheriff rather than work in the jail, according to the report.
"We're not hiring to work at Macy's," Smith said. "It's a totally different environment. We certainly are sympathetic to her situation, but our concern first and foremost has to be ensuring her safety."
G/O Media may get a commission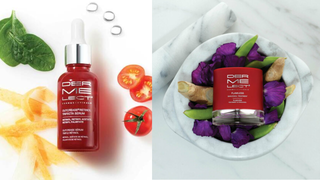 Save $19
Retinol Renewal Kit
Tiffany Van Dyke's husband, Jason Van Dyke, is facing first-degree murder charges for the 2014 shooting of 17-year-old Laquan McDonald, whom he shot at 16 times, as shown by police video of the footage, which sparked outrage. Most recently in the case, Jason Van Dyke was indicted on an additional 16 counts of aggravated battery with a firearm.
Tiffany Van Dyke told the Tribune that from the very beginning she was candid about her husband's identity, and applied for the job under her married name. She says that she now sees the continuing fallout over her husband's actions as daunting, noting that she is the mother of two daughters and the wife of an officer who is currently suspended without pay or medical benefits.
Tiffany Van Dyke told the Tribune that her daughter was in tears Friday after someone apparently wrote "16 shots" on her desk in art class in reference to the newest indictment concerning the death of Laquan McDonald.
"I need to be able to take care of my family. I need to be able to take care of my children," Tiffany Van Dyke said. "It would have been a huge financial ease off our shoulders. It was something I was interested in doing.
"I do like helping others. I know it wasn't going to be easy by any means. It's a hard job for anyone to have to go into the jail and be a correctional officer," she added. "But I believe I'm a strong enough human being to be able to handle it, both physically and emotionally, but unfortunately they didn't want to give me a chance."
Daniel Herbert, the attorney representing Jason Van Dyke in his murder case, said that he reached out to the sheriff's office in an attempt to resolve Tiffany Van Dyke's employment woes without "involving the courts."
Herbert called the decision a political one.
"I think [Sheriff Thomas Dart's] decision [to hire the officer's wife] would be questioned, and it would hurt him politically," Herbert said. "You cannot fire someone for an illegal reason. People are free to associate with whomever they want under the First Amendment, and if someone is being terminated because of who they are married to, that's a violation of their constitutional rights."
The Rev. Marvin Hunter, Laquan's great-uncle and the family's spokesperson, declined to comment on the employment fiasco but expressed compassion for the officer's family, according to the report, saying that Jason Van Dyke should face justice in a court of law and not by "vigilantes on the street."
"He was the one who did the shooting and acted as judge, jury and executioner," Hunter said, adding that his own family had faced threats and backlash surrounding the case as well. "His wife and their children were not there, and people shouldn't be on a witch hunt for anyone's family.
"I feel sorry for his children, I feel sorry for his wife," he added. "They're feeling what we feel. We've all been dragged into something—a terrible tragedy that happened—that had nothing to do with us."
Read more at the Chicago Tribune.