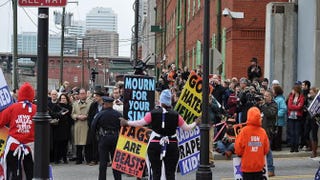 Members of Westboro Baptist Church reportedly plan to fly to South Africa to protest the funeral of Nelson Mandela, News One reports. The 95-year-old former South African leader died on Dec. 5.
In an outrageous claim, the fringe group took to Twitter to announce the protest, calling Mandela an adulterer who does not deserve to be honored. The group is widely known for its homophobic and anti-Semetic protests at funerals and memorials. 
Mandela was married three times and divorced twice. His first marriage in 1944 was to Evelyn Mase; they divorced in 1957. A year later, he married Winnie Madikizela, his most famous wife. They divorced in 1996. On his 80th birthday in 1998, he married Graça Machel.
Members of Westboro Baptist have also protested at military funerals, saying that soldiers are "burning in hell because they died defending a morally bankrupt America." The group has also taken to social media to attack celebrities, most recently Paul Walker, who made it onto their radar for refusing to "to serve his Creator," the Daily News reports.
Read more at News One.