When Orange Is the New Black—the unlikely hit series set in a women's prison—kicked off in 2013, the Boston-born Uzo Aduba, whose parents are Nigerian, was an unknown. Theater, not television, had been her primary medium. But thanks to that training, Aduba has taken her popular character, Suzanne "Crazy Eyes" Warren, who could easily have been a caricature—a stereotype, even—and breathed life into her, garnering loyal fans as well as several awards. Her trophies so far include the 2014 Critics' Choice Television Award for Best Guest Performer in a Comedy Series, the 2014 Primetime Emmy Award for Outstanding Guest Actress in a Comedy Series and the 2015 Screen Actors Guild Award for Outstanding Performance by a Female Actor in a Comedy Series.
The Root recently caught up with Aduba for an exclusive chat.
The Root: You actually auditioned for another part, but Crazy Eyes was the one given to you. So when you learned about her, what were your initial thoughts?
Uzo Aduba: When I initially heard I got the job, I thought, "OK, the part's named Crazy Eyes. I wonder what that's going to be." Upon reading the script, I felt drawn to the part. …  I thought to myself, "Oh, this is a love story and this is a role that can easily be written as one-dimensional," but it seemed like they had added some depth to her and some intrigue to her world that excited me, and I was interested in exploring her openness and her purity.
TR: Crazy Eyes was only supposed to be around for two or three episodes, correct?
G/O Media may get a commission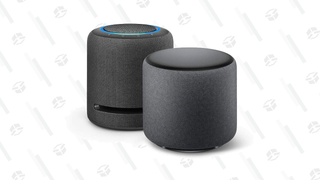 25% off - Prime Exclusive
Echo Studio + Echo Sub Bundle
UA: When I was hired for the job, they said she was written for two episodes and possibly a third, and then, when I was working on my second episode, I remember the producer walked me back to my dressing room, and I really just thought she was going to say, "Thank you so much for joining us. It's been a pleasure having you; all the best to you." Instead she said, "Thank you so much for your work today. We are going to be using you more."
And I just thought she meant I was going to do the third episode. I didn't realize I was going to be a part of the rest of the season, but I am forever grateful to [OITNB creator] Jenji [Kohan] for inviting me to stay.
TR: With such limited information, how did you prepare to play her?
UA: When I saw her being described as someone that was, I'm paraphrasing, "innocent like a child, except that children aren't scary," that made me understand her in a different way than just superficially crazy. This was a woman who was in pursuit of love, whose actions might possibly be misunderstood, who behaves in a sort of childlike quality. If she's innocent like a child, then this is someone who acts before they think. They're impulsive. They are without agenda. There is no manipulation or calculation in any of her actions.
TR: How do you reconcile her violence?
UA: I reconcile that because what I understand about that choice is, even in her violence, it's always born out of a place of love, from a place of protection, from a place of loyalty. She's not being violent from a sociopathic place. She doesn't delight in it. She's always doing it for a reason. She's doing it to protect Piper. She's doing it to protect Vee. It's always from a love place.
TR: Because she has mental-health issues, do you feel an extra sense of responsibility toward her?
UA: I feel a responsibility to any and every character, but I do feel like her primary caretaker and I don't want her to be harmed. I want her to be understood, and I want her voice to be heard and heard clearly. Issues of mental health are now becoming a hot-button issue, and I'm glad that's become a dialogue that people are interested in exploring.
TR: What do you think the show's impact has been?
UA: I think what Jenji has done, along with our other writers, that's been kind of brilliant is provoked many conversations, from conversations of solitary confinement, conversations about the mental health within the penal system and [whether] those who are incarcerated were treated appropriately or not and not with a heavy hand. I think the best kind of art is one that's able to marry itself to issues that revolve around social change and really start the conversation inside the home, among the viewers, among the audience, to really think beyond it just being a television show.
TR: What's next for you?
UA: Well, I have been fortunate that it has opened up other avenues. I shot a film [Showing Roots] this past winter with people who have inspired me as an artist over the years, like Cicely Tyson. I've been grateful for that opportunity and other opportunities that hopefully I'm able to speak on at a later date. I'm grateful [for] what this experience has been. Supremely, I am a storyteller. I love to tell stories. I love to act, and I hope to do that for the rest of my life.
Editor's note: Orange Is the New Black returns for its third season on Netflix June 12.
Ronda Racha Penrice is a freelance writer living in Atlanta. She is the author of African American History for Dummies.