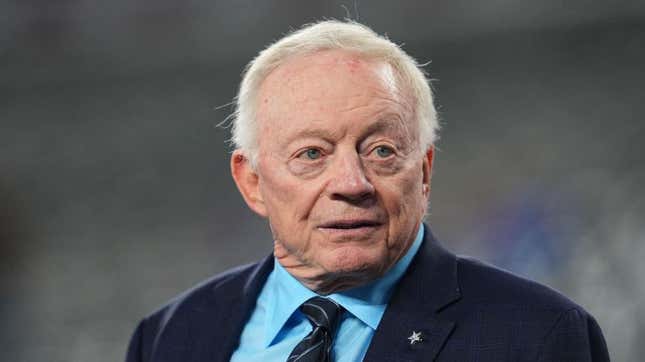 Some people may be shocked by the following comment from Dallas Cowboys owner Jerry Jones, but I almost expected it like clockwork.
Michael Oher On New Book, NFL, The Jets, Aaron Rodgers, Running Backs Contracts & He Sings!
Following the Cowboys' 30-10 demolition of the New York Jets, Jones addressed the media saying, "Nobody got in on a wing and prayer any more than I did, and I really couldn't afford it. But I got into it and as we look and see — and we do see — the qualified potential buyers out here that can get involved and that's one way. It's not the only way."
He continued, "Multiple ways to address inequity. Multiple ways to go do it. And certainly, I would think about one way is to try to work to get ownership improved in the minority area. And I'm all for it and I do it. I work at it. I work at it."
Sounds like a nice inclusive statement, especially coming from an NFL owner, right? Except, this statement was made just days after former NFL Network reporter Jim Trotter sued the league for racial discrimination and accussed Jones of making racist comments.
Specifically, the lawsuit claims that Trotter asked Jones why they're weren't more Black people in "decision-making positions." In response, Jones allegedly said, "If Blacks feel some kind of way, they should buy their own team and hire who they want to hire."
To no surprise, the Cowboys owner has denied the claims.
Jerry Jones needs his actions to speak louder than his words
Jones is known for letting his words speak louder than his actions. Every year, he speaks about the Cowboys' Super Bowl aspirations, and yet every year, since 1995, they've fallen short.
Yes, this falls on Jones, who is insistent on being the one pulling all the strings for "America's Team," which includes hiring himself as GM, and a coach whom he knows he can control (Mike McCarthy). He says he wants to win, but he truly doesn't just let things play out. He always has to make the expectations higher than they should be.
The same could be said with these latest comments. Yes, it's a good thing that Jones wants to increase minority ownership in the NFL. But what will he do about it?
His current record dealing with race relations is terrible.
I already highlighted the allegations Trotter made against him days ago. Do ya'll remember the photo of a young Jones in 1957 standing by as Black students were hounded by a white mob while they were simply trying to integrate an Arkansas high school? What about the time the only player on the Cowboys team who decided to protest the National Anthem was cut?
In 2017, when he was asked about Colin Kaepernick's protests to bring awareness about racial injustice in the country, Jones stated, "If we are disrespecting the flag, then we won't play. Period. Period. We're going to respect the flag. We cannot in the NFL, in any way, give the implication that we tolerate disrespecting the flag. We cannot do that."
So you expect me or anyone else with a brain to believe that Jones is going to his damndest to improve minority ownership in the NFL? Nah. Not an old white man with the track record that Jones does.