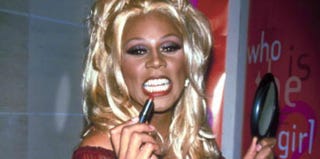 Ebony's Tracey Ross argues that the program Drag Race is an important vehicle for exploring the intersection of race, sexual orientation and gender — one not seen anywhere else on television. 
The reality show, a cross between a beauty pageant and a lip-synching competition, pays homage to the drag ball culture born out of the Harlem Renaissance and made famous by the documentary Paris is Burning, where mostly poor Black and Latino drag performers would compete in various gender categories. True to its roots, RuPaul's Drag Race features a racially diverse cast of gay men who poke holes in traditional gender norms with outlandish wigs, costumes, and a generous amount of makeup. While the show is meant to serve as a light-hearted competition for drag queens to showcase their talents, RuPaul and his girls have made Drag Race an important vehicle for exploring the intersections of race, sexual orientation, and gender not seen anywhere else on television …

RuPaul has said, "every time I bat my false eyelashes, it's a political statement." Drag as an entertainment form has always been a defiant act. According to RuPaul, being a drag performer is challenging, "Because our culture hates femininity" and the female image is only valued when it "support[s] patriarchal power." Drag, on the other hand, takes our culture's ideal of femininity head on by hijacking it, exaggerating it, and creating something entirely new. In an age of smaller waistlines and airbrushed faces, the sight of a six-foot, seven-inch Black man atop stilettos may represent the strongest countervailing force to traditional notions of femininity and beauty on television … 

While networks are beginning to show more diversity and even incorporate lesbian, bisexual and transgender characters, RuPaul's Drag Race brings more reality to television than most reality shows, and challenges traditional representations of race, gender, and sexual orientation in entertainment. To all the shows out there failing to measure up: you better work!
Read Tracey Ross' entire piece at Ebony.
The Root aims to foster and advance conversations about issues relevant to the black Diaspora by presenting a variety of opinions from all perspectives, whether or not those opinions are shared by our editorial staff.