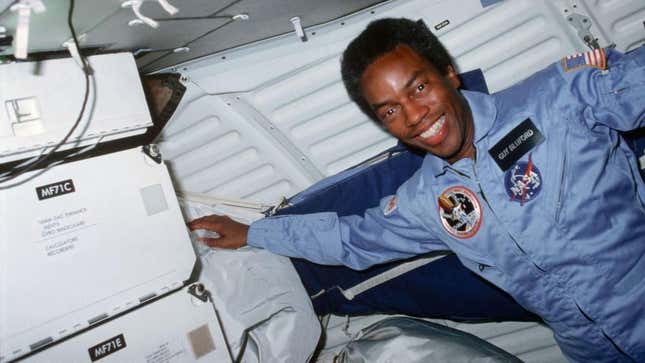 Today is a special day in Black history. Do you know why?
Exactly 40 years ago today, on August 30, 1983, Guion "Guy" Bluford became the first African American to reach space. His mission, STS-8, was the eighth NASA Space Shuttle mission in history and the third time the Space Shuttle Challenger had been flown.
Courtney B. Vance in Heist 88 Is Our Black TV Pick of the Week
His objective, along with other members of the team, was to "deploy the Insat-1B weather and communications satellite for India," according to NASA. He went on three more spaceflights following his historic 1983 mission.
But I'm not here to bore you with space jargon and what Bluford did while he was in orbit, I'm here to explain why what he did once he returned to land is just as important as what he did while he was in the stars.
In the time since his historic mission, 15 more Black astronauts have been able to go into space. For context, let me show you how small a number that is.
Also in 1983, Vanessa Williams was crowned the first Black woman to win the Miss America pageant. Since then, seven have gone on to win it. Still, a small number, considering the last Black woman to win the competition was in 2003, but there have been only 28 Miss America competitions since then, giving Black women fewer opportunities to win the title.
Since Bluford's mission in 1983, there have been 127 launches and orbital flights, and still, only 16 Black astronauts have been into space. In that same period, more than 300 NASA astronauts have been in space.
This is not to point blame at anybody, considering Bluford himself has pointed to other reasons for there being so few Black astronauts since 1983.
More from the Houston Chronicle:
Bluford and others pointed to education as a major barrier. There aren't enough Black students pursuing STEM careers, which is a requirement for astronauts (except test pilots). It might also be hard for students to see themselves as astronauts with only 12 Black men and four Black women having flown with the agency.
This article is meant to open the conversation about what Black people are capable of. This is not meant to motivate or persuade anyone to pursue a career as an astronaut, but more as a message that Black bodies are needed everywhere.
Yes, it's cool that we have a Black Vice President, and that Black businessmen and women are some of the richest people in the world, but it's also important that Black voices are heard in spaces where they are uncommon.
I know this is a tired saying but representation is important, seeing people who look like you do things that are literally out of this world is an important factor in getting more people who look like you to do it.
So while Bluford was the first ripple effect to get more African American bodies into space, 40 years later, I hope his legacy and accomplishments still serve as inspiration for the next Black boy or girl who has dreams of seeing beyond the stars.