(The Root) — It's 9:30 p.m. on Friday, March 15, in the East Flatbush neighborhood of Brooklyn, N.Y., and a gaggle of people have gathered at East 55th Street and Church Avenue to remember Kimani "Kiki" Gray and protest his death. NYPD cars and paddy wagons line Church Avenue and color the heavily West Indian neighborhood with their flashing lights.
Last Monday and Wednesday, the area was a jumping-off point for more than 100 livid protesters who marched while some broke into a Rite Aid drugstore, putting one man in the hospital. On Friday, police officers dressed in riot gear stand at key points, including two positioned on a roof above the intersection, as protesters chant, "Stop killer cops!"
"They cut school programs and hire more cops; something's wrong with that picture. You're setting us up to fail so we can be stopped and frisked or maybe shot," Randy Sidberry, a protester, told The Root. "I'm out here because that's not happening to my kids."
Heavy policing in black communities isn't new; however, the residual relationship that this dynamic creates in each community of color is regional. In New York, there's a history of police brutality as well as gang and crew-led violence that sometimes makes locals wary of one another but uncomfortable asking the police for help. The death of Kimani only sparked those tensions burning beneath the surface, so how can a community mend its relationship with those policing their streets?
The Shooting of Kimani Gray
On March 9, 16-year-old Kimani was shot seven times by two plainclothes police officers on Brooklyn's East 52nd Street and Tilden Avenue after leaving a party. A .38 revolver was found on the scene, and police say that Kimani pointed the loaded weapon at the officers, after which they fired. The report from the New York City Office of the Chief Medical Examiner, released last Wednesday, shows that Kimani was shot three times in the back.
G/O Media may get a commission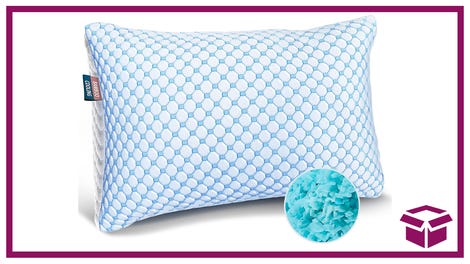 23% off
Nestl Cooling Pillow - Queen Size
One eyewitness, Tishana King, told the Daily News that she saw the incident from her window, and the teen had no gun. Yet a police spokesman said that when King was interviewed after the incident, she relayed that she couldn't see what the boys were doing "from the angle I was at."
Another witness told Kimani's sister, Mahnefah Gray, that the teen was merely adjusting his waistband. New York Police Commissioner Ray Kelly said last week that the police had interviewed several witnesses who said they heard the officers say, "Don't move" and "Freeze," but Wendy Elie, a friend of Kimani's family, said that cops have threatened the late teen's friends against coming forward.
"There are other witnesses, but the same officer with the gun waved it around, yelling, 'Get the f—k out of here, move out of here,' " Elie told The Root.
The police described the 16-year-old as a member of the Bloods gang. Shanduke McPhatter, head of the community organization Gangstas Making Astronomical Community Changes and formerly an active member of the Bloods, said that while he didn't know Kimani, he is familiar with the teen's circle, and Elie's assertion isn't uncommon.
 "We've heard Kimani was shot and that he was affiliated, so who would you believe was with him at the time? They probably weren't Mr. Goody Two-Shoes," McPhatter told The Root. "This is someone who is in the streets themselves and felt if they say something, then they could be murdered or set up for prison because they spoke against the police."
Who Was Kimani Gray?
Kimarley Nunes, a cousin after whom Kimani was named and who grew up in the same household, told The Root that Kimani was a happy teenager living in tough circumstances. "Two years ago we lost his older brother, Gerard 'Jamal' Gray, to a car accident. Kiki's mother used to work at a restaurant, but after Jamal died, it all went downhill. His death messed her up completely," he says. "They lost their apartment and had to go through the shelter situation. Then they, including Kiki's five siblings, lived with my uncle in a one-room place.
"Losing Jamal was big because after my aunt and Kiki's father separated about five years ago, he became the family's father figure," Nunes continued. "Then, four days before Kiki died, my aunt [Kimani's mom] was just getting back on her feet with a new apartment, and this happens."
Matt Willoughby, Kimani's high school principal at Manhattan's Urban Assembly School of Design and Construction, released a letter in support of the teen's character, writing, "Kimani made great strides this year academically. He was taking an extra English class after school; he was writing a dramatic dialogue in another English class; his group in Design class was working on a project to design a school. Now they are working to complete their project without him."
Elie says that when Willoughby attempted to attend the press conference held by Kimani's mother, his superiors wouldn't allow it. Calls to Willoughby for confirmation were not returned at press time.
In addition to being described by family as a regular teen who liked to dress well and talk about girls, Kimani had been arrested four times for charges that included larceny. The officers involved in the shooting — Sgt. Mourad Mourad and Officer Jovaniel Cordova — have had their own problems, boasting five civil rights lawsuits between them for falsified arrests and illegal searches and costing the city of New York $215,000 in settlements. Calls to the community-affairs office at East Flatbush's 67th Precinct for comment were not returned.
The History of East Flatbush and the Police
In the largely West Indian community, the relationship with the police is guarded and informed by history. In 1997 Abner Louima was sexually assaulted with a broom at the 70th Precinct, and last year, unarmed 23-year-old Shantel Davis was shot and killed while trying to escape plainclothes officers in a car that was reported stolen. In New York City at large, the cases of Amadou Diallo, who was killed in the Bronx in 1999 when police mistook his wallet for a gun; Patrick Dorismond, killed by undercover officers after a heated exchange; and Ramarley Graham, fatally shot last year in his grandmother's Bronx apartment after police entered without a warrant, also make locals skeptical of cops.
The NYPD's stop-and-frisk policy, which overwhelmingly targets blacks and Latinos, hasn't helped.
"One month ago, someone was shot, and they picked up all these people, and my son was amongst them," says Elie. "At the precinct, I'm even trying to give them quarters [for calls] to see what's going on, and [the police] said, 'Get out of here. It's a privilege for us to accept quarters for the inmates. When we have them [the boys] in our possession, we can tag them, bag them, do anything we want to them' — that's what that detective said at the 69th Precinct. This is something our kids go through all the time."
For Councilman Jumaane Williams, co-sponsor of the Community Safety Act, a set of bills aimed at advancing NYPD accountability and improving police-community relations, these situations prove that stop and frisk only further drives a wedge between the community and the police.
"The path of anger that we saw last week is going to happen again. You can't continue to be peaceful and calm when [police] continue to do the things that incite them," Williams said on New York radio station Hot 97 on Sunday. "We tried to tell the mayor and the commissioner, and they're not listening. Even to the point when the things happened, they dismissed it as just a disturbance. That's insulting."
Williams continued, saying that the black and Latino communities have a problem with crime, and that should be part of the discussion, but not its entirety. "It's tough to tell kids not to do something bad but give them no alternatives," he said. "There isn't a community center for two or three miles."
In New York, gangs are often block-to-block crews rather than the larger Bloods and Crips families found in Southern California, according to David Kennedy, professor at John Jay College of Criminal Justice and co-chair of the National Network for Safe Communities.
Shanduke McPhatter of the GMACC says that these factions, "with all due respect, are the ones that we really have to put our attention toward. They're the ones who go outside and do something in broad daylight with women and children around with depraved indifference of human life. We don't want to run from the facts … We have to tell our youth, don't be afraid to speak up about something like that."
Williams says that the solution lies in stopping automatic justification for police shootings, ending stop and frisk, developing community resources to provide safe alternatives for children and tackling gun violence in his district. But achieving those goals shouldn't mean increasing police presence.
"They use statistics to deploy more police, but for some reason we can't use those same statistics to say we need more after-school programs or community centers, and that's frustrating," he said.
Back on East 55th Street, it's nearly 10:30 p.m., and a group of young black men trickle onto the corner. Their clothes are speckled with red accents, including one draped in the color from head to toe, as they file past the candlelit memorial for the late 16-year-old. "RIP, Kiki," says one young man as he pounds his chest in the crisp winter air. 
Hillary Crosley is the New York bureau chief at The Root. Follow her on Twitter.