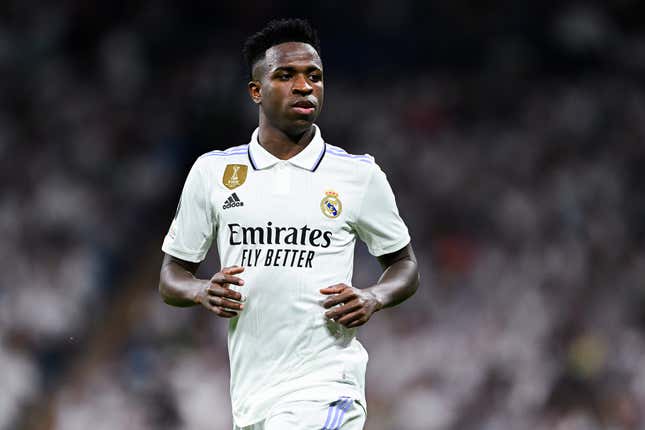 Fans racially abusing Black players has been an ongoing problem in soccer. It doesn't seem to matter how famous or successful the players are, there are some fans who will never accept them in the sport. From big governing bodies like FIFA and UEFA, to smaller local organizations, officials have tried to tackle the issue by banning fans who are caught using racist language, signs or clothing. However, this solution is basically the same as putting a band-aid on a broken leg. The latest example of this heinous behavior came on Sunday in Real Madrid's La Liga match against Valencia.

New Grails Docu-Series Explores 2 Black Entrepreneurs' Mission To Change Sports Fashion
According to CNN, during the second half of the match, Brazilian Real Madrid forward, Vinícius Jr., "pointed out a fan in the stands for the abuse before engaging with the supporters in the section of the crowd in question." There was then a stadium announcement telling fans "to not insult the players or throw objects onto the pitch."
You can absolutely go to a sporting event and boo the other team without making racist comments. It's what most reasonable people do. The stadium shouldn't have to make an announcement to encourage you to act like a decent human being. Also, you're not helping your sport, you're just perpetuating the stereotype that all soccer fans are reckless hooligans who don't know how to act.
The incident was explained in the referee's official report:
"Racist insults: in the 73rd minute, a spectator from the southern 'Mario Kempes' tribune directed himself towards player No. 20 of Real Madrid CF Mr. Vinicius José De Oliveira Do Nascimiento, screaming at him: 'Monkey, monkey' which led to the activation of the racism protocol, notifying the pitch delegate so that a corresponding warning over the loudspeaker would be made. The match was halted until said announcement was aired over the loudspeaker of the stadium."
Spanish national police "identified one person in the stadium who was involved in alleged racist chanting," and the Spanish Prosecutor's Office has opened a hate crime investigation. For its part, Valencia released a statement saying it "has already opened a disciplinary file, will apply the maximum severity against the fans who are involved expelling them from the stadium for life."
Even if the club and police arrest and prosecute the offenders in this case, that's not going to make it any easier for the next Black player to compete in the stadium.