From the streets of Miami's historic Overtown neighborhood, residents can see the rows and clusters of gleaming luxury condominium towers built in the last few years. The resort-style buildings — with swimming pools that shimmer in the sun, state-of-the-art gyms and concierge service — stretch from burgeoning midtown to downtown.
Like giant sentinels, some of the tony buildings watch over the American Airlines Arena and dwarf the landmark Freedom Tower, gateway into the United States for thousands of Cubans who fled Fidel Castro's communist takeover and who would change Miami's cultural, business and political makeup for good.
To the predominantly poor and black residents of Overtown, the shadow-casting condo buildings are a daily, in-your-face reminder that economic progress and prosperity has left them in the dust. Once a thriving black community with many businesses and a nightlife that attracted top-notch celebrities, Overtown has now languished for decades in socioeconomic despair. Businesses that brought economic prosperity to the neighborhood and elevated a middle class, despite forced segregation, are long gone. And yet, some continue to hold out hope, working to revitalize business centers.
"We cannot give up on our businesses," says Willie Williams, owner of Just Right Barber Shop in the heart of Overtown. "We have to put the people in the neighborhood back to work."
A tall order in Overtown in the best of times — and in a tough economy, a distant goal.
G/O Media may get a commission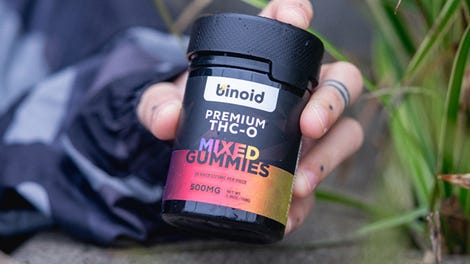 25% Off + Free Shipping
Binoid THC-O Gummies
Yet black business is thriving in other parts of the city and beyond, with law firms, accounting firms, and myriad industrial and professional services holding their own.
NailBar, owned by Edourd and Christine Joseph, is just one of those businesses. Located in Midtown 4, one of the hottest addresses in the city, the eco-friendly nail salon is drawing clients galore after just four months of doing business. "It's going amazingly," says Christine, 33. Her husband Edourd, 40, adds, "Within the first month and a half, we were in the green."
The salon, with its soothing ambience, has 12 employees providing a range of services that include manicures, pedicures and full-body waxing. Clients get to sit in egg-shaped chairs that have iPod docking stations. The salon also hands clients iPads to surf the Internet wirelessly while they are getting their pedicures. The Josephs say that they are planning to open two more salons in Florida and eventually hope to franchise.
This isn't the Josephs' first venture in the Miami business world. For 15 years they have been manufacturing and distributing Prince Reigns, an all-natural ingrown-hair serum for men and women. (Oprah Winfrey chose the product as one of her favorite things several years ago.) Initially, the Josephs marketed their product in the Caribbean and Latin America. For the past five years, it's been sold in more than 1,000 salons across the United States. Edourd says the serum grossed more than $1 million in profits in 2009. 
After the success of Prince Reigns, "it was a natural transition for my wife and me to start the NailBar," he adds. "There was a real need."
Black-owned businesses in the metro-Miami area have existed for decades. One of the most prominent is the four-star, 400-room Royal Palm Crowne Plaza Resort Hotel in South Beach. It was built by developer R. Donahue Peebles, who sold it five years ago for $127.5 million. He went on to develop other Miami Beach properties.
But to fully understand the state of black business in Miami, one can't overlook two dramatic setbacks — one largely self-inflicted (riots) and the other at the hands of outside forces: the uprooting of residents and the demolition of homes and businesses to make way for an interstate highway.
But then, in the early 1980s, riots sparked by the police beating of a black motorist sealed the community's downward spiral. During the protests against police brutality and racism, hundreds of businesses that provided jobs and some remaining semblance of stability were burned to the ground. The riots caused another mass exodus of people and businesses. Overtown's current population stands at some 8,000.
Thirty years after the riots, Overtown and Liberty City, another predominantly black neighborhood just northwest of downtown, are remnants of their one-time greatness. There has been a trickle of new construction and redevelopment projects in both neighborhoods. Much of Overtown, however, located next to downtown's condo-building boom and emerging art district, remains a scar on the Miami landscape, with dilapidated housing projects and run-down neighborhood stores, to say nothing of the crime and drugs plaguing the community. The story is similar in Liberty City.
"There once were a lot more thriving businesses," recalls David Chiverton, president and chief executive officer of the Martin Luther King Economic Development Corp. in Liberty City. "But since the civil unrest, they haven't come back."
Chiverton, who has witnessed the changes in the 35 years he has lived in Liberty City, says big employers, such as Sears and J.C. Penney, have abandoned Liberty City and Overtown. He says potential investors openly worry about crime in the neighborhoods, most of which they read and hear about in media and television shows. He says the fact is, though, that crime is down.
"Liberty City has a lot to offer," Chiverton says. "There's a rich culture here, and the community is rebuilding."
His agency and others, he says, are working to turn things around. He points to a new shopping center — Edison Marketplace in Liberty City — that opened recently. Edison Marketplace houses a supermarket, a Family Dollar store, a Foot Locker, a Subway sandwich shop and several other businesses of national stature. And just across the street, Miami-Dade College's Entrepreneurial Education Center is teaching a new generation of young people about business and entrepreneurship.
In Overtown, there are also pockets of hope, where new businesses have emerged alongside long-established ones. And the county government has tried to do its part to bring some revitalization to Overtown, with projects such as Overtown Transit Village, a modern office building that houses county administrative offices and retail space.
"In the long run, this is going to be a good area," says Tony Bolden, whose family owns and operates Liberty Cleaners in Overtown. He recently moved from Detroit to help his family grow their dry-cleaning business. They opened a satellite dry-cleaning shop in Overtown a year ago while continuing to operate the main store in Liberty City. That store has been around for 30 years, Bolden says, adding that most of his customers are from the immediate neighborhood. The condo dwellers dare not venture across.
"A lot of people from over there [referring to the new condominiums] are afraid to come down here," he says. "I haven't seen that many people from downtown." Nevertheless, since the new store opened, he has gained two or three new customers a week, Bolden says. "Business is going good."
The U.S. Census Bureau will release fresh figures for black-owned businesses in the Greater Miami-Fort Lauderdale region in February. The most recent figures available are from 2002. According to those numbers, there were 58,559 black-owned businesses with receipts totaling just over $3 million annually. Of those businesses, 3,209 had paid employees — a total of 29,458 employees.
In comparison, there were 206,047 Hispanic-owned businesses with receipts totaling $31.4 million. Of those businesses, 30,069 had 161,351 paid employees.
Blacks, who in 2000 made up 22 percent of the population in Miami and 14 percent statewide, complained that state and federal dollars meant for neighborhood improvements and to help businesses following the riots went instead to white and Hispanic businesses that were affected by the riots.
Bill Diggs, president and chief executive officer of the Miami-Dade Chamber of Commerce, says that for decades, business leaders in the black community have been trying to push one of the county's biggest employers — Miami-Dade County Public Schools — to give black businesses their share of business contracts. He says that the school district is a $7 billion-a-year industry and has been largely unresponsive.
"It's absurd," he says. "Just atrocious. But we're working to fix it."
Diggs says the bad economy has also been a challenge for black-owned businesses. But ironically, because of layoffs at many companies, there are more black-owned businesses cropping up, with black professionals launching their own professional services, he says.
"Most of them are growing their business organically," Diggs says, in part because banks and the government are not stepping up to help these startups. "I would love for the federal government to do more," Diggs says.
"My biggest frustration is that the community is not engaged in the political process," says Chiverton. "If we don't turn out in the numbers down at the county, then they can do whatever they want."
Diggs agrees. He says that as long as blacks in Miami turn out in low numbers at the polls, as a community they won't get their piece of the pie, and that means their share of business contracts. 
On Northwest Third Avenue in Overtown, Just Right Barber Shop is but one of the businesses Willie Williams owns. The street is lined with churches and a variety of businesses, some recently renovated or entirely new. Some are boarded up or vacant. Williams, who also owns a hair salon a few doors away from his barbershop, says that far more needs to be done to promote new businesses and keep them around. More municipal money needs to be allocated to advertise black-owned businesses and to promote Overtown as a historic destination, he argues.
"We just need more assistance, especially for those who own businesses, because mortgages have to be paid and all kinds of taxes have to be paid," Williams says as he snips away at a customer's hair. "We cry out for help for small businesses."
The barbershop has been serving the community for 60 years, Williams points out, 30 of those years under his ownership. "So we're well-known," he says. "People come from all over, but we have to give people something that makes them want to come over for. We did it before and we can do it again."
Michael Ottey is a freelance editor and writer based in Miami. Follow him on Twitter.