Who was the first black woman to play professional baseball?
When Jackie Robinson stepped onto Ebbets Field on April 15, 1947, the Brooklyn Dodgers' first baseman broke Major League Baseball's color barrier. Integration of the all-white MLB was seen by many as a huge step forward not just for sport, but for the nascent civil rights movement. But it also led to the demise of the Negro Leagues, which would lose some of its best players to the majors, among them Henry "Hank" Aaron, who in 1952 left the Indianapolis Clowns for the Boston Braves. When Toni Stone took Aaron's spot with the Clowns, another line—the gender line—had been crossed.
Beyoncé's Feminist Anthem "Run the World (Girls)" A Decade Later
Toni Stone was born Marcenia Lyle Stone in 1921 in Bluefield, W.Va. Her family relocated to St. Paul, Minn., to a burgeoning African-American neighborhood called Rondo. They were part of the Great Migration, the period between 1910 and 1970 when millions of African Americans left the South for the North, Midwest and West.
From the start, Marcenia was a tremendous athlete. She picked up the nickname "Tomboy" and excelled at baseball, having no choice but to play on boys' teams. She talked her way into tryouts for a boys' baseball camp and ignored her parents' pleas not to pursue the sport. It wasn't ladylike, they worried; nor would it put her on the path to higher education that they believed African Americans in the Jim Crow era needed.
But Marcenia wouldn't be swayed. The All-American Girls Professional Baseball League wasn't an option because it was segregated, so in 1937 she joined the all-male, barnstorming Twin City Colored Giants.
G/O Media may get a commission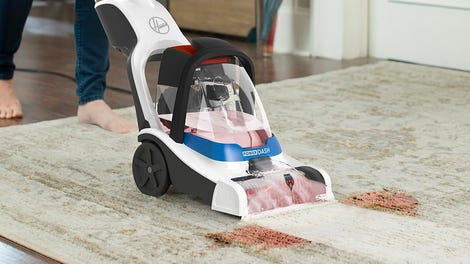 26% Off
Hoover PowerDash Pet Compact Carpet Cleaner
During World War II she moved to San Francisco's Fillmore District, known as the Harlem of the West. She worked odd jobs, but the baseball diamond beckoned. After the war, with the encouragement of her future husband, Aurelious Alberga, 40 years her senior (and less supportive after they married), she shaved 10 years off her age and signed on to the American Legion Junior League team, previously open to high-school-age boys only.
The then-26-year-old Marcenia Stone (pretending to be 16) joined the roster of the barnstorming San Francisco Sea Lions. It was here that she adopted the name "Toni Stone," reminiscent as it was of her childhood nickname "Tomboy." Between 1949 and 1953, she played for several semiprofessional and barnstorming teams in the Negro Leagues.
The integration of Major League Baseball was quickly draining the Negro Leagues of its talent and its audience, and managers began to cast about for acts that might draw crowds. The Indianapolis Clowns were one of the Negro Leagues' premier teams, equal parts athleticism and entertainment. When the Clowns' manager Syd Pollack hired Stone to replace Aaron, he might have thought he was getting a novelty act, but what he got instead was an athlete of unbridled talent, skill and love of the game. She was there to play baseball, not to wear shorts or skirts, as her white sisters in the segregated league of their own did. She wore long pants like the men did, and she played like they did.
Stone was often vilified by her fellow players for being a woman playing a man's game. "They'd tell me to go home and fix my husband some biscuits," she said in a 1991 San Francisco Chronicle interview.
She played for the Clowns for the 1953 season, her play consistently strong, albeit infrequent. Over the course of 50 games that year (out of the 175 on the schedule), she hit .243—"the happiest moment of my life" the unexpected hit she got off of Satchel Paige. That happiest moment may well be apocryphal, because there is compelling evidence uncovered by a Minnesota sports historian that Paige, then on the roster of the St. Louis Browns, wasn't in Omaha for the game in question at all.
Stone played professional baseball for just one more year. At the end of the 1953 season, the Clowns sold her contract to the Kansas City Monarchs, replacing her with two female players, Connie Morgan at second base and Mamie "Peanut" Johnson on the pitcher's mound. Her time on the Monarchs was unfulfilling, and she left after a season, returning to San Francisco to become a nurse and to care for her husband, who would live to be 103 years old.
She lived in relative obscurity until she was rediscovered and inducted into the Women's Sports Foundation International Sports Hall of Fame in 1985. She died in Alameda, Calif., in 1996.
Toni Stone had always dreamed of playing in the majors. That dream as yet remains unrealized for any woman, of any race. Stone was able to break the gender line of professional baseball only when the color line, at long last, had begun to fade.