I met Angela Rye on Nov. 7, 2012. I was part of a group that put together an election night party at the Washington Post headquarters building in Washington, D.C., so we could all (hopefully) watch President Barack Obama be re-elected.
Up to that point, I'd only heard of her. Black, young, college-educated, professional D.C. is very small, so most people either met or knew of one another because of our organizations, good deeds, or from hanging around at various brunch spots or events where we all congregate in fancy attires and drink up our rent monies. While we'd never met, we had a ton of folks in common, especially because we both worked in politics, though the vast majority of people I knew in political circles had no idea that I worked on Capitol Hill along with them.
Either way, when I did finally meet her and we had a chance to talk briefly, I could tell even then that she had a spark of sorts. She's known to be a firebrand, which can rub people the wrong way at times, but you could tell that while she already had a platform through the organization she helped found in D.C., IMPACT, she was primed to eventually land on a much larger one. She was a black, young, smart, opinionated politico. To me, it wasn't a question of if but when she'd end up on television. I've said as much to her over the years when I've run into her. At one point, she mentioned offhandedly that it was coming. And then I saw her on CNN. Glory day.
I'd wager that most of her close friends were more intimately aware that she was heading in that direction, but for me, when she did finally grace my screen, my first reaction was, "About damn time." Angela brings her own personal brand of keepin'-it-real wokeness couched in strong opinions to the screen in a way that I believe is introducing some folks to political conversations that they might not otherwise be paying attention to.
She became—and I think still is sometimes—the voice of political reason for The Breakfast Club, since Charlamagne, Envy and Angela Yee don't seem to know shit from Shinola about anything that doesn't include rappers. Angela Rye hit the pop-culture consciousness, and her sometimes viral clips of comments about various topics on CNN are often shared all over social media. She's gone from person many of us know in D.C. to national recognition, pop-culture presence, podcaster and frequent public speaker who also happens to date a famous rapper.
G/O Media may get a commission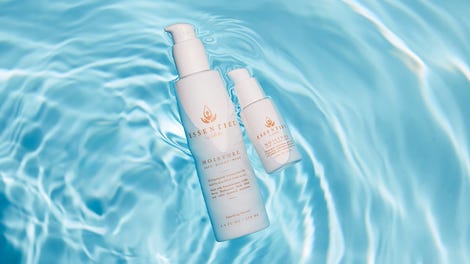 20% off
Essentiel by Adele
With that fame comes criticism. Her particular brand of commentary—infused with hip-hop slanguage and Beyoncé-isms—and sometimes petty stubbornness can be seen by some as endearing and others as bordering on caricature. I've seen criticism that has basically coined her as the political version of a Real Housewife.
But the most frequent and pointed criticism I've seen has come in the form of questioning her substance and whether or not she's anything more than just a talking head who happens to be up on black culture. As I saw in one thread in particular from a person whose opinion I respect highly, "People who know shit can tell people who don't know shit, and she's a people who doesn't know shit."
It is harsh criticism, the type of criticism often leveled at people in the public eye. The difference here is that Angela is one of us—a child of the same hip-hop culture and blackness and wokeness that permeates our present-day consciousness—and the shots are largely coming from the very group she most closely represents. But based on the thread that followed, my friend's is not a minority opinion in a certain segment of the black intelligentsia.
Based on her podcast and hearing her explain simple shit to the hosts of The Breakfast Club, I tend to think that she has much to offer, but it would require her to have a much larger platform that allows her to be herself while also giving her the space to showcase her talents and knowledge in more than two-minute segments. I don't expect her to be Melissa Harris-Perry, but she's not a political Wendy Williams, either. Effectively, she needs her own vehicle.
It's why I'm very curious and looking forward to her specials on BET. According to the Washington Post:
Get ready for the perfect blend of "Lemonade" and political tea-spilling: Angela Rye, the Beyoncé-quoting cable news commentator, is set to headline her own special series on BET.

Rye, a fixture on CNN, will host and executive-produce a slate of news specials — each covering a different topic — tentatively titled "Angela Rye's State of the Union," according to BET. The website Blavity first reported on Rye's new gig.

"Working with BET always provides a reminder of why I began to do this work," Rye said in a statement provided to The Post. "It is essential that we have platforms where we can discuss our politics, our challenges, and our culture through our respective lenses. The upcoming special will provide a glimpse of what's to come with our partnership."
A few things of note: I'm surprised that CNN is letting Angela go off to another network to do a series of specials, as opposed to keeping her in-house. I have no idea what any of that means, as I'm not privy to a single bit of information about how contributors move between networks. I do assume that it was in the best interest of all parties involved. Especially BET, which—and I don't even mean this in a shaderific fashion—could use some ... substance. I so rarely turn to BET at this point that I don't actually know what the channel is in my cable lineup. Now I'll have to find it so that I can check out her specials.
More important, I think these specials—this first one in particular—will give a lot of folks a chance to see past the "Boy, bye" moments and laughing-at-Omarosa clips. While Angela does choose what she wants to place in the public realm via her commentary, social media and her own podcast, I assume that she knows that for a lot of people, this is how they'll get to see just what she does bring to the table. It will either be catnip for the naysayers or it will show why her voice is essential and necessary, carving out a space that many of us can point to as being aligned with our culture and sensibilities.
I hope that Angela manages to quiet her naysayers. They'll always exist, but it's hard to hate people without ammo. I think political discourse is more interesting with voices that know where the conversations are crafted. Her star has risen rapidly over the past two years; I guess soon we'll see just how far it can go.