Complaint Cites Story Choices, Pale Time Inc. Leadership
A discrimination lawsuit filed by black journalist Tatsha Robertson against her former employer, People magazine, is notable because it cites People's editorial choices and the makeup of the leadership of the parent company, Time Inc., as evidence of discrimination, Robertson's lawyer told Journal-isms on Friday.
Jabari Banks On A Potential Bel-Air Musical, Fresh Prince Cameos, & A Game of 'Which Aunt Viv?'
"Maybe they should call it White People magazine," Dareh Gregorian wrote in reporting on the suit Wednesday night for the Daily News in New York.
"The recently [laid off] lone black editor of People says she was discriminated against by her boss, and that the popular magazine is biased against African-Americans in general.
"People is 'a discriminatory organization run entirely by white people who intentionally focus the magazine on stories involving white people and white celebrities,' Tatsha Robertson's bombshell lawsuit says.
G/O Media may get a commission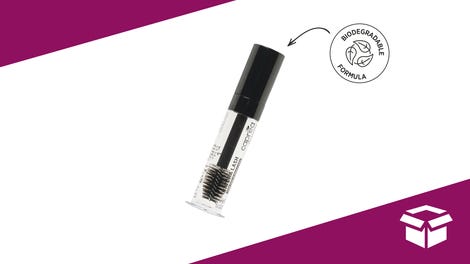 It's $8
20% Off Lash + Eyebrow Serum 2.0 - Caprea Beauty
"The 48-year-old Robertson, 'the only Black Senior Editor the magazine has ever had,' was laid off in May, according to the suit.
"She says only five of the mag's 110 employees were black, and that now-former executive editor Betsy Gleick treated her like a second class-citizen when she came to the magazine from another Time Inc. publication, Essence, in 2010.
" 'You need to talk like everyone else here. You're not at Essence anymore,' Gleick is quoted in the suit as saying. . . ."
David Gottleib, Robertson's lawyer, told Journal-isms by telephone that he was surprised that Time Inc. did not issue the customary denials of the assertions in the lawsuit. Instead, Time has had no comment.
Asked what other journalists of color might find noteworthy about the suit, the lawyer said it was significant that it includes coverage choices as evidence of discrimination.
"The discriminatory environment in which Ms. Robertson was forced to work also permeated the pages of People Magazine," according to the complaint, filed Wednesday in U.S. District Court for the Southern District of New York. "Indeed, Ms. Gleick has repeatedly insisted that the only types of stories she and People Magazine were interested in printing were those concerning: 'White middle-class suburbia.'
"Examples of this openly espoused discriminatory worldview at People Magazine are abundant.
"For instance, in February 2014, Ms. Robertson pitched a story regarding the death of Samira Frasch, an African-American model whose husband was a person of interest in her apparent murder.
"Despite the fact that this story was picked up by a number of media outlets, including CNN, Ms. Gleick responded to Ms. Robertson's pitch by stating that the victim looked like a 'slut' and refused to print the story because the victim was Black, telling Ms. Robertson:
" 'You know the rule — White suburban women in distress.'
"Tellingly, People Magazine ran an extremely similar story approximately one month later about a White model, Monica Olsen, whose husband reportedly attempted to have her murdered.
"The fact that Ms. Gleick would expressly decline to run a story because the victim was Black, yet run an extremely similar (though arguably even less compelling) story about a White victim, is illustrative of the racial biases condoned at People and which resulted in disparate treatment towards Ms. Robertson.
"By way of another example, People Magazine was at one point looking into a potential story concerning a woman who had been killed by her husband.
"Everyone at People Magazine was interested in the story, including Ms. Gleick, as well as another Top Editor and Executive at People Magazine.
"However, upon viewing a picture of the victim and realizing she was Black, the editor immediately changed his mind.
"The editor sent an email to Ms. Gleick (and copied Ms. Robertson) with a copy of the picture and the statement, in sum and substance, that:
"She'll never make it into People.' . . ."
The complaint also says, "All seven of People Magazine's Top Editors — the level above Ms. Robertson — are White, and People has never had a single Black Top Editor.
"Incredibly, this utter lack of leadership diversity is not limited to People Magazine, but, as shown on Time, Inc.'s own website, every single one of the 11 members of Time, Inc.'s 'Leadership' is White. . . . "
Text of Tatsha Robertson complaint
CNN.com's D.C. Restructuring Means Fewer Blacks
Three black journalists in CNN's Washington Bureau, including Bryan Monroe, a former president of the National Association of Black Journalists, are leaving, have left or are at risk of leaving as a new executive reorganizes its CNN.com political unit.
Monroe is Washington editor for opinion at CNN and cnn.com; Halimah Abdullah is a political writer and web producer; and Shannon Travis is a television reporter on the political team.
They are among a larger group affected by a restructuring of the politics team as it gears up for the 2016 elections. Those who have not been laid off have been told they must reapply to new positions with new job descriptions.
Peter Sterne wrote Aug. 7 for CapitalNewYork, "More than a dozen employees in CNN's Digital Politics division learned this week that their positions will be eliminated at the end of the month, Capital has learned."
In May, CNN hired Ed O'Keefe as vice-president of CNNMoney and Politics. "The CNN.com political team now numbers approximately 20 people, according to a network spokesman; the plan is to double that staff in preparation for the 2016 presidential election," Erik Wemple wrote in June for the Washington Post.
In the meantime, some are being left behind, including journalists of color. Monroe came to CNN in 2011 and was editor of cnnpolitics.com before assuming the opinion editorship. He supervised one of the most diverse units at the network.
Abdullah, the only writer of color on the political team, arrived at the site in 2012 after briefly working at NBC's Today.com and as Washington Correspondent for McClatchy Newspapers from 2007 to 2012. At CNN, she wrote about such topics as the school-to-prison pipeline and its impact on black and brown children, race and the Republican Party and immigration policy.
Travis has been at CNN since 2005. He says on his LinkedIn profile, "Among the stories Travis has covered: the death of Nelson Mandela; the Boston bombings, exclusively interviewing the uncle of the bombing suspects; the government shutdown and debt ceiling battle; the George Zimmerman trial; the Washington Navy Yard shootings; the historic same-sex marriage cases at the Supreme Court; President Obama's second inauguration; and the death of Elizabeth Edwards, wife of former presidential candidate John Edwards."
CNN journalists have said privately that despite the increased visibility of such black journalists as anchor Don Lemon, CNN has a diversity problem in its management. And in the digital unit, most of those brought back are said to be young, white workers.
Last week, Journal-isms asked Edie Emery, a spokeswoman for CNN, how the latest changes would affect diversity. "We don't comment on personnel matters," she replied by email.
ACLU Says Ferguson Events Brought Setbacks to the Press
"It is not a great time to be a journalist in America," Noa Yachot, a communications strategist at the American Civil Liberties Union, wrote Thursday for the Huffington Post.
"The assault on the First Amendment by militarized police in Ferguson, Mo., continues unabated, and the press is not spared. Since the start of protests against the August 9 killing of Michael Brown, journalists in Ferguson have been arrested, fired on, threatened, and assaulted.
"After more than a week of heavy-handed police violence — through the use of tactics and weapons better suited for a [war zone] than an American suburb — freedoms of speech and the press were dealt a major legal blow on Tuesday.
"A federal court denied a motion from the ACLU of Missouri for an emergency order to prevent police from enforcing a ban on standing in place for more than five seconds. The 'keep-moving mandate' (also known as the five-second rule) remains in place, criminalizing constitutionally protected activity and placing a dangerous barrier on the ability of the media to bring us stories from this city under siege. As Tony Rothert, the legal director of the ACLU of Missouri, told MSNBC, 'In many ways, the First Amendment has been suspended in Ferguson.'
"This defeat came on the heels of an earlier victory, in which the ACLU of Missouri reached an agreement with the police, stating that members of the public and the press can record on-duty police officers. That was good news — except it should never have been up for debate, because you always have the right to photograph what's plainly visible in public. Including the police.' . . ."
For Next Week, the New Yorker's Cover Is Personal
" 'The police shooting of Michael Brown resonates on a personal level with me,' Eric Drooker says about next week's cover, which was inspired by images from the scene," Mina Kaneko and Francoise Mouly wrote Friday about the Sept. 1 issue of the New Yorker.
They also wrote, " 'An artist friend of mine was killed by a cop in lower Manhattan, back in 1991. He happened to be black, and the police officer was never indicted.'
Drooker continues, 'As a resident of Manhattan's Lower East Side, I witnessed the blurring distinctions between the police and military during the Tompkins Square riots of the eighties. I'll never forget the day the N.Y.P.D. showed up in a military tank to evict nonviolent squatter friends from buildings on Avenue B and Thirteenth Street, where I grew up. This incident triggered a vivid childhood memory of the police driving a similar armored tank on East Fourteenth street, in 1968, to quell possible 'disturbances' after Martin Luther King was assassinated.
" 'Of course, rubber bullets, tear gas, and Tasers have been used for a while — on nonviolent anti-war protests at the dawn of the Iraq invasion, not to mention Occupy — but the U.S. media has often chosen to ignore these images. Now that billions have been spent and the equipment is in place throughout the country, the intensive militarization of America's police forces is finally being acknowledged after the horrors of Ferguson.' "
Tanveer Ali, Columbia Journalism Review: What the numbers coming out of Ferguson say, and who is saying it best

Dan Barry, New York Times: Police, Protesters and Reporters Form Uneasy Cast for Nightly Show in Ferguson

Wayne Bennett, the Field Negro: The propaganda kings

Charles M. Blow, New York Times: Constructing a Conversation on Race

Yesha Callahan, The Root: Journalist's Illustrations Document the Last Words of Unarmed Black Men

James E. Causey, Milwaukee Journal Sentinel: Body cam might have made a difference in Ferguson police shooting
Esther J. Cepeda, Washington Post Writers Group: Misreading our demographics

Gene Demby, NPR "Code Switch": The Sleepy Road Near Our National Conversation On Race

Tammerlin Drummond, Oakland Tribune: Ferguson deja-vu for Oakland

Sam Fulwood III, Center for American Progress: Will The Troubles in Ferguson Point Toward a New Way Forward?

Paul Hitlin and Nancy Vogt, Pew Research Center: Cable, Twitter picked up Ferguson story at a similar clip

Allen Johnson, News & Record, Greensboro, N.C.: Obama's restraint on Ferguson unrest is the right approach

Deron Lee, Columbia Journalism Review: In Ferguson, local news coverage shines
Jamilah Lemieux, Ebony: Ferguson on Fire

Don Lemon, BlackAmericaWeb.com: Don Lemon On Ferguson: National Guardsman Used N-Word, Young Men Treated Like Animals

David J. Leonard, The Root: Hey, White College Kids: Can the Ferguson Police Get Some of That Kony 2012 Outrage?

Joseph Lichterman, Nieman Journalism Lab: The Guardian and St. Louis Post-Dispatch editorial pages are teaming up for Ferguson coverage

Errol Louis, Daily News, New York: Sharpton's march, and de Blasio's

Nick Massella, FishbowlDC: HuffPost Selects Beacon Reader's Mariah Stewart for Ferguson Fellowship

Courtland Milloy, Washington Post: Ferguson is still waiting for the arc of moral justice to bend its way

Mary Mitchell, Chicago Sun-Times: Ferguson unrest shows grim past can be repeated

Phillip Morris, Plain Dealer, Cleveland: Ferguson is a disturbing reality check on the fragile state of countless American cities

Askia Muhammad, Washington Informer: Open Season on Black Males … in America?

Ngoc Nguyen, New America Media: Echoes of Ferguson for Latino Communities In California

Online News Association: Ferguson events spark statement and 'help kit'

Jonathan Peters, Columbia Journalism Review: Journalists in Ferguson: Know your rights

Richard Prince with presenters on the "Monocle Daily," Monacle 24, Britain: How lack of diversity in US newsrooms affects coverage of events such as the Ferguson protests (audio)

Reporters Without Borders: Call for punishment of Missouri police behind crackdown on journalists

Ruben Rosario, Pioneer Press, St. Paul, Minn.: Ferguson crisis offers lessons for other police departments

Gyasi Ross, Indian Country Today Media Network: Police Brutality Against Black and Brown People: We're In This Together

Lisa Rossi, American Journalism Review: Reporting on Ferguson 'Without Hysteria,' but 'With Urgency'

Rick Sanchez, Fox News Latino: Lessons Ferguson Could Learn From The Miami Riots

Ryan L. Schuessler, ryanschuessler.com: I Will Not Be Returning to Ferguson

Barry Saunders, News & Observer, Raleigh, N.C.: Seeking wisdom for Ferguson from Newark in 1967

Margaret Sullivan, New York Times: A Ferguson Story on 'Conflicting Accounts' Seems to Say 'Trust Us'

Julia A. Wilson, Ebony: What Ferguson Can Learn from Soweto Protestors

Matt Wilstein, Mediaite: 'The Media Lies': Don Lemon vs. Talib Kweli Ferguson Beef Continues
White House Said to Rely on Sharpton for Ferguson Info
"Politico Magazine writes the Obama administration leaned on MSNBC's Al Sharpton for information after the shooting of 18-year-old Michael Brown and subsequent protests in Ferguson, Missouri," Jordan Chariton reported Friday for TVNewser.
Glenn Thrush began his 2,700-word piece for Politico Magazine:
"A few days after 18-year-old Mike Brown was gunned down in Ferguson, Missouri, White House officials enlisted an unusual source for on-the-ground intelligence amid the chaos and tear gas: the Rev. Al Sharpton, a fiery activist who became a household name by provoking rather than pacifying.
"Sharpton — once such a pariah that Clinton administration officials rushed through their ribbon-cuttings in Harlem for fear he'd show up and force them to, gasp, shake his hand — arrived on the scene 72 hours after the shooting at the request of Brown's grandfather, who had admired his advocacy on behalf of the family of slain Florida teen Trayvon Martin.
"But if the old Al Sharpton would have parachuted into Ferguson to rile up the masses, the Obama-era Al Sharpton trod a more gingerly path to justice. Over the years, the 59-year-old former Brooklyn protest leader turned MSNBC talk-show host has embraced a new identity, one that reflects his evolution from agitator to insider with all that implies.
"In Ferguson, Sharpton established himself as a de facto contact and conduit for a jittery White House seeking to negotiate a middle ground between meddling and disengagement. 'There's a trust factor with The Rev from the Oval Office on down,' a White House official familiar with their dealings told me. 'He gets it, and he's got credibility in the community that nobody else has got. There's really no one else out there who does what he does.'
"And the White House, as the crisis following Brown's death seemed to flare out of control, worked extensively behind the scenes to maximize The Rev's doing what he does, using him as both a source of information and a go-between. After huddling with Brown's family and local community leaders, Sharpton connected directly with White House adviser and First Friend Valerie Jarrett, vacationing in her condo in the exclusive Oak Bluffs section of Martha's Vineyard, not far from where President Obama and his family were staying.
"Obama was 'horrified' by the images he was seeing on TV, Jarrett told Sharpton, and proceeded to pepper him with questions as she collected information for the president: How bad was the violence? Was it being fueled by outside groups — and could Sharpton do anything to talk them down? What did the Brown family want the White House to do? . . ."
Eddie Scarry, Mediaite: Sharpton on Eclipsing Jesse Jackson in Ferguson: 'Deal with It'
Politico Hires Eva Rodriguez, a Latina, as Senior Editor
"Editorial writer Eva Rodríguez has left the Washington Post to become Senior Editor at Politico magazine," Veronica Villafañe reported Thursday for her Media Moves site. "She had been at the Post for the last 7 years in several roles.
"Her first day on the new job was this past Monday, August 18…."
News of Rodriguez's hire comes as Politico is under increasing scrutiny for its scant diversity. "Considering that Politico has produced over 2,7000 stories about Latinos and that the U.S. Latino vote continues to be a newsworthy topic during election cycles . . . the site's Latino staffing record is dismal," Julio Ricardo Varela wrote Monday for his Latino Rebels site. "No executives. No Latino political journalists who fall under the 'star system' category…"
Valera was following up on a piece by Tracie Powell of alldigitocracy.com Sunday reporting that diversity at the print-and-digital site was "worse than it was two years ago in that the number of black journalists working at Politico has dropped by half."
Editor-in-chief John F. Harris signaled Tuesday that he would respond to Journal-isms on the criticism but did not.
Meanwhile, Politico has posted student work from the Politico Journalism Institute Class of 2014, a joint project of Politico, the Maynard Institute for Journalism Education and American University.
Washington Post Editorial Board Won't Use "Redskins"
"The Washington Post editorial board said Friday it will stop using the word 'Redskins' when referring to Washington's football team, joining a growing list of other commentators who have renounced the term because they believe it disparages Native Americans," Annys Shin and Liz Clarke reported Friday for the Post.
"In a statement, the board said, 'While we wait for the NFL to catch up with thoughtful opinion and common decency we have decided not to use the slur ourselves except when it is essential for clarity or effect.'
"The editorial board is separate from the news-gathering side of the organization, which executive editor Marty Baron said will continue to use the team's moniker.
" 'The Post's newsroom and the editorial page operate independently of each other,' Baron said. 'Standard operating policy in the newsroom has been to use the names that established institutions choose for themselves. That remains our policy, as we continue to vigorously cover controversy over the team's name and avoid any advocacy role on this subject.' . . ."
The Post editorial said, "We were impressed this week by the quiet integrity of Mike Carey, who recently retired after 19 seasons as one of the NFL's most respected referees. As recounted by Post columnist Mike Wise, Mr. Carey asked the league not to assign him to officiate any Washington games and, since 2006, the league granted his request. He never made any announcement about it. 'It just became clear to me that to be in the middle of the field, where something disrespectful is happening, was probably not the best thing for me,' Mr. Carey said."
On Washington's public radio station WAMU-FM this month, sports writer Dave McKenna challenged the argument that the Post always honors the names an institution takes for itself. McKenna contended on "The Kojo Nnamdi Show" that the Post and other organizations "won't use racially-charged words or gender slurs in their articles. They'll use asterisks or something. And like a band that I liked as a younger man, The Dead Kennedys. When The Dead Kennedys came out they would not call them in reviews. They would call them The DKs. And so there is precedent for them…"
McKenna told Journal-isms Friday by email, "i never talked to anybody at the paper about it and have no idea what the background is, but if you go through the archives and search for 'jello biafra' -'kennedys' you'll find the review where this up and coming punk band was called the DKs. 'dead kennedys' doesnt show up anywhere. (i did this a few weeks ago just to make sure i wasn't senile! and it's still there!)"
However, McKenna conceded, "the Post started using 'dead kennedys' as the band grew for sure."
Allen Johnson, News & Record, Greensboro, N.C.: Redskins fans call me out (Aug. 19)

Allen Johnson, News & Record, Greensboro, N.C.: Those offensive team names (Aug. 17)
"White-on-White Murder in America Is Out of Control"
" 'Blacks represent percent of the population but commit 50 percent of the murders; 90 percent of black victims are murdered by other blacks,' writes Time's Joe Klein, calling for 'provocative' thinking on race in America. 'The facts suggest that history is not enough to explain this social disaster,' " Matthew Yglesias wrote Thursday for vox.com under the headline, "White-on-white murder in America is out of control."
"Yet the disturbing truth, according to the FBI's most recent homicide statistics, is that the United States is in the wake of an epidemic of white-on-white crime. Back in 2011, the most recent year for which data is available, a staggering 83 percent of white murder victims were killed by fellow Caucasians.
"This is not to say that white people are inherently prone to violence. Most whites, obviously, manage to get through life without murdering anyone. And there are many countries full of white people — Norway, Iceland, France, Denmark, New Zealand, and the United Kingdom — where white people murder each other at a much lower rate than you see here in the United States.
"On the other hand, although people often see criminal behavior as a symptom of poverty, the quantity of murder committed by white people specifically in the United States casts some doubt on this. Per capita GDP is considerably higher here than in France — and the white population in America is considerably richer than the national average — and yet we have more white murderers.
"To understand the level of cultural pathology at work here, it's important to understand that 36 percent of those killed by whites are women — a far higher share than you see with black murderers. . . ."
Yglesias wrote after Steven Chapman took on the subject this week in his Chicago Tribune column. "There's another, bigger problem with the preoccupation with 'black-on-black crime,' " Chapman wrote. "The term suggests race is the only important factor. Most crimes are committed by males, but we don't refer to 'male-on-male crime.' Whites in the South are substantially more prone to homicide than those in New England, but no one laments 'Southerner-on-Southerner crime.' Why does crime involving people of African descent deserve its own special category?
"The phrase stems from a desire to excuse whites from any role in changing the conditions that breed delinquency in poor black areas. It carries the message that blacks are to blame for the crime that afflicts them — and that only they can eliminate it. Whites are spared any responsibility in the cause or the cure. . . ."
Marcus Mabry, a digital editor of the New York Times and an author, was elected president of the Overseas Press Club of America, "a 75-year-old organization that awards the most prestigious prizes devoted exclusively to international news coverage," the press club announced on Thursday.
"Nogales, Ariz., municipal officials are engaged in a dispute about free speech and journalism ethics with commentators at the city's top radio station, claiming the on-air personalities have a financial motive for a perceived smear campaign against them," Paul Giblin reported Thursday for the Arizona Republic. Nogales Mayor Arturo Garino and the majority of City Council members "claim that news coverage and commentary about city matters on KOFH-FM 99.1 turned negative after the city stopped paying the radio station for news interviews when Garino took office in 2011. . . ."
"Imagine our dismay Tuesday morning when we opened the paper to read a most offensive subhead atop a Loop item about Housing and Urban Development Secretary Julian Castro and his staff," Al Kamen and Colby Itkowitz wrote Tuesday in their "In the Loop" column for the Washington Post. "The copy editor who wrote it — a brilliant and supremely reliable colleague who had a bad day — was attempting to evoke the Texas origins of the secretary and his aides. He has apologized." The National Association of Hispanic Journalists Friday condemned the subhead, "We'll need more fajitas." NAHJ President Mekahlo Medina said that the Post should not have waited a day to apologize and that the incident shows the need for more Latinos on staff. The Post reported a newsroom 2.7 percent Latino in the latest census [PDF] of the American Society of News Editors.
Gerrick Kennedy, music writer for the Los Angeles Times and the National Association of Black Journalists' "Emerging Journalist of the Year" for 2012, is profiled in the gay pubication the Advocate as one of the 40 emerging voices under 40.
Three journalists of color have been hired at WEYI-TV/WBSF-TV/EEYI-TV in the Flint/Saginaw/Bay City/Midland, Mich., market, acquired last year by conservative commentator Armstrong Williams: Jesse Gonzales, photographer; Jiquanda Johnson, digital producer, and Nicky Zizaza, reporter.
A. Peter Bailey, an aide to Malcolm X and recent author of a book about their time together, wrote a column for TriceEdneyWire.com this week, "The Numerous Ways That Black Folks Sustain White Supremacy," that is reminiscent of the philosophy Bailey and Malcolm shared.
Essence Communications Friday announced an extended agreement with the state of Louisiana and the city of New Orleans to host the annual Essence Festival, held on the July 4 weekend, through 2019.
Keith Harriston, one of the Washington Post's top local editors for six years, including 18 months as metropolitan editor, on Monday joined George Washington University as senior managing editor of GW Today, the official online news source for the university.
"Liberian journalists are said to be of no exception to the night time nationwide curfew imposed by President Ellen Johnson-Sirleaf but the Press Union of Liberia (PUL) has written the Information Ministry to grant reprieve to journalists during the curfew hours," the News in Monrovia reported. Liberia is struggling with efforts to contain the Ebola virus. A Wednesday announcement said only health workers, utility workers and airline passengers and crew are exempt from the curfew.
"The Venezuelan Association of Foreign Journalists (Apevex) put out a statement on Wednesday denouncing the government of Nicolás Maduro over their attempts to 'silence journalists and independent media,' " PanAm Post reported on Friday. "In the last week, the Venezuelan government shut down the Radio Caracas Radio (RCR) program Aquí entre tú y yo (Between You and Me) and suspended the 22-year-old independent radio station Sensacional 94.7 FM. . . ."

Follow Richard Prince on Twitter.
Facebook users: Like "Richard Prince's Journal-isms" on Facebook.
Journal-isms is published on the site of the Maynard Institute for Journalism Education (mije.org). Reprinted on The Root by permission.