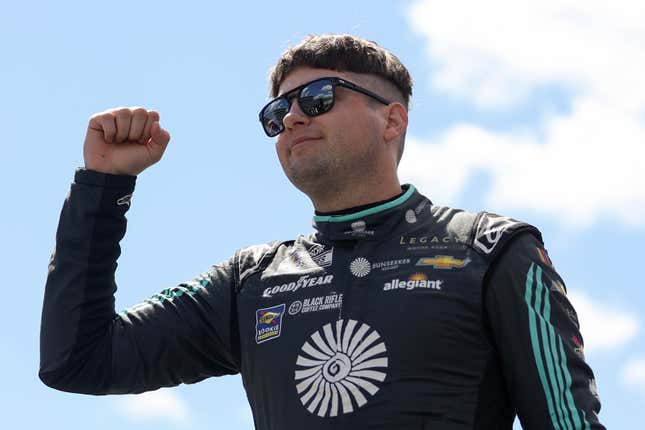 White NASCAR driver Noah Gragson has been suspended indefinitely for liking an insensitive meme about George Floyd's murder in 2020.

This Juneteenth We Revisit The Anderson .Paak BLM Track "Lockdown"
The meme was a picture of Floyd's face on the live-action version of The Little Mermaid's Sebastian, Ariel's crab friend, with the words "Under Da Knee, Under Da Knee" to the tune of the movie's famous song, "Under the Sea", on the picture.
This is the 25-year-old's first full Cup Series. The Cup rule book states that its drivers have a responsibility to not publicly do things that"criticizes, ridicules, or otherwise disparages another person based upon that person's race, color, creed…" and if those boundaries are crossed the consequence can be a fine or indefinite suspension. Gragson won the award for Most Popular Driver award at the NASCAR banquet in 2018, meaning that he's aware of his popularity. Gragson has over 120K followers on Instagram and over 100K followers on X.
Gragson is part of the Legacy Motor Club, which promptly posted a statement on social media in the wake of the scandal: "We have made the decision to suspend Noah Gragson effective immediately regarding his actions that do not represent the values of our team. Josh Berry will drive the No. 42 entry for this weekend's NASCAR Cup Series race at Michigan"
Gragson quoted Legacy Motor Club's statement and responded: "I am disappointed in myself for my lack of attention and actions on social media. I understand the severity of this situation. I love and appreciate everyone. I try to treat everyone equally no matter who they are. I messed up plain and simple."
NASCAR has been working towards creating a more inclusive environment for its drivers and fans. In June 2020, NASCAR banned Confederate flags from its events two days after Black driver Bubba Wallace wore an "I can't breathe" shirt to a pre-race ceremony and called out the league for its silence after the death of Floyd in May of the same year. Along with the banning they released a statement:
"The presence of the Confederate flag at NASCAR events runs contrary to our commitment to providing a welcoming and inclusive environment for all fans, our competitors and our industry. Bringing people together around a love for racing and the community that it creates is what makes our fans and sport special. The display of the Confederate flag will be prohibited from all NASCAR events and properties."
There is no word yet on how long Gragson will be out this season.