A white man was arrested after being caught on camera hurling racial slurs and other expletives in a racist rant directed at a black man in Seattle.
Keoke Silvano, who is Filipino, recorded the encounter on cellphone footage as a way to protect the man.
"Just as a photographer, my instinct is to document. So I pulled out my cellphone and started recording," Silvano, who happened upon the incident while walking by, told KTRK-TV. "The main thing is if something happened either to myself or the gentleman sitting here, I would have some sort of living document of what was happening."
In the video, the man identified as 35-year-old Steven Jay Watts could be heard yelling all types of obscenities.
"No cameras, nigger," he said to Silvano. "I run this country!
"Put your hands on me, nigger," he said at another point. "I run this country; you guys are dead."
G/O Media may get a commission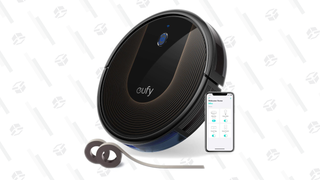 48% Off
Eufy BoostIQ RoboVac
"I ain't gonna put my hands on—I'm gonna kill your bitch ass," the black man could be heard responding.
"You're going to kill me? Come on, nigger," Watts taunted.
Some white men who heard what was going on also attempted to intervene, although Watts didn't back down.
"You running with these niggers?" he said. "Get the fuck out of my face, you running with these niggers?"
"You get out of this neighborhood; you're in the wrong neighborhood," the other men told him.
"Wrong neighborhood? White people are going to bury you," he shouted. "We built these streets! White men built these streets!"
(Um, incidentally, who's going to give Watts a history lesson?)
Despite the ugliness of the interaction, Silvano said that it was "encouraging" to see others step up.
As for Watts, he was arrested for harassment and obstruction. As it turns out, someone as charming as he has a long criminal history, including four assault convictions—a detail the judge expressed concern about.
However, Watts was singing a far different tune from the racist who was proudly dropping f-bombs and the n-word all over town in broad daylight.
Watts pleaded not guilty to his charges and insisted that he was the one being harassed while going about his life (I don't even understand how).
"I'm getting harassed everywhere I go in this country. Everywhere in this country, I get harassed," he said in court.
Cry me a river, though.
Silvano, whose video of the encounter went viral, said that he wanted to share how hate existed everywhere, even in areas as diverse as Beacon Hill.

"It really says something about what our community as a whole have to deal with, people of color have to deal with on a daily basis," he said.