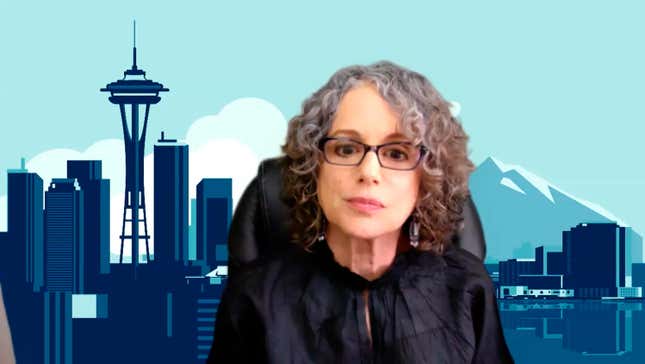 "White Fragility" author Robin DiAngelo has the internet in shambles after a clip from a panel she was on went viral. The webinar, called "Racial Justice: The Next Frontier," happened on March 1. DiAngelo insisted that people of color should build community with each other—not white people—and the statement has since been called controversial.
Rings of Power's Queen Miriel, Cynthia Addai-Robinson, Plays That's So Random
She stated: "...And then I'm a big believer of affinity space and affinity work and I think people of color need to get away from white people and have some community with each other. And I'll let that go and maybe see if anyone else wants to pick it up." From there, DiAngelo's panelists chimed in on the sentiment.
However, it didn't take long for her words to be misconstrued with conservatives like Christopher F. Rufo claiming that DiAngelo is a segregationist. Conservative talk show personality Dave Rubin asked: "Isn't this what they cancelled [Scott Adams] for?!"
Adams, the creator for the comic "Dilbert," received backlash after going on a racist rant in which he called Black people a "racist hate group" last month during his YouTube show. Dozens of newspapers dropped "Dilbert" as a result. Here are Adams' exact words:
"If nearly half of all Blacks are not okay with White people … that's a hate group. I don't want to have anything to do with them. And I would say, based on the current way things are going, the best advice I would give to White people is to get the hell away from Black people … because there is no fixing this."
He also said Black folks aren't "focusing on education" and that he was "really sick of seeing video after video of Black Americans beating up non-Black citizens." Adams pushed a racist agenda by stereotyping Black people as vindictive and violent, while DiAngelo urged marginalized groups who experience discrimination like this to rely on each other for support.
To compare these two statements absurd, but the right thrives on false equivalences.