In the new film Black or White, opening Friday and starring Kevin Costner and Octavia Spencer, the two Oscar-winning stars play grandparents who end up in a custody battle for their biracial granddaughter, played by Jillian Estell.
The film's take on race and identity couldn't come at a more perfect time, especially with transracial adoption becoming much more common in recent years. Just this week a white Minnesota father's emotional video, which he made in order to stop the racist bullying of his adopted black daughter, went viral.
A number of prominent celebrities have led the way in transracial adoptions. Here is a list of white celebs who have adopted black children.
The Romney Family
G/O Media may get a commission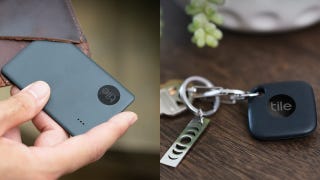 Up to 35% off
Tile Item Trackers
Mitt Romney announced the arrival of his adopted grandchild, Kieran James Romney, on Twitter in 2013. The picture sparked controversy when guests on MSNBC's Melissa Harris-Perry program joked about Romney's adopted African-American grandson; she later apologized.
Mariska Hargitay
The Law & Order: SVU star and her husband, Peter Hermann, welcomed Amaya Josephine Hermann into their family in 2011.
Charlize Theron
Theron adopted her son, Jackson, from her native country of South Africa in 2012.
Joely Fisher
The actress adopted daughter Olivia Luna Fisher-Duddy in 2008.
Connie Britton
The Nashville actress adopted son Eyob "Yoby" Britton from Ethiopia in 2011.
Tom Cruise and Nicole Kidman
Cruise and Kidman's adopted son, Connor Cruise, 20, is a successful DJ.
Madonna
The performer adopted children David Banda and Mercy James from Malawi. Her adoption of Mercy was mired in controversy because the child's family claimed that they did not intend to have her permanently adopted.
Steven Spielberg and Kate Capshaw
The couple's adopted son, Theo Spielberg, and his sister Sasha Spielberg are signed to Jay Z's Roc Nation label. Theo provides the instrumentals for the siblings' indie band, Wardell.
Jillian Michaels
The fitness guru and her partner, Heidi Rhoades, adopted daughter Lukensia Michaels Rhoades from Haiti in 2012.
Mary-Louise Parker
The Weeds star adopted daughter Caroline "Ash" Aberash from Ethiopia in 2007.
Sandra Bullock
Bullock managed to keep her 2012 adoption of Louis Bardo Bullock, an African-American baby, a secret from the press during her split from now ex-husband Jesse James.
Angelina Jolie and Brad Pitt
Jolie and Pitt have become the poster family for transracial adoption. Their family includes Maddox Chivan from Cambodia, Zahara Marley from Ethiopia and Pax Thien from Vietnam.
Ty Burrell
Modern Family star Ty Burrell and his wife, Holly Anne, adopted daughters Frances in 2010 and Greta in 2012.
Kristin Davis
The Sex and the City star adopted Gemma Rose in 2011.
Hugh Jackman
The actor and his wife, Deborah-Lee Furness, have said that adopting their daughter, Ava Eliot, who is Mexican and German, and son, Oscar Maximillian, who is part black, was a deliberate decision. Jackman called the adoptions a "no-brainer" after he and Furness were told that mixed-race children were hard to place.
Jane Fonda
The actress adopted American-born daughter Mary Luana Williams when Mary was 14 years old. Mary is the daughter of Black Panthers whom Fonda befriended in the 1970s.
Michelle Pfeiffer
Adopted by Pfeiffer in 1993, Claudia Rose Kelley is currently attending college.
Joey Mazzarino
The Sesame Street writer and puppeteer and his wife, actress Kerry Butler, adopted daughter Segi from Ethiopia when she was a year old. Mazzarino is the writer behind the viral video "I Love My Hair."
Like The Root on Facebook. Follow us on Twitter.