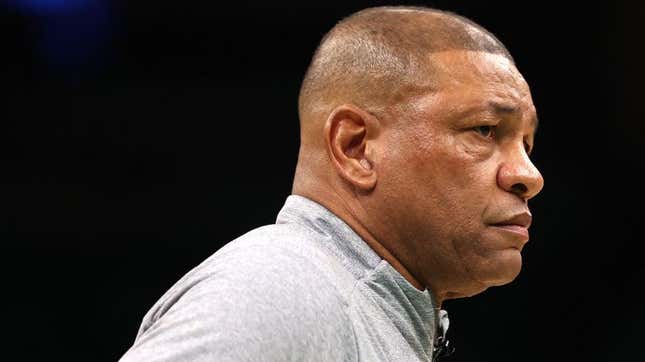 Doc Rivers is genuinely one of my favorite NBA coaches. I was a huge fan of the "Big 3" Celtics and he was the leader of the team that won the Finals in 2008 and made another win in 2010.
You Okay Fam?: Should You See A Therapist Without Having A Problem?
But, the future of the coach with the raspiest voice in the NBA is not looking good.
On Tuesday, in the least surprising news of the NBA season, Philadelphia 76ers head coach Doc Rivers was fired.
In a statement, Daryl Morey, the Sixers' President of Basketball Operations, said, "Doc is one of the most successful coaches in NBA history, a future Hall of Famer, and someone I respect immensely. We're grateful for all he did in his three seasons here and thank him for the important impact he made on our franchise."
He continued, "After having the chance to reflect upon our season, we have decided that certain changes are necessary to further our goals of competing for a championship."
Part of me feels bad for Doc. His career essentially came to an end in Philly because of five quarters of basketball. The Sixers were up in the fourth quarter of Game 6 as Jayson Tatum was having one of the worst games of his career.
Doc's team just needed to make a couple of plays for his team to win, but Harden disappeared, Embiid played like he had one foot and nobody on the team could stop Jayson Tatum. Game 7 was even worse, as Jayson Tatum scored 51 points and got blown out in the second half. Season over.
So, what does he do now? His last decade of coaching has not been good. The amount of runway he's gotten from the Celtics' one title in 2008 is amazing because he hasn't even sniffed an NBA championship since.
He made the Conference Finals in 2012 and has failed to make it to another one with championship-caliber teams and talent. That's an easy way for you to not get a good NBA coaching job again.
I suggest Doc take some real time off. Spend time with the family, and maybe get back into commentating because no NBA fanbase is going to feel good about their team hiring a coach that has lost an NBA record, 33 close-out games in the playoffs.
Fan reaction to Doc Rivers firing
While I genuinely feel bad for Doc, NBA fans do not. After the news came out that he was fired, the tweets started to come in droves from NBA Twitter. They did not hold back.
If Doc ever wants to right the wrongs of his playoff failures, he has to at least make the conference finals again. The problem is, he may never get another chance.