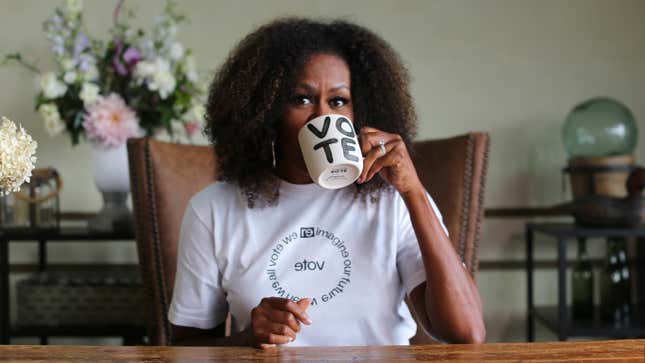 "Vote." That was the simple message on the necklace worn by Michelle Obama during the Democratic National Convention—and the equally simple message our all-time favorite first lady has been promoting via her nonprofit, nonpartisan When We All Vote initiative. It was an inspiring sartorial invective that stood in stark contrast to the seemingly callous indifference of Obama's successor, and as Vogue notes, the necklace, by Black jewelry designer Chari Cuthbert's label ByChari, had been in high demand in the weeks since.
Courtney B. Vance in Heist 88 Is Our Black TV Pick of the Week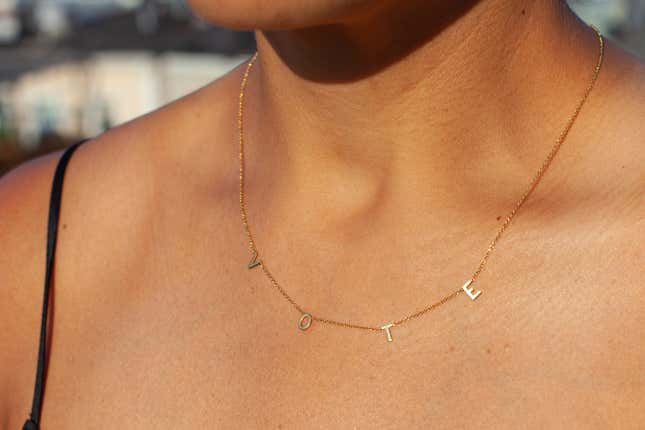 We can only hope that enthusiasm will be matched at the polls, come November, but for now, that political fashion moment is one of many offered in When We All Vote's first collection of merch: "Vote 4EVER Merch" 
Via a press release provided to The Glow Up, "Vote 4EVER Merch includes apparel, accessories, jewelry, homeware and a beauty product from diverse brands across the country, including Black-owned and woman-owned businesses." The first collection dropped on Wednesday—much of which immediately sold out (especially items modeled by Mrs. Obama)—while a second release is planned for October. Prices range between $10 and $150, with between 50 percent and 100 percent of sale proceeds split between When We All Vote and the featured brands. And because the real goal is to drive the vote, products cleverly feature QR codes to help purchasers find voting registration sites.
Designers in the inaugural drop include:
Black-owned Brooklyn design studio Danzy; DC-based Black and Asian artist duo No Kings Collective, Durham-based company Bright Black; Detroit-based Black female-helmed cosmetics line The Lip Bar; women-owned ceramics company Franca NYC; a branded mask by woman-founded label Modiste; and When We All Vote Co-Chair Megan Rapinoe's line re-inc.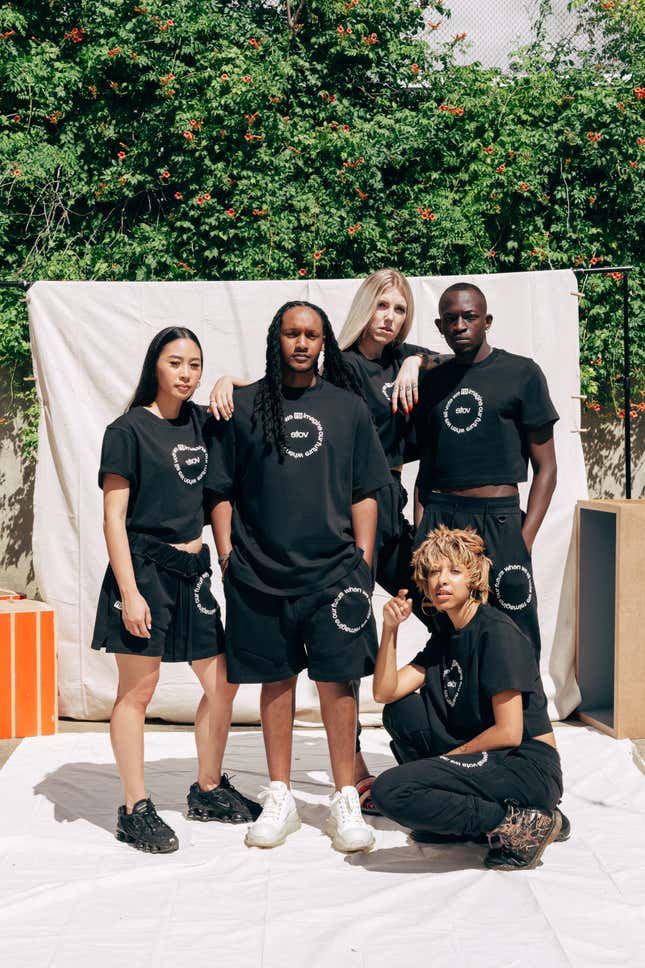 "We are living in one of the most expressive times in our nation's history as thousands of Americans have taken to the streets during peaceful protests to stand up for what they believe in," When We All Vote's Vice President of Communications, Culture and Media Partnerships, Crystal Carson, told Vogue. "When people feel as if their voices aren't being heard, culture steps in to be the voice of the people, a constructive outlet and catalyst for change—whether that's through music, content, or fashion.

"What makes this different from other merch drops you've seen is that our team worked to find small, minority and women-owned businesses, rather than taking the traditional approach of going with well known or large scale brands," she added. "We want everything we do to reflect the beautiful diversity of this country from the designers to the price range."
Joe Biden's campaign is also taking a fashionable approach to this election season, recruiting 19 diverse luxury designers—including Carly Cushnie, Aurora James, Vera Wang, Joseph Altuzarra, Victor Glemaud, Prabal Gurung, Tory Burch, Thom Browne, and longtime Michelle Obama favorite Jason Wu—to create campaign apparel as part of the "Believe in Better" collection.
"We are thrilled to announce this collection of affordable merchandise designed by a diverse group of talented American fashion designers and which was made in America," Rufus Gifford, Biden's deputy campaign manager, told Vogue. "We are in a battle to restore the soul of our nation, and we're seeing Americans across the country come together in a variety of ways to support Joe Biden and Kamala Harris because they are leaders we need to heal and unite the country. I thank these designers for volunteering their time and talents to help win this election and the hardworking men and women who brought these designs to life."
As Vogue notes, many of the designs have historical reverence; a particular standout is a sweatshirt ($60) from Brother Vellies' designer Aurora James (also the creator of the 15 Percent Pledge), that specifically shouts out the influence of Black women in the electoral process, reading "We Make The Difference. Black Women For Biden/Harris 2020."
"This shirt is unapologetically for us," James wrote on Instagram, adding, "and make no mistake Black women are about to make history this year."
"The design nods to election merch from the '60s, '70s, and '80s, including Shirley Chisholm and Jesse Jackson's campaigns," Vogue reports, and as James told the magazine:
"This is the fight of our lives and we need to do everything we can to energize people to vote for Joe Biden and Kamala Harris and I'm incredibly proud to have made this...I really wanted to make something that specifically addressed Black women's impact in this election and how important we are to this election."
We can't think of a more accurate statement—or a more fashionable way to support our chosen ticket this election.