Raid Follows Mistaken Report That Store Sells Dog Meat
"They were barking up the wrong tree," Jennifer Bain and Chuck Bennett wrote Friday in the New York Post.
"State inspectors raided a Chinatown meat market after a crusading Minneapolis TV newsman confused dogs and ducks and reported that Fido might wind up on somebody's dinner plate.
"In a comedy of errors, the CBS-affiliate reporter asked a worker if they sell dog meat, but the worker thought he said 'duck.' Then the reporter misunderstood his response, thinking he said, 'Yes, we sell dog.'
" 'How could we sell dog meat? This isn't China. This isn't Korea,' Chao Fang, who works at the Dak Cheong Meat Market at 36 East Broadway, fumed yesterday.
"The reporter had been doing a story on a puppy mill in Minnesota and found it had shipped eight huskies to the store's address.
G/O Media may get a commission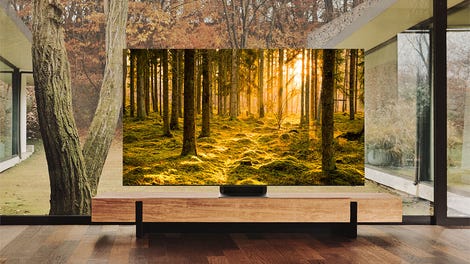 Up to 40% off
Samsung Smart TVs
"He phoned the shop, touching off the misunderstanding and subsequent state probe.
" 'Our inspectors checked the meat store and found no evidence of dog meat,' said state Agriculture Department spokesman Michael Moran."
Mike Mullen of the City Pages in Minneapolis continued the saga.
"Now, WCCO has completely scrubbed the story. What story? That dog thing? Oh, yeah. Uhm, early April Fool's?" he wrote.
"Since the news of WCCO's colossal mistake broke in the New York Post, the CBS affiliate has disappeared any remnants of the story from its website. Neither the story or a follow-up post still exist, and the video story has also vanished without a trace.
"Fortunately, a New York blogger captured some of WCCO reporter James Schugel's enterprising work, as WCCO wrote it up on its website. . . . "
Kiki Rosatti, director of communications for WCCO, told Journal-isms Monday that the station would have no comment.
But on Facebook, Shirley N. Lew, an Asian American journalist, wrote, "goes to show you that you need reporters well versed in the language when sending a reporter out in a ethnic community." She added for Journal-isms, "familiar with the culture/customs of that ethnic group as well."
[The Minnesota chapter of the Asian American Journalists Association has responded to WCCO, co-president Emma Carew Grovum told Journal-isms on Tuesday.
["Our board has sent a letter to WCCO news leadership expressing our disappointment at this story, which perpetuates an Asian stereotype, and also our disappointment in the lack of transparency around this story. Our hope is that the station will do the right thing by investigating the accuracy and editing of the report and issue a correction and an apology. We understand that mistakes do happen, but the lack of accountability in this situation is unacceptable. We're urging the station to own up to this mistake and work to avoid a similar situation in the future."]
Three Buzzes and Media Knew the Murray Verdict Was In
"More than 100 people have gathered outside the Los Angeles County courthouse, eagerly awaiting the verdict to be read in the Conrad Murray trial," the Los Angeles Times' Rick Rojas filed Monday from Los Angeles County Superior Court.
"Michael Jackson's parents, Joe and Katherine, and his brother Jermaine Jackson arrived about 12 p.m. to learn whether the jury found that the pop star's personal physician is responsible in his death.
"The scene was chaotic, with hordes of media squeezing into the gathering crowd. One person in a Mercedes sports car drove by and held up a license plate that said 'Love4MJ,' prompting screams and cheers from Jackson fans. A man dressed as a cross between Uncle Sam and Elvis Presley yelled 'This is it for Conrad Murray!' in reference to Jackson's ill-fated concert comeback tour."
Finally, the verdict. "Michael Jackson's personal physician has been found guilty of involuntary manslaughter for causing the pop icon's 2009 death by a powerful surgical anesthetic," Victoria Kim and Harriet Ryan wrote in a story timestamped at 1:17 p.m. Pacific time.
"The verdict against Dr. Conrad Murray comes after a jury of seven men and five women deliberated for about nine hours over two days. The 58-year-old cardiologist, who was charged with the lowest possible homicide offense, faces a maximum sentence of four years in state prison and a minimum sentence of probation."
Comparisons were made to the selection of a pope. John Cadiz Klemac of KNBC-TV reported, "Three buzzes and the reporters watching anxiously for a verdict in the trial of Dr. Conrad Murray went crazy.
"Likened by some to the arcane practice of sending up colored puffs of smoke when the College of Cardinals elects a new Pope, jury members in the trial of the doctor accused of involuntary manslaughter in the death of pop singer Michael Jackson decided to sound a buzzer to indicate what they were doing — including whether they had reached a verdict.
"One buzz meant the jurors had all gathered — everyone was present.
"Two buzzes meant the jurors needed something — a question, a pencil, a potty break, etc.
"Three buzzes meant there was a verdict. We heard those buzzes at 11 a.m. Monday."
The trial meant daytime ratings gains for HLN, the cable network that broadcast the trial. "We found that the trial was of great interest to a broad range of the audience, but of particular interest to women," Scot Safon, executive vice president of CNN Worldwide, with responsibility for HLN, told Journal-isms by email.
The trial began on Sept. 27, and as of Friday, HLN was up 23 percent among total daytime viewers (354,000) and 23 percent among 25- to 54- year-olds (119,000) compared with September daytime figures, an HLN  spokeswoman said. In primetime, viewership was up 2 percent among total viewers and 8 percent among 25- to 54-year-olds.
CNN was preparing a one-hour telecast for 11 p.m. Monday, "a special investigation into the final days and hours of the legendary singer's life and death, plus heart-wrenching testimony from the last people to see him alive, as well as compelling moments from the trial." Don Lemon was to anchor "Michael Jackson: The Final Days."  
* Lisa de Moraes, Washington Post: Conrad Murray found guilty in Michael Jackson death; HLN hoots and hollers
* Ronda Racha Penrice, theGrio.com: Conrad Murray not the only drug pusher in a lab coat
A Cain Accuser Provides Media With a Name and a Face
"The Herman Cain harassment story just moved into X-rated territory," Howard Kurtz reported Monday for the Daily Beast/Newsweek.
"A woman named Sharon Bialek, flanked by attorney Gloria Allred, said at a news conference Monday that the presidential candidate reached under her skirt and tried to push her head toward his crotch in a parked car in 1997. Bialek is a former staffer of the National Restaurant Association who says she was seeking to regain her job.
"The Cain campaign immediately issued a statement declaring that 'Mr. Cain has never harassed anyone' and dismissing what it called "bogus attacks."
"Bialek said she told two other people, one of them her boyfriend at the time, about the alleged groping, so corroborating witnesses could emerge. Allred says she has two such affidavits.
"The spectacle, carried by CNN, adds what the weeklong media coverage has been conspicuously lacking: an accuser with a name and face, and a specific account of what Cain is alleged to have done. And Bialek's account, if it is to be believed, goes far beyond remarks that some of the unnamed accusers have said made them uncomfortable, charging Cain with unwanted physical contact.
"The sight of Cain's latest accuser, whose flowing blonde hair dipped over one eye, not only personalizes what had been an abstract scandal but gives it an interracial aspect and places it firmly in an employment context."
Meanwhile, a poll released Monday by NBC News/WSJ/theGrio.com found that 26 percent of African Americans think Cain's race "will play a negative role in his ability to win the Republican presidential election, 48% responding that his race will not play a role." More on the poll later in the column.
Plurality Thinks Cain Coverage Has Been Fair
"Americans who have heard about the sexual harassment allegations against Republican presidential candidate Herman Cain, on balance, think they are true rather than false. At the same time, a plurality thinks that recent coverage of Cain has been fair," the Pew Center for People & the Press reported on Monday.
"Three-quarters of the public say they have heard a lot (51%) or a little (24%) about accusations that Cain harassed several women during his tenure in the late 1990s as president of the National Restaurant Association.
"Of those who had heard about the allegations, about four-in-ten (39%) say that, from what they have read and heard, they think the allegations are true. Roughly a quarter (24%) say they think the claims are false, according to the latest weekly survey by the Pew Research Center for the People & the Press, conducted Nov. 3-6 among 1,005 adults. Another 36% say they do not know (31%) or refuse to answer (5%). The survey was completed before a Chicago woman went public with a new accusation against Cain on Monday.
"A plurality (43%) of those who have heard about the allegations say they think recent media coverage of Cain has been fair. Among those critical of the press coverage, more say it has been too tough (24%) than too easy (14%) on Cain."
Williams Sees Cain Attacked for Challenging "Orthodoxy"
In the last few days, an increasing number of journalists and commentators, African Americans and others, have decried the injection of race into discussion of the Herman Cain sexual harassment allegations by his conservative defenders and by Cain himself.
On Sunday, Juan Williams, the African American commentator on the "Fox News Sunday" panel, added his voice to those who believe Cain is being attacked because of his race.
"Well, I'll tell you what, I think that he has been the pinata for the black liberal establishment now for a good while. They see him as some kind of token put out by the tea party as an acceptable kind of black to Republicans," Williams said. "And I think it's been just thoroughly insulting. I think it's been harmful to him, to Herman Cain as a human being, and disrespectful of the success that he's had.
"On this panel, people say he's not going to be the nominee. But you know what? I didn't think he'd come this far. I never thought he would reach this point. But people on the Republican side, especially tea party folks, see him as authentic, and that's exactly what they don't see in terms of flip-flops that come from some of the other Republican candidates.
"So I think the thing that worries me is now this is a way that you can drag him down. And I just think it's insulting to Herman Cain. And, of course, it then led to questions, is this attack coming from the left, the people who said, oh, he's a bad apple among black people, he's on the crack pipe? Unbelievable.
"So, in that sense, it is analogous, the idea that you go after conservative blacks or conservative women in this way. I don't like it. I think the people who are challenging the orthodoxy get attacked. And as I said, my worry is now that this is the way that people — and this is what Herman Cain apparently thinks — people in the Perry campaign or people in the Romney campaign have found an effective way to go after him as a black Republican."
Williams, who has complained that he has been similarly attacked because he departs from black "orthodoxy," appears in a video interview on Cain's campaign website telling Cain that "a lot of liberals have problems with a black conservative candidate. You don't fit in the box."
Williams also defended longtime friend Supreme Court Justice Clarence Thomas in a piece commemorating Thomas' 20th year on the court. Coincidentally, all three — Williams, Thomas and Cain — faced sexual harassment charges. 
* Michael Arceneaux, theGrio.com: The GOP has created a monster in Herman Cain
* Charles M. Blow, New York Times: Don't Call Herman a Monster
* Jonathan Capehart, Washington Post: Herman Cain's 'fortune cookie' foreign policy approach to China
* John Cook, Gawker.com: Howard Kurtz Wants You to Know That Herman Cain Likes White Women
* Jesse J. Holland, Associated Press: Racial Politics Return with Cain Allegations
* Sherrilyn A. Ifill, theRoot.com: Dear Camp Cain: Stop Calling It a Lynching
* Colbert I. King, Washington Post: The post-racial America of Ann Coulter and Pat Buchanan
* Roland S. Martin blog: Cain, Conservatives Look Foolish Blaming Scandal On Race
* Greg Marx, Columbia Journalism Review: On Cain Story, Politico Had Grounds to Publish
* Zerlina Maxwell, theGrio.com: Why the race of Cain's accuser can't be ignored
* Lenny McAllister, Politic365.com: Cain Tripped Up on Double Talk, Not Double Standards
* Patrick B. Pexton, Washington Post: Reader Meter: The Hermanator and 'The Post's' Matt Patterson
* Leonard Pitts Jr., Miami Herald: Pious racial indignation over Cain's offenses
* Alex Weprin, TVNewser: CNN Only Cabler To Carry Allred Presser
Blacks Not About to Abandon Obama, Poll Shows
"A new poll released today by NBC News/WSJ/theGrio.com dispels the idea that African Americans have abandoned President Obama, with 91% of respondents approving of his job as President, 86% approving his handling the economy and 85% approving his handling of foreign policy," NBC News announced Monday.
Chika Oduah wrote in a story for the Grio, "Rutgers University political science professor Alvin Tillery says the symbolic value of an African-American president for black Americans is 'tremendously high.'
" 'For better or for worse, Obama is regarded as a symbolic institution that must be honored,' Tillery told theGrio."
NBC's release said, "More data from African American respondents [show] the following:
* "49% of African Americans think the nation is headed in the right direction
* "59% of African Americans are more enthusiastic about voting in 2012 than they were in 2008
* "African Americans would vote for Obama over Cain 93% to 6%
* "26% of African Americans think Herman Cain's race will play a negative role in his ability to win the Republican presidential election, 48% responding that his race will not play a role
* "90% of African Americans would probably vote for President Obama if he runs for re-election vs. 3% who would probably vote for the Republican candidate
* "The majority of African Americans feel that the Obama administration has lived up to expectations when it comes to the war in Iraq (81%), improving America's image around the word (80%), the war in Afghanistan (74%), healthcare (62%) and standing up to big business and special interests (53%)
* "However, the majority of African Americans (56%) feel like Obama has fallen short on improving oversight of Wall Street and the banks
* "When it comes to dealing with the problems facing America, 57% of African American respondents feel a great deal of blame lies with the Republicans in Congress for not finding solutions
* "45% of African Americans feel that the Tea Party movement has been a bad thing for the American political system; while 35% believe the Occupy Wall Street movement has been a good thing (44% saying it has made not much difference)
* "When asked about the economic recession, 62% of African Americans think the worst is behind us
* "The majority of African Americans worry about jobs, with healthcare and the cost of higher education following respectively
* "49% of African Americans feel that race relations in the United States are fairly good, with 16% responding that things have gotten better since Obama has been president and 64% saying it has stayed the same
Latino Ex-Anchor Finds Success With Own Company
"Latinos in media are becoming more influential in an industry where they were once glaringly absent," Esmeralda Fabian wrote in September for Fox News Latino as part of its series "Our American Dream."
"Nowadays, 'as Latinos we can own not only the cameras, but the studios,' said Rolando Nichols, a well known journalist in Los Angeles and now a successful media entrepreneur who left a privileged position in Spanish media to achieve his very own American dream: create his own media production company, [CentroNet] Productions, based in [Torrance], California.
"Four years ago, Nichols went from being one of the most recognized faces in Spanish-language TV in Los Angeles while working as a news anchor for major station KMEX-Univision 34, to starting his own business with only one dream, a lot of hard work and the support of friends and family.
". . . Currently, [CentroNet] Productions employs almost 30 full time employees and many other part-time and freelance media professionals.
". . . [CentroNet's] studios offer complete state of the art production equipment including optical fiber for live transmission in HD anywhere in the world, giant green screens and editing rooms. 'But most importantly, we count premier human talent, all of our employees are experienced media professionals,' said Nichols."
Alvin Gauthier Jr., New Orleans Floor Director, Dies at 61
"Alvin Gauthier Jr., who for nearly four decades was a behind-the-scenes fixture in WWL-TV's production department, died Wednesday of natural causes while driving in eastern New Orleans. He was 61," Danny Monteverde wrote Friday for the Times-Picayune in New Orleans.
"Mr. Gauthier joined the station's production team in 1971 during the era of analog technology and worked there until 2009, by which point the industry had made the transition into an electronic operation. He most recently served as floor director and studio camera operator for the morning and noon news broadcasts.
"Dominic Massa, executive producer for special projects at the station, said Mr. Gauthier, who earned the nickname 'Big Al' because of his booming voice and hulking figure, was a 'commanding presence' who developed a reputation as an authority figure around WWL."
Ready for Cancer Treatments, Columnist Seeks a Hip Hat
Ruben Rosario, the columnist for the St. Paul (Minn.) Pioneer Press who disclosed to readers in April that he had an incurable blood-related cancer, wrote last week about lessons he'd learned:
"How much worse other people have it than me . . .
"How many people get it, have it or die from it . . .
"How much it costs . . .
"How much a man's got to know his limitations . . .
"How much people care . . .
"The generosity has been constant . . .
"How many proclaimed cures or treatments for cancer are out there . . ."
Rosario said he is about to undertake a process that has been shown to significantly prolong life in many multiple myeloma patients.
"How much I miss my hair: It was graying and gradually receding, but I still had quite a bit before it fell out this summer," he continued. "The bald look hasn't been that bad, but I was surprised how cold my dome got recently during a blustery, windy day. I'm not much of a hat-wearer because I've yet to see someone design a winter hat that looks hip and also keeps the head warm. It's a choice right now between knit ski caps or a 'Goofy,' my name for the unsightly but warm hats with ear flaps that hunters wear. I also miss the locks whenever I catch reruns of the original 'Hawaii Five-O' and watch the late Jack Lord's impressive mane of dark hair flapping in the Pacific breeze. Book 'em, Danno."
Connecticut Papers Opt for "Undocumented Immigrants"
"We took an overdue step at the New Haven Register, Middletown Press and Register Citizen on Thursday and instructed reporters and editors to stop using the terms 'illegal aliens' and 'illegal immigrants.' We'll use the term 'undocumented immigrants' from now on," Matt DeRienzo, group editor of Journal Register Co.'s publications in Connecticut, wrote on Sept. 30.
DeRienzo's declaration was made before the Associated Press updated its stylebook entry on "illegal immigrant" last week, rejecting once again the "undocumented" term recommended by the National Association of Hispanic Journalists, but approving "living in the country without legal permission" as an acceptable variation.
Michele Salcedo, political desk anchor at the AP and president of NAHJ, told Mallary Jean Tenore of the Poynter Institute on Monday that she does not agree with the AP decision. "Illegal immigrant," she said, oversimplifies the complexities of immigration.
"'Using the word "illegal" to describe an immigrant puts journalists in the position of being judge and jury,' she said via email. 'It casts all immigration cases as black and white: legal or illegal. That leaves little room for this most complicated law's nuances.' "
* "Last month's gubernatorial election was my first one as a U.S. citizen — and boy, aren't we spoiled?" Manuel Torres, editorial writer for the Times-Picayune in New Orleans, wrote Monday. "American politics has plenty of dysfunctional parts: Congress, the two-party system, cable news channels. But direct representation and machine voting surely beat the faux democracy and paper ballots I was used to in Nicaragua."
* "As part of their wide-reaching deal, ABC News and Yahoo! will interview eight GOP Presidential candidates across the country on Tuesday," Alex Weprin wrote Monday for TVNewser. "The interviews will stream live on ABCNews.com and Yahoo!, with excerpts running on ABC News programs like 'World News' and 'Good Morning America.' The two companies will also solicit questions from viewers to ask the candidates." Ron Claiborne is to interview Michelle Bachmann in Charleston, S.C.
* CBS Sports has named Tiffany Black social media manager, a CBS Sports spokeswoman confirmed. Black was a senior producer at Inc.com, and before that an editorial producer at InStyle.com.
* "Ten Florida A&M students took the trip of a lifetime last week, visiting The White House and meeting more than one dozen African American communication and business professionals — many of whom graduated from FAMU," D.A. Robin wrote Saturday for the Famuan, the student newspaper.
* "Al Jazeera English is putting the spotlight on Africa's journalists in 'Africa Investigates,' according to shockya.com. "The new series is intending on providing African journalists a megaphone from which to report their stories on corruption, abuse, and exploitation to the masses. The journalists who worked on the reports for the series worked undercover, using hidden cameras, and, of course, put themselves at risk in order to reveal the truth behind frauds, conspiracies, abuse of minorities, child trafficking, and high-level corruption." The series will consist of eight one-hour episodes and began Wednesday.
* "Israeli forces arrested an unidentified number of journalists today after a group of soldiers boarded two humanitarian aid ships sailing toward Gaza and forced them to redirect to the Israeli port of Ashdod, according to news reports," the Committee to Protect Journalists reported on Friday.
* "Since Jared Kushner bought the Observer Media Group in 2006, the business has focused heavily on generating advertorial supplements and ad-heavy verticals — from NYO Magazine, NYO Home, and NYO Tennis to Luxury Rentals, Observer Philanthropy, and The Observer's Hamptons," Dylan Byers wrote last week for adweek.com. "Now, the Observer is targeting the high-end Chinese tourist market. On Nov. 12, it will launch YUE, a Chinese/English bilingual magazine marketing New York City luxury to Chinese visitors."
* "Armed men burst into a newspaper office in eastern Mexico Sunday, warning staff before they set fire to the building, the newspaper's editor said," CNN reported on Sunday. "No one was injured in the ensuing blaze, which damaged the inside and outside of El Bueno Tono ('The Good Tone') newspaper in Cordoba, Veracruz, editor Julio Fentanes told CNNMexico."
* Two South Sudanese independent journalists have been imprisoned since last week over a column critical of President Salva Kiir, according to local journalists and news reports, the Committee to Protect Journalists said Monday. "In September, CPJ released a report on South Sudan that described the concerns voiced by journalists in the world's newest nation. After decades of armed struggle for independence, they said, 'the former rebels turned government officials still harbor a war mentality that is unaccustomed to criticism, and they are not prepared to extend the freedoms they fought hard to attain.' "
Follow Richard Prince on Twitter.
Facebook users: "Like" "Richard Prince's Journal-isms" on Facebook.
Journal-isms is published on the site of the Maynard Institute for Journalism Education (www.mije.org). Reprinted on The Root by permission.