Fifteen or so years ago, Oprah had a show where various celebrities offered their favorite sandwiches: what's in them, where they're sold, how often they eat one, etc. Chris Rock was featured in this segment, and described a shrimp-and-bacon club from the Cheesecake Factory. This memory has stuck in my mind because of two thoughts it immediately induced:

1. HOLY FUCKING SHIT SHRIMP AND BACON ON THE SAME SANDWICH? WHAT DEMENTED WARLOCK OF CULINARY BRILLIANCE WOULD EVEN CONJURE SUCH A THING?
2. Wait ... the Cheesecake Factory sells actual food and not just cheesecakes?
Although I'd heard of the Cheesecake Factory before, I'd never actually been in one. The franchise was new to the Pittsburgh area. One had just opened within a year of my seeing that special. But I never thought to eat there because, again, I thought they had nothing but cheesecakes. And while I enjoy a slice of cheesecake as much as the next guy, I didn't see the need to enter an entire gotdamn factory. I didn't need to know how the motherfucking crust was made. JUST GIMME THE PIE!
But, powered by Chris Rock's lauds, I went that next weekend, saw its Quran-sized menu, and ordered the shit out of the shrimp-and-bacon club. That 29,000-calorie behemoth immediately became my favorite sandwich, too.
Anyway, I had perfectly good and understandable reasons for never stepping foot in the Cheesecake Factory. It didn't really exist where I lived, and I was clueless about what it actually served.
G/O Media may get a commission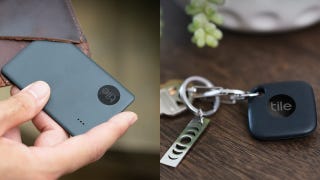 Up to 35% off
Tile Item Trackers
In 2005, it probably would have been the biggest and most popular chain I'd never actually been inside. But what would my answer be now? What's the biggest chain—and it could be anything from restaurant chains to clothing stories—that I still have never been in?
I've been thinking about this for a few days, and even posed the question to some friends during dinner last night.
The easy answer would probably be a regional food chain I've just never even seen in person before, like a Whataburger or Jack in the Box. But that feels like cheating, since those stores just don't exist around me.
I also thought about popular women's clothing stores. But after looking through this directory of women's stores at Ross Park Mall, there are none I can say I've definitely never been in to either buy gifts or while with someone who was shopping.
My answer is probably Lowe's.
I don't remember ever being in one. Whenever I have any sort of hardware or home-improvement needs, I either go to Home Depot or Target. But maybe I'll start going to Lowe's if someone tells me they have shrimp-and-bacon clubs too.