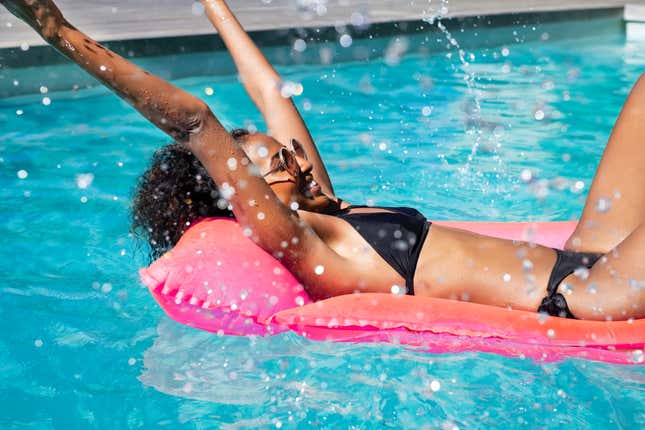 Ah, the week after Labor Day—allegedly marking the start of fall, though I've been telling everyone willing to listen (to date, three people) that September is, in actual fact, a summer month. But since the world insists on spinning on an axis of delusion and lies, we are gathered here to mourn a single, tragic fact: hot girl summer is no more.
Small Town Horror Story: The Vietnam Veteran Who Refused To Leave A Man Behind
The phrase was ubiquitous and, once we entered August, perhaps overworn. Now it's been traded in for various (lesser) new labels: hot nerd semester for the college kids, and Christian Girl Autumn for the Emmas and Kalynns. We're back to the assignments, the packed schedules, the meetings on meetings on meetings, the lunches chewed and slurped and swallowed over a keyboard. And in the crags of all that business and busy-ness, some sidelong glances back at the summer that came and left, as it always does, too quickly. But was it everything our patron saint Megan Thee Stallion promised? Did we drive the boat through rivers of frosé and brown liquor? Or did we crash under the weight of the season's high expectations?
In the spirit of that first assignment your teacher gave you back from break, here's what some of The Root staffers—plus a special guest appearance of Earther's Yessenia Funes, because what's hotter than the earth's rising temperatures?—had to say about their summer that was.
---
Maiysha Kai: Hot Flash Summer
If I'm honest, "Hot Girl Summer" presented itself as my sweatiest to date; no doubt a side effect of entering perimenopause, which, at 44, was pretty much an inevitability (apparently, I should be grateful it held out this long). While I've yet to experience hot flashes, per se, I do have an escalated sense of warmth—a rude awakening, after decades of being cold all the time. In fact, I regularly wake to sweat-soaked sheets and never seem to dress appropriately for the day, despite poring over weather reports days beforehand. (And to be totally transparent, I'm sure the extra 50 pounds I've been hauling around the last two years don't help my cause.)
In short, despite the accrued wisdom and purported sexual peak, middle-age sucks—and I'm currently in progress.
So, my only plans for "Hot Girl Summer" were to stay as cool as possible; and I was doing really well until a month ago when a gentleman started chatting up my antisocial ass at an event. I was so taken aback at being approached by someone not seeking directions I'm still not sure what transpired during that conversation, but we haven't stopped talking since. The craziest part? He's nine years younger and yet inexplicably still down with my sweaty, fluffy program.
All this to say I can confirm that "Hot Girl Summer" is a state of mind...and that perimenopausal girls apparently have layers of hotness.
---
Tonja Renée Stidhum: Playing Mas and Taking Names
Prior to the official "hot girl summer" designation, I had planned a "glow-up" of sorts for 2019. I was fresh off a triumphant escape from the denizens of freelance hell with a new full-time writing job in an industry I loved, and I decided it was time to treat myself. As president of "Team Thighmeats," hot girl summer isn't just a season, it's a lifestyle. Starting in 2015, I've spent many hot girl summers donning myself in glitter and feathers to play masquerade (mas) for Caribana in Toronto. This year, concurrent with one of my best friends' big 40th birthday, we decided to amp things up and play mas with Rihanna (really, we played with her brother's band) during Cropover in Barbados. Whether it was whining on your man or jumping for j'ouvert, I had the time of my damn life.
For you visual creatures out there, I'm offering a sample of the good times had in Barbados. Plus, I'm a Leo and asking me to show you a bunch of pictures of me is like asking me to be me. So:

Cheeks on a Platter
Hot Girls Travel in Packs
Stressing These Niggas Out
Hot Girl Summer is Hotter in Slow-Mo

That's just a sample of the snacks I provided; you can indulge in the whole meal over at my Instagram. Thank you and you're welcome.
---
Yessenia Funes: Bike That Ass Up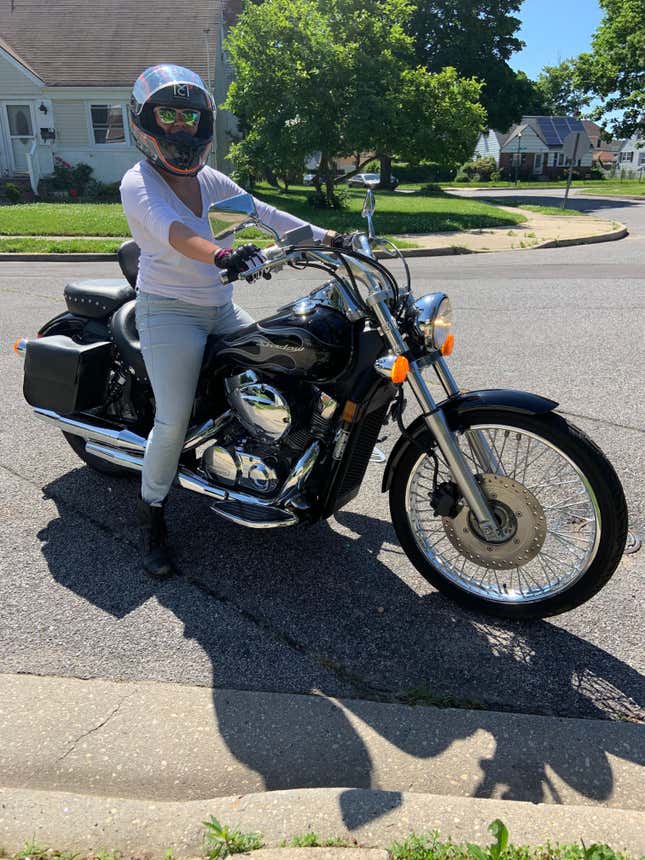 While my Hot Girl Summer has been devoid of the bachateo and thottenings of summers past, it has been full of chrome. I secured my motorcycle license in May and wasted no time to cop me a motorcycle to spend my entire summer riding a 2007 Honda Shadow Spirit 750 C2, to be exact.
I'm still getting the hang of it, but every time I zoom pass cars, I can feel the envy in their glare, their fascination with my pink-spotted gloves. Most of all, though, I can feel my sweat dripping from the weight of all my riding gear.
A sweaty woman on wheels? I'd say that's peak Hot Girl Summer.
---
Anne Branigin: Solidarity, Solitude, and a Surprise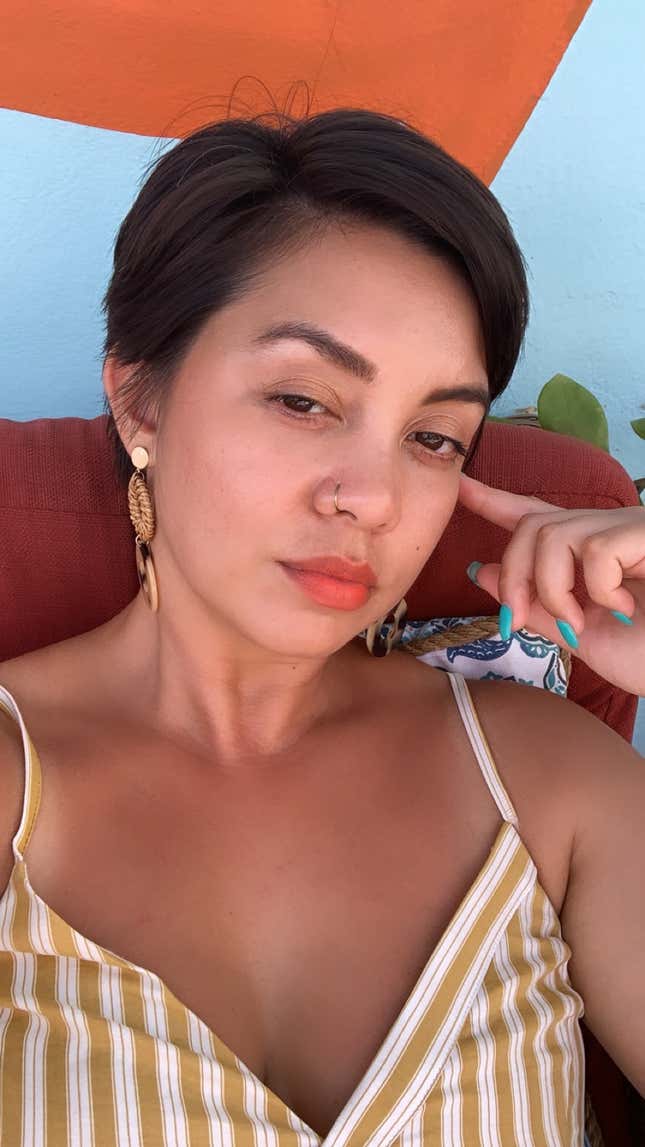 I like a day party as much as the next girl, and—with great pride and even greater inventories of Advil—ran up tabs at more than one karaoke session that ended after 3 a.m. (thank Koreatown and light-up tambourines for being the perfect venues and accessories to support such habits). But what I really thirsted for this summer was hot girl SOLIDARITY for my friends, and hot girl SOLITUDE for me, specifically.

This means being the one to gas all my friends up as they navigated the summer's twists and turns: Heart-eye emojis for their selfies, Shouting "OKAY LEGS!" in person and online when my boos went to the beach, leaning in and devouring the details of their flings, schemes, and escapades.
My big treat to myself this summer was a solo trip to Puerto Rico: For four blissful days in Luquillo, I drank painkillers, read voraciously, and cooled myself in the ocean, unencumbered by the news cycle and anyone else's nonsense. Having shelved my romantic life for much of the last year (who has the energy to date in this economy), I wasn't too concerned about missing out on potential suitors. When a city boy (literally, he is from Queens) I had gone on a few dates with canceled a meet-up because he had to go to a funeral—"sorry I couldn't blow your back out," he texted—I belly-laughed.
Then, in the last few weeks of summer, as I faced an unexpected and unprecedented level of tumult in my home (bad roommates, man), I came across a little sweetness: A man five years my junior who asked me to go on lunchtime walks with him through midtown, who taught me what the fuck a "chopped cheese" was, who treated me to lychee martinis after work and coco helado on the weekends, and gasses me up nearly every day.
And the wild thing? The new thing? The Summer 2019, Megan Thee Stallion twerked on vibranium knees so I could run thing? I let myself accept the sweet thing. Let myself ease out of the perpetual droning of dread and anxiety that pulses through so much of my days and just be soft, even if just for a moment.
It's too soon to tell what it is or how long it will last, something that feels like a fool's errand at the very beginning of dating someone anyway. But as I close out one of the most life-shifting summers since moving to this city, it feels good to part with the season with some gas in the tank and a little sugar on my tongue.
---
Editor's Note: As Saint Megan informed us, Hot Girl Summer is a gender-neutral term, and as my "friend" Damon reminded me, he already documented his take on HGS, which involves kombucha, alleged pushups, at least one Popeyes sandwich, and showing off new shoes on the 'gram. Below is a snippet from his earlier how-to guide, in case you want to land your hot girl summer into fall familial responsibility in style.
Randomly do 20 pushups before going to an event.

Although doing this adds absolutely, positively nothing to your look, you'll feel like your muscles are a bit bulkier than usual, which will make you walk around with your chest out and your head high as everyone (in your head) admires the musculature you (don't) possess. You might even offer to grab things off of shelves, so people will think, "Wow. That kombucha boy with the brolic forearms is also quite magnanimous."
---
Danielle Belton: A Hot Girl Summer Dream Deferred
My Hot Girl Summer started off promising, as I was coming off an amazing "Spring Back Spring," where I'd ventured to Paris for the first time, lost 30 pounds and started working out again. I'd recently embraced shorts and, much to my own shock, was dating again. Spring had been so good I thought, SURELY THE SUMMER WILL BE BOMB! So, fresh off a trip to Los Angeles in June for the BET Awards, I decided to go into July strong with a trip to Washington, D.C., to see friends; then a trip to St. Louis to see my family; and finally, another trip to back to L.A. with a close friend, a lifelong East Coaster who'd never been to the Left Coast in his life.
There was only one problem—I went too hard at the BET Awards and the various BET affiliated events because my knees were absolute trash the minute I got back to New York City. For the bulk of July, I was hobbled because my old ass forgot I was old and wore heels all day and all night for four days straight. As a result, tennis shoes and flats became my good buddies, promptly destroying all my cute outfits.

Hot Girl Strike No. 1.

I soldiered on in my travels, first going home to St. Louis only to find that everything was on fire at work. My poor 7-year-old nephew Alexander would poke at me every 15 minutes or so and ask if I was "done," as I sat chained to a laptop.

"You look done!" he would shout, as he wanted to play and I very badly wanted to play with him, as I literally never get to see this child. We spent his birthday at the St. Louis City Museum, only for a fire alarm to get pulled, cutting the trip short and for me to then get dragged into a four-hour series of phone meetings.

Hot Girl Strike No. 2.

With St. Louis a bust, I thought, I could salvage all of this: the bad knees, the disappointed nephew, by planning a fun trip to California with my longtime friend.

I love California, and because I'm a recovering people-pleaser I really wanted my friend to love California, too. I imagined us laughing and having misadventures. I sent him a meticulous email of all the things we could potentially do in Cali and I guess he looked at it once then never responded to it. So when we went on the trip and I was like, "What would you like to do?" I got some shoulder shrugs and silence. Repeatedly.

In his defense, my friend lives in neutral. He rarely gets "excited" about anything. And we've been friends for 11 years, so I should have known better, yet I fell into the trap of confusing what I wanted to happen with what was likely to happen. Which was hours of silence punctuated by the occasional excited remark over how something looked near identical to its Grand Theft Auto counterpart. By the time we ended up at Beauty & Essex for dinner towards the end of the trip, and he was still visibly unhappy, I lost my shit.

"What? What did I do now?" he said.

Which led to me pleading for him to tell me what was wrong. But he didn't want to talk about it. So we sat in a restaurant at 9 p.m. looking like a miserable couple who was in the middle of breaking up.

Hot Girl Strike No. 3…and I'm out!

A few days prior to the meltdown, I'd realized my fatal error in going on vacation with my homie—there needed to be a third or fourth wheel here, preferably a chatty, opinionated one, as I tend to take long periods of silence badly and both he and I are "go-along to get-along" types who don't want to have to make decisions all the time. We needed a busybody of some kind. Or, I needed someone who could keep up with my desire for emotional feedback and communication.

What's wild is despite my Hot Girl Summer being largely a bust, my friend asks, almost every time we've spoken since LA, "When are we going back to L.A.?" Each time I'm shocked as I don't recall him having that great of a time, but maybe this dude is like how my baby sister used to be when we were kids. Once, we all went to New Orleans as a family and she literally complained the entire time, loudly, about the walking, the heat and things being "boring," but if you asked her, "Did you have fun?" her answer was always a resounding, "Yes!" So somewhere, deep down inside, not perceptible to the eye, he was having a "good time."
Cool, cool. Keep that same energy, my man.