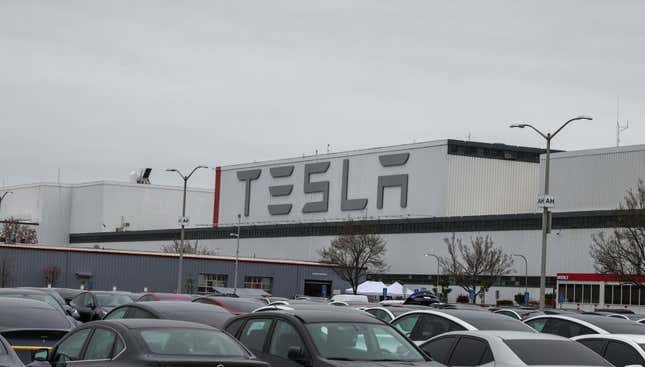 In 2015, Owen Diaz started working at Tesla's factory in Fremont, Calif. as an elevator operator. He claimed he was called racial slurs by his supervisor and co-workers for the next year and that his co-workers would draw racial epithets and symbols around the factory.
Elon Musk Has Opened the Floodgates For Racists On Twitter
Diaz would complain about the treatment he was experiencing to his superiors, but the company would do little to correct it or prevent it from happening again in the future.
He eventually said he reached a breaking point after helping his son, Demetric, secure a job at the company and saw that he was experiencing the same racial abuse that he did. As a result, he filed a lawsuit against the electric vehicle giant in 2017.
Four years later, in October 2021, Diaz was awarded $137 million after a jury determined that there were civil rights violations against Diaz and that the company did not do all it could to end the racist treatment.
But, less than a month after Diaz was awarded that amount, Tesla filed a request for a new trial, and a US District Judge offered a reduced award of $15 million in damages for "the lack of physical illness or injury" to the victim.
To no surprise, Diaz rejected such a drastic change in payment and the two sides went to retrial. This time around Diaz sought nearly $160 million, with his attorney arguing that the jury makes an example out of Tesla so that large companies don't let behavior like this slide again. Unfortunately, it did not work out for Diaz.

After a week-long trial, the judge and jury agreed that Tesla was liable, but thought the award Diaz and his attorneys were seeking was excessive. As a result, his amount was reduced significantly from the amount he initially received in 2021.
On Monday, the electric car company was ordered by a San Francisco Jury to pay Diaz nearly $3.2 million, according to CNBC. Specifically, he was paid $3 million in punitive damages and $175,000 in non-economic damages.

Controversial Tesla and Twitter CEO Elon Musk even commented on the verdict, writing in a Tweet on Monday, "If we had been allowed to introduce new evidence, the verdict would've been zero imo. Jury did the best they could with the information they had. I respect the decision.

Per the report from Reuters, Tesla's attorney, Alex Spiro, said that Diaz's claims of emotional distress were exaggerated and that his attorneys were unable to prove any serious damage that lasted past Diaz's time as an employee.
Although Tesla was able to walk out of this lawsuit paying much less, they've been hit with a plethora of lawsuits by former employees claiming that they experienced racism while working at the electric car company.
In July 2022, 15 former and current Black workers sued the company, alleging that they were "subjected to racist graffiti, slurs, and harassment by co-workers, managers and human resources."
In February 2022, the California Department of Fair Employment and Housing also sued Tesla after receiving hundreds of complaints from workers that echoed the allegations later made in July.