Dallas police have taken the electronic locks from the apartments of Amber Guyger and Botham Jean to help them find out what happened the night Guyger walked into Jean's apartment and shot him dead.
According to the Dallas Morning News, the Dallas County district attorney's office seized the locks from the two South Side Flats apartments. The DA's office obtained a search warrant on Sept. 11, which permits them to pull any data from the electronic locks—namely, when the doors were locked and unlocked.
Such data would be able to support either Guyger's statement or that of Jean's family attorney about what happened on Sept. 6. Guyger has claimed that after a long shift, she parked on the wrong floor and mistook Jean's apartment for hers. She didn't use the lock, but found the door ajar and entered into Jean's apartment, mistaking him for an intruder and shooting him twice, after he failed to heed her commands.
But Jean's attorney says witnesses heard someone banging on Jean's door that night, shouting "let me in!"
The Dallas Morning News writes that it is unclear whether the electronic lock data would show if Jean unlocked the door from inside his house, but it would show whether Guyger tried to place her key in Jean's door.
G/O Media may get a commission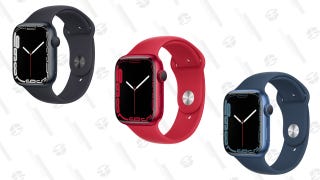 Up To $45 Off
Apple Watch Series 7
The Morning News also reports that police already have their own reports about access to the electronic locks in both Guyger and Jean's apartments, as well as the elevators. Law enforcement have not made the reports' contents public.