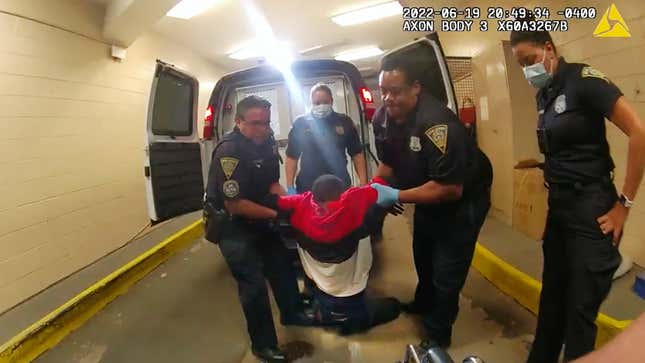 Updated as of 1/11/2023 at 3:50 p.m. ET
Five cops in New Haven, Conn., have pleaded not guilty to charges in connection to an incident that left Randy Cox paralyzed after he was detained in the back of a police van, per ABC News. His civil rights attorney, Benjamin Crump, called the pleas "shameful."
Gregory Cerittelli, an attorney for one of the officers charged, commented vaguely on his client's decision to plead not guilty.
"The job of a police officer has become increasingly more difficult in recent years. Police officers are often required to utilize their best judgment in assessing situations, and are now being judged with the benefit of 20/20 hindsight. Our Supreme Court has consistently held this is not the appropriate standard," he told ABC.
Cox's attorney, Jack O'Donnell told ABC due to his injuries, Cox couldn't appear for court but was "very disappointed" that the officers only faced misdemeanors, the report says. Crump also had a few choice words following the announcement.
"It is absolutely shameful that these officers fail to see how their actions led to the trauma and severe injury that caused Randy Cox to be paralyzed from the chest down. Since these five officers failed to take accountability for their actions, they will now have to face a trial, where the prosecution will present the significant evidence against their claims of no guilt," read his statement.
The next pre-trial hearing is scheduled for Feb. 23. In addition to the state charges, they cops will have to meet Crump in federal court to address the $100 million lawsuit he filed on behalf of Cox's family.
Previous reporting...
Cox, 36, lost use of his lower extremities after he was picked up on a weapons beef by members of the New Haven Police Department. What happened next is tragically similar to the events that led to the death of Freddie Gray in Baltimore in 2015. Cox was being taken in to a police station, handcuffed in the rear of a police van without any restraints to keep him safe in the event of an accident or sudden stop. The latter occurred, when, according to CBS News, the cop driving the transport van slammed on his brakes to avoid a crash, sending Cox flying head first into a wall of the van.
It got worse from there.
From CBS News:
As Cox pleaded for help, saying he couldn't move, some of the officers mocked him and accused him of being drunk and faking his injuries. Then, the officers dragged him by his feet from the van and placed him in a holding cell prior to his eventual transfer to a hospital.
Cox survived his injuries, which is more than be said for Gray, who succumbed after members of the scandal-ridden Baltimore Police Department similarly transported him in the back of a police van while handcuffed but unrestrained. Gray later died, leading to days of protests and unrest in some Baltimore neighborhoods. Six officers were charged in connection with his death but none were convicted; one was recently given a promotion within the department, which I'm sure makes Charm City residents feel a whole lot safer.

In New Haven, five cops—Officers Oscar Diaz, Ronald Pressley, Jocelyn Lavandier, Luis Rivera and Sergeant Betsy Segui—are all charged with second-degree reckless endangerment and cruelty to persons. The charges are all misdemeanors, which sounds like a helluva lot less than Cox would've been charged with if he and a group of friends tossed a cop into a moving vehicle and the cop came out with severe and permanent spinal injuries.