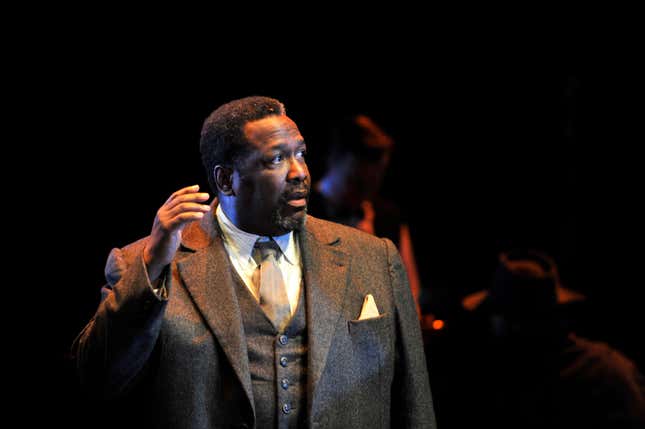 During a recent evening production of Broadway's "Death of a Salesman," showgoers say that one audience member became obnoxious and irate. According to Vanity Fair, the woman became so disruptive in fact, that the show had to be stopped in order for her to be escorted out of the building. The production's star Wendell Pierce actually found himself having to break character to help get control of the situation from the stage.
Marlon Wayans Sings The White Chicks Anthem, Talks The Daily Show on That's So Random
The Post reported that the woman first began causing a disturbance from her seat, and that it appeared she would leave during the intermission of the three hour play. However, it wasn't until the production's second act that she truly started to act a fool. (And no y'all, it was not Karen this time—insert cringe face emoji.)

A witness stated that the "irate, seemingly inebriated audience member disrupted the play's second act so intensely that the action had to be suspended." The theater eventually raised the house lights at which point Pierce "patiently & heroically pleaded with her to leave peacefully despite her insistence that she should be carried out forcefully (she was eventually escorted out by police)."

In the clip seen here on Twitter, the woman is in the front row putting on her fur coat and hat in preparation to leave. She seems to be going back and forth with Pierce who remains cool, calm, and collected on stage attempting to reason with her, although you can't quite hear what's being said. Halfway through the two minute video, the camera pans to two security guards marching down the aisle of the theater approaching the woman. The audience cheers at the fact that the woman will be removed, and that hopefully they can get back to their show in peace.

One Instagram user wrote that "Pierce segued seamlessly back into the role of a lifetime—his first appearance on Broadway in three decades—an acting job all the more remarkable given the real-life drama that could have derailed the entire night."

Meanwhile a Reddit user shared that the woman was rustling through her bag throughout the first act of the play and responding loudly to the actors on stage. The same person claimed that the woman would not leave without getting her money back, and so Pierce arranged for someone to quickly grab some cash just to get the woman to go about her way.

In a statement released by the show's producers, the showrunners stated: "We're grateful to the entire team at the Hudson Theatre for working together to resolve the situation and resume the performance as quickly as possible."

Let's do better this year, shall we?