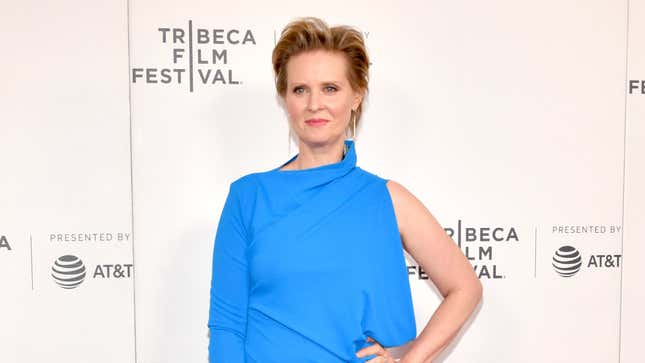 It's been 15 years since Sex and the City set the standard for what it meant to be a successful working woman in New York City, with four white actresses (Sarah Jessica Parker, Kim Cattrall, Cynthia Nixon, and Kristen Davis) providing a weekly dose of humor, friendship, fashion, and yes, sex to devoted viewers from all demographics. It was a prototype swiftly repeated by Girls, SATC's less well-heeled, millennial-led successor at HBO. Understandably, both shows garnered significant criticism for casts that failed to reflect the demographics of perhaps the most diverse city in the world.
My Hip-Hop Story: Cedric The Entertainer On Jay-Z and His Indisputable Role In Shaping The Genre's Culture
What should the cast of Sex and the City have looked like? During the 2019 Tribeca Film Festival, former New York gubernatorial candidate and SATC cast member Cynthia Nixon, who played lawyer Miranda Hobbes, during an interview with IndieWire reflected on some of the iconic show's failings.
"Well, I certainly think we would not have all been white, God forbid," she said. "One of the hardest things for me—it was at the time, too—is looking back and seeing how much of it centered around money, right? And how, Steve, my [character's] husband, was like the closest we got to a working-class guy, you know? Never mind a working-class woman, right?"
"Also, I think we wouldn't all look like that," she added. "In terms of like, the perfection factor. In terms of always looking so incredible. And I know that's the fantasy element, and in terms of the show that was important. But I think there's a lot of ways that people can be visually compelling without looking—quote unquote—perfect."
But was the show's heavy emphasis on fashion and privilege ultimately anti-feminist, despite centering many of the issues faced by working women? As art often imitates life, Nixon rightfully drew a parallel between the often classist, racist dynamics of the feminist movement and the show that made her and her co-stars household names while all but ignoring the issues of women of color or lower incomes.
"There was so much debate when [Sex and the City] came out about whether it was a feminist show or not, which I always thought was stupid—of course it's a feminist show," Nixon told IndieWire. "But I think it has a lot of the failings of the feminist movement in it. In that it's like white, moneyed ladies who are fighting for their empowerment. In a bit of a bubble."
A bit of a bubble, indeed, one Nixon has managed to avoid with her newest role, this time playing the nemesis opposite an Indian actress in the human trafficking drama Stray Dolls, which premiered at Tribeca last weekend. It's Nixon's first acting appearance since leaving the campaign trail after a primary loss to New York Gov. Andrew Cuomo (it's noted that she filmed the role prior to her run), and she seems relieved to be speaking more plainly than perhaps she did as a politician.
"It's nice to be asked about things that are just purely my opinion," she said. "You can't get them wrong."