Look right here ... and you may forget there was an entire MTV Movie and TV Awards red carpet on Saturday.
We Tried to Recap the MTV Movie and TV Awards Red Carpet—and Fell Into a Tessa Thompson Vortex, Instead.
Not because it didn't happen—or because no one of note showed up this year. But by far, the most fascinating star to make an appearance was Tessa Thompson, continuing to make the rounds as she promotes Men in Black: International, which debuted to respectable box office receipts this weekend.
Of course, the ensuing media blitz has given us ample opportunity to stan over Thompson the past few weeks, as she's given us look after look that takes her already supernatural aesthetic to the next level—culminating in the 1940s-meets-too-cool-for-this-galaxy blazer and high-heeled loafer look she rocked on Saturday, courtesy of Thom Browne.
G/O Media may get a commission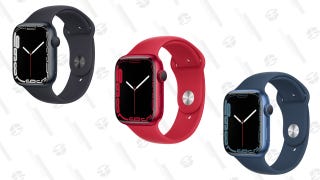 Up To $45 Off
Apple Watch Series 7
Now, aside from the fact that Thompson is clearly trying to bring back the "so hideous it's cute" Louis-heeled platform trend of the '90s (in fact, these look suspiciously like Fluevogs), we're also fascinated by how she and stylists Wayman and Micah—along with star hairstylist Lacy Redway—have interpreted (and reinterpreted) the intergalactic theme of her summer blockbuster. Braids, twists, french rolls ... is there any look this woman can't pull off?
And then, there's Thompson's appearance on the cover of July's Marie Claire, where she gives us a jumpstart on summer lovin' with some seriously romantic looks. (I mean, I can feel the heat, can't you?)
There's more—much more. Honestly, we could do this all day, since Thompson is one of those actress/muse/rock musician progenies who, no matter how cool the roles she plays, seems infinitely cooler in real life.
Seriously, there is just something so enchantingly nonchalant about this woman—even when she's borderline doing the most.
But in case you're wondering, this post isn't all Tessa everything, as we still managed a roundup of that MTV Movie and TV Awards red carpet. As is to be expected when you've got a mix of A-listers, up-and-comers and reality regulars, it was a mixed bag of fashion choices, ranging from "wow" to "what-in-the-everloving-hell" (we're looking at you, Nick Cannon). But we'll let you decide for yourselves—and if you find yourself in need of a palate cleanser, Tessa's only a short scroll away.