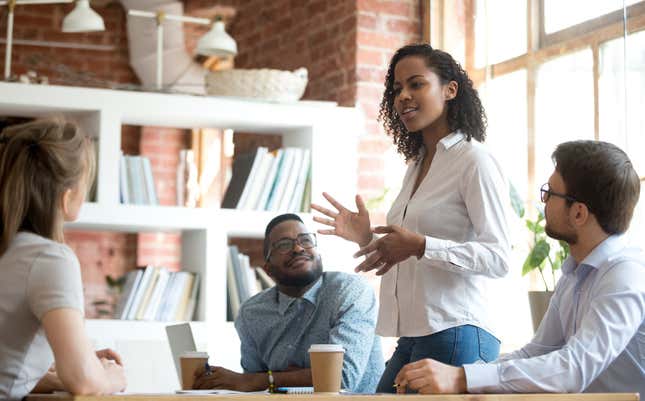 Women's Equality Day remains a bittersweet anniversary for those of us still on the losing end of too many equality battles—including pay equity, workplace bias and even hair discrimination. And as last Thursday's Black Women's Equal Pay Day sadly demonstrated, increased awareness isn't moving the needle on progress; this year's date, which indicates the amount of time needed to "catch up" to the annual earnings of our white male counterparts, was over two weeks later than the previous year.
Tackling A Black Maternal Health Crisis & Embracing Reproductive Justice | The Root Institute
So what does equality look like for women in the workplace, and where can it begin, especially for black women? To better understand the specific issues facing black working women—and how companies, indisputably the seat of power for change, can better address them, The Glow Up spoke with two of the leaders in the ongoing fight for gender equality, Lean In and the National Organization of Women.
"Black women are still not fully recognized in their authentic selves for the unique and powerful assets and experiences they can contribute," said Christian F. Nunes, Vice President of the National Organization for Women (NOW) and chair of NOW's Racial Justice Committee. Initially founded in 1966 by a 28-member consortium of women which included Shirley Chisholm and Pauli Murray, NOW was one of the first organizations to include black women in its feminist agenda, despite both Sojourner Truth and Harriet Tubman being involved in the women's suffrage movements of their eras.
"Many times we are asked to dilute or shift our perspectives to fit in with the majority so they remain comfortable, which in itself is very discouraging and emotionally burdensome for a black woman," Nunes continues. "Even when black women achieve higher positions, we still experience daily gender and racial microaggressions where we have to continue to fight just to have our authentic voices heard and recognized as valuable contributors."
Raena Saddler, Lean In's VP of People & Managing Director for the Sheryl Sandberg & Dave Goldberg Family Foundation, agrees. "The struggle very real," she tells us. "It's not like any of these issues are new, but yet we find ourselves at this place where people are being overly optimistic—if anything, unrealistic—about the state of black women. You know, only half of Americans think that there are obstacles that are making it harder for black women to advance, and we know that's nowhere close to reality. Over two-thirds of black women say that significant obstacles still exist...we know these obstacles are real."
At only six years old, Lean In is newer to the fight for equality—and has faced its share of criticism over a perceived lack of intersectionality. Specifically, many have taken issue with the idea that it's equally viable for all women to just "lean in," when black women, in particular, are consistently accused of doing "too much," as Nunes acknowledges.
"[We] know that America was built on a system of racial inequalities between whites and blacks, and patriarchal system that expects women to act, sound, look and behave in submissive ways," she notes. "This translates into a daily experience where black women face higher levels of discrimination such as hair discrimination, name discrimination, and being seen as overly aggressive in our communications in the workplace, yet our insight and knowledge often drives success for these same corporations. There are few fighting for us and often black women have to navigate fighting for themselves while trying to continue to achieve success."
But while the concept of leaning in may feel unrealistic to some, as Saddler, a woman of color and one of the earliest members of Lean In's executive team assures me, their global community has always had intersectionality as a primary mission and credits itself with amassing the largest data set on the experiences of women of color.
"Our fundamental belief is that we want to be lifting up all women and that we want more voices represented at the table," says Saddler. "We want to see more people being represented in our work, we want to be lifting up women, and we can't do that without looking at the kind of people who are in the most marginalized experiences and making sure that we're helping create change for all groups."
Both Lean In and NOW readily acknowledge that when it comes to equality in the workplace, the real power lies with businesses who set the standards for everything from salaries to workplace culture.
"There is no system of accountability that is encouraging them to listen," says Nunes. "More importantly, when you live in a country where your presidential administration makes intentional and purposeful efforts to destroy the rights of women, black women and other marginalized and oppressed groups, corporations have no motivation to make impactful change."
Saddler acknowledges that while some companies are trying to do better, on the whole, they're ultimately failing at junctures crucial to black women.
"I think companies are falling into the trap that as they fix sort of 'the women problem,' they're not really looking at all the specific differences that exist within the different demographics of women, and they're falling into the trap where 'women' means 'white women,'" she says. "[C]ompanies are really frankly just not looking at the data from the lens of 'what is the different experience that black women specifically are having, and thinking 'how can I make it better?'...They think they're solving a problem but really they're actually often leaving black women out of that conversation and they're not thinking about that unique experience."
Saddler goes on to point out crucial issues impeding advancement for black women, like less mentorship and sponsorship, access to upper management, and less support in the workplace.
"On top of that, we're also having what we call the 'only' experience; we're often the only woman in the room [or] the only black woman in the room," she says. "That can be a really isolating experience, and it can really negatively impact your experience at the workplace...and then on top of that, of course, we're getting paid less to do it all, so that's not a fun experience either."
When it comes to addressing pay equity, Nunes is clear on one thing: Holding corporations accountable for both disparities and transparency is key.
"True equity would look like giving black women resources and opportunities to achieve the same advancements as our white male counterparts. However, if we truly want to have equality, we have to advocate for complete transparency in hiring and pay from corporations and organizations," she says. "When a corporation has accountability measures put in place such as transparent hiring and pay, and they know they would have to publicly defend paying a black woman with the same education and experience of her white male coworker less, I believe we will start to see some narrowing in the gender pay gap."
Rachel Thomas, president, and co-founder of Lean In, affirms that the experience for black women in corporate America is unique. "The data is just so clear, that all women need more support and need more barriers knocked down for them in the workplace," she says. "But it's such a markedly worse experience for black women on every dimension we look at, that you do get to the point as an organization that you just want to scream it from the highest mountaintop so people really begin to internalize, a) that it's happening—you can't solve the problem you don't see; and b) start to talk real about what the solution is, because if we don't bring all women along with us, we're not going to get to true equality.
"I mean, we should be doubling, tripling down on black women," Thomas continues. "They're more ambitious than white women and yet get less support [and] face more barriers. If I wanted to get more women in leadership, that's where I would be focusing a lot of my energy as a business leader."
"I think what you're tapping into is a real frustration around the fact that black women, we are doing everything that we could possibly be doing. And it's not only that, but we've been doing it for years and years and years," adds Saddler. "So, it's this really frustrating moment where there's a lot of attention on women's issues and yet our numbers are actually not moving...[and] a lot of it is just around companies not looking at the data the right way.
"You know this just from looking at companies, that when companies make something a real business priority, you see the numbers move," Saddler adds. "I think companies can actually do all of these things if they just treat it like a real business priority."