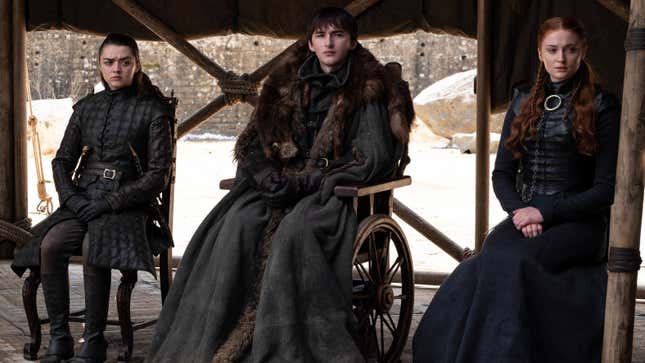 Oh look, it's a song of ice, fire and a lukewarm bottle of water.
Writer's Note: Series Finale Spoilers! 
Welp, Game of Thrones is over and done, leaving Monopoly to reign as the longest game ever. And despite the final episode being quite disappointing to many, there was one thing we could lean on: a television set goof! And yes, Michael Harriot's beloved recap will be on its way momentarily.
Courtney B. Vance in Heist 88 Is Our Black TV Pick of the Week
If you remember correctly, a coffee cup stole the show following "The Long Night," one of the series' biggest and most important battles. It was quite telling that in such a pivotal season, the most-discussed item had nothing to do with Jon Snow, Arya Stark or the Night King, but a damn coffee cup.
In the much-anticipated series finale, entitled "The Iron Throne," the lords and ladies of Westeros were faced with deciding who would rule the 7 (well, 6, thanks to Sansa, who threw her hands up and discovered she was an Independent Woman) kingdoms following the surprise slaughter of their short-lived queen, Daenerys Targaryen (Emilia Clarke).
However, lurking in the shadows of Westeros' fate was a bottle of spring water (from the Isle of Naath?) near Samwell Tarly's (John Bradley) brunch boot.
Oh, but wait, there's more! A second water bottle was found near Ser Davos (Liam Cunningham), as well.

Other than the fact that both Samwell and Ser Davos were contributing to that terrifying giant plastic ocean, I couldn't help but wonder whether this bottle's purpose extended beyond simple thirst-quenching. Perhaps this was their feeble attempt to extinguish all that damn fire Drogon unleashed after he realized the iron throne ultimately killed his unburnt mama.
Speaking of Drogon, shoutout to his emotionally wrought performance in the scene where he found his mom's slain body, which was reminiscent of The Lion King.
Also, while he was carrying his mama somewhere, I hope Drogon obtained some Tums at a Rite-Aid on the way. That's a lot of heartburn.
Regardless, as far as stepping back into the real world, we'll see if the water bottles are removed by HBO, too.