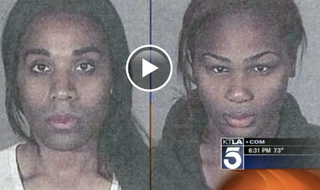 Cornell "Corey" Jackson, 29, and Marquet Dorsey, 24, are accused of conducting at least 40 false transactions, worth more than $7,000, at various stores in Southern California, KTLA Los Angeles reports. It's not the most sensational crime story ever, except for the fact that they seem to have dressed as women — and done a pretty nice job with their eyebrows and makeup, we might add — to carry it out.
In one case, Jackson is accused of purchasing $1,172 worth of sunglasses from Trendy Sunglasses in Manhattan Beach on June 1 using a prepaid Visa card with a zero balance, according to the Manhattan Beach Police Department.

When the card was declined, Dorsey then allegedly called the store pretending to be Visa and gave a false authorization code to convince the clerk to authorize the sale.

Trendy Sunglasses contacted police because they thought something was fishy.

Manhattan Beach police arrested Jackson and Dorsey on June 5 after searching Jackson's residence in Lakewood.

Jackson and Dorsey appear to be wearing makeup in their booking photos.
Read more at KTLA.