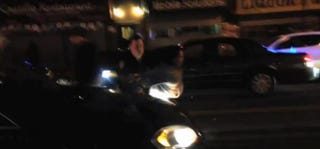 Sandra Amezquita was trying to come to the aid of her son, 17-year-old Jhohan Lemos, who was being arrested by police.
However, one New York City Police Department officer didn't take too kindly to her intervention and tossed the 44-year-old, who is five months pregnant, to the ground, stomach-first, before straddling her back, with her stomach pressed into the ground.
That is what video footage of the incident captures, prompting an investigation by the NYPD Internal Affairs Bureau.
"The first thing I thought was they killed my baby and they're going to kill my wife," the father of the child, Ronel Lemos, told the Daily News.
"You would think the police would respect a woman that is pregnant," the injured mother, who had to speak to the news site through an interpreter, added.
"I was afraid something happened to my baby. I am still afraid that something is wrong," Amezquita said. She still has some persistent abdominal pain, as well as bruises on her stomach and arm. Immediately after the incident, she suffered from vaginal bleeding.
At the end of it all, Amezquita was given a summons for disorderly conduct and Lemos was arrested for assaulting an officer, the Daily News reports.
According to the report, the two were protesting the arrest of Jhohan Lemos, who was targeted for a knife that was clipped to his belt, according to the news site. The teenager was allegedly being beaten by the cops, which prompted his parents' interference. In photos of the teen taken after his arrest, the boy seems to have a swollen right eye and bruised face, the Daily News notes.
Read more at the New York Daily News.