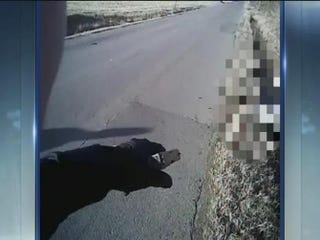 In a disturbingly graphic video filmed by a police body camera, an Oklahoma officer can be seen shooting an armed suspect who tried to flee the scene of a domestic dispute, Yahoo News reports.
The footage, released Friday, shows Muskogee Officer Chansey McMillin responding to a domestic-abuse complaint. He approached 21-year-old Terrance Walker outside the Old Agency Baptist Church on Jan. 17, according to local media reports.
"Just relax for me," McMillin says in the video. "Why you shaking for? Relax."
The video then shows Walker running away and the officer chasing him. The suspect then stops to bend over and pick up something he dropped in the street, the report notes.
From the video, it is not clear what he is attempting to retrieve, but police say it was a loaded semiautomatic pistol, Yahoo writes.
McMillin then fires five shots at Walker, who had set off running again, which strike and kill the young man, the report says.
Watch the video here:
Read more at Yahoo News.