Cable network Lifetime has unveiled a trailer for a new documentary series that promises to tell the "untold story" of the women who endured R. Kelly's abuse.

The documentary, Surviving R. Kelly, which will run in three parts and clock in at six hours total, may be the most comprehensive and detailed look at Kelly's long history of sexual abuse allegations, which span at least 30 years.
"There's a difference between R. Kelly and Robert," says a woman's voice over footage of Kelly performing. "R. Kelly is this fun, laughing, loving guy. But Robert is the devil."
The docuseries, executive produced by dream hampton, will span R. Kelly's life and career from 1970 to the present day. Rolling Stone reports the film also includes interviews from dozens of people closely connected to Kelly, including ex-girlfriend Kitti Jones, ex-wife Andrea Kelly, and his brothers Carey and Bruce, as well as Tarana Burke, John Legend, Wendy Williams and Sparkle.

Not only does the trailer hint at the difference between Robert Kelly and his stage persona, which is still beloved by legions of devoted fans, the movie promises to explore the ways Kelly's alleged crimes have been enabled, as well as delve into why his victims—many of them black women—have not been taken seriously.
"Some very brave black women have trusted us with their stories, their truth and their trauma," hampton said in a statement. "They are survivors, and I'm honored to share their stories with the world."

G/O Media may get a commission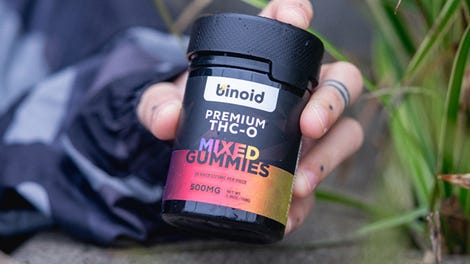 25% Off + Free Shipping
Binoid THC-O Gummies
The series, which was announced in May this year, is slated to air on Lifetime on Jan. 3, 2019.