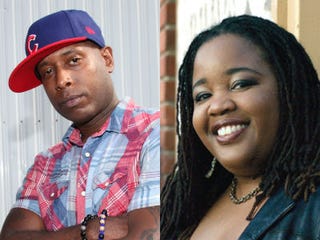 Join The Root as we live-stream "The Battle for the White House" a preview of Election 2012. Presented by WNYC from The Greene Space, a state-of-the-art multimedia performance venue, and hosted by Farai Chideya, the event will feature a panel of guests from across the ideological spectrum.
Chideya will lead an engaging conversation on the themes and tactics that will shape the presidential election one year from now. Her guests are Talib Kweli, rapper, entrepreneur, activist and independent political pundit; Robert George, New York Post editorial board member; Micah Sifry, co-founder of the influential Personal Democracy Forum; and U.S. Rep. Yvette D. Clarke, a Brooklyn, N.Y., native first elected to Congress in November 2006.
Watch the webcast live Tuesday, Nov. 8, at 7 p.m here or on WNYC. Join us on Twitter as we cover it live @TheRoot247 (hashtag: #BattlefortheWH).
Like The Root on Facebook. Follow us on Twitter.